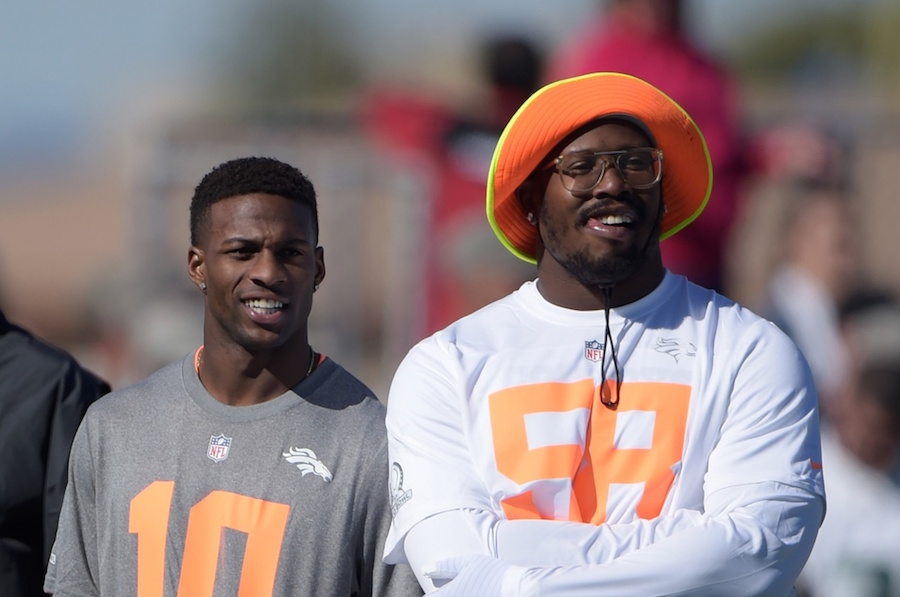 John Elway and Gary Kubiak don't need to sleep with one eye open the next six weeks.
But you can bet they'll be sleeping with one ear open.
As in, cell phone ringer on high, dreaming it doesn't go off sometime between midnight and 5 in the morning.
There better not be any calls due to trouble.
Broncos players officially left the UC Health Training Center on Thursday for their "summer break." Between now and late July, when training camp begins, the guys are on their own.
It's been said this is when NFL coaches worry the most. The offseason work is done, contract disputes are for the most part settled and players have as much free time as they've had since right after the season ended.
The weather is warm and you can bet Broncos players, championship rings in tow, will be bolting to some of America's most fun cities.
It's party time.
And there's nothing wrong that. These guys work their tails off, nearly year round at this point, and letting loose is none of our business… unless they make it.
It's been well documented what happened to Aqib Talib a little less than two weeks ago at a Dallas strip club.
Talib suffered a gunshot wound (maybe self-inflicted) and, frankly, he's lucky to be alive. At the very least, he's incredibly fortunate all he needed was stitches. The injuries could have been career-ending even if they weren't life threatening. It's a minor miracle neither of those nightmare scenarios became realities.
The media jumped on the Talib story, rightfully so, and you can bet if any Broncos player finds his name in the police blotter during the next month and a half it will be reported on as well. As the saying goes when someone travels far away and it may be tough to communicate: No news is good news.
So consider this a bit of plea.
The Broncos have had an awful offseason, let's not make it any worse.
They lost both quarterbacks from their Super Bowl team a season ago. Both Peyton Manning and Brock Osweiler had their ups and downs, but for a team to throw a parade and then lose their top two signal callers is unprecedented.
They also lost Malik Jackson, the guy who scored the first touchdown of Super Bowl 50 and had a career year. Gone is Danny Trevathan, the leading tackler on that glorious Sunday afternoon in Santa Clara against Carolina.
Omar Bolden and David Bruton said adios; the two veteran safeties who provided nice depth at the position were replaced by two unproven rookies.
The offensive line wasn't very good, but a total makeover of a group in the trenches is never a good sign. If anything, chemistry will have to be found all over again. Evan Mathis, Ryan Harris and Louis Vasquez all had flaws, but it's tough to find a group of three veterans, all on one line, who had more solid NFL seasons under their belts.
And the departures haven't been the worst part.
Talib getting shot takes the cake, and it's not close, but these Von Miller contract negotiations have taken an uglier turn than anyone anticipated.
The details of his offer being leaked by who we can only assume was John Elway, or someone close to him, have apparently enraged Miller. The Super Bowl MVP has since posted two controversial and eye-opening Instagram posts and the July 15 deadline to get a long-term deal done is looming.
It's almost unfathomable, but there's a chance, albeit small, Miller has played his last down as a member of the Broncos.
So, back to that plea to Denver players: Don't make it any worse.
Please don't get arrested in the next six weeks. Please don't do something you know Elway, Kubiak or your closest family and friends would disapprove of. Please, just be smart.
One has to think the Broncos GM and head coach will fret this stretch before training camp like a worried parent does the 10 minutes before curfew, their kid still not yet home.
But please let that phone call never come.
Elway and Kubiak may have to sleep with one ear open, but it'll be music to their ears if that cell phone never rings.