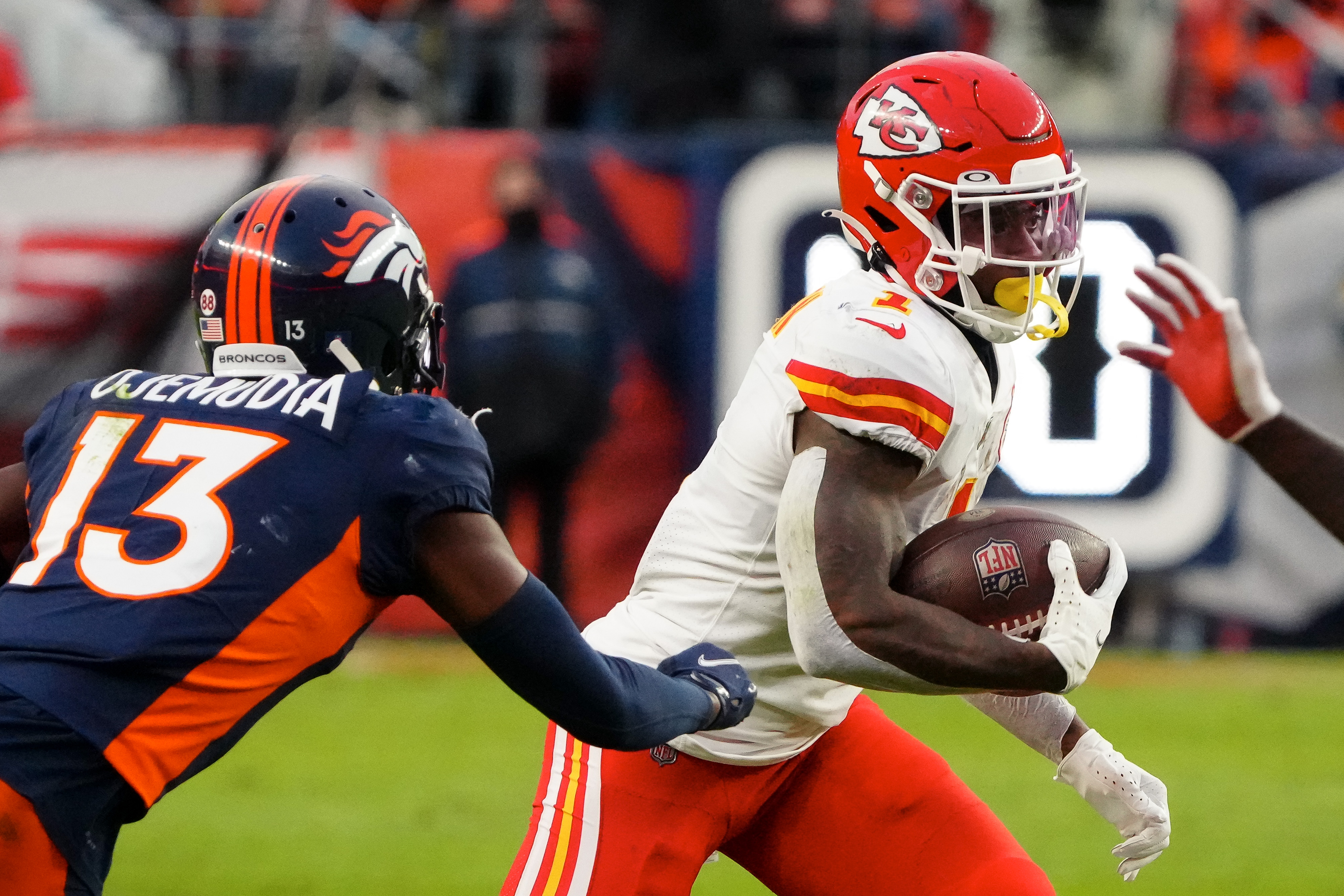 Michael Ojemudia comes into his third season trying to steer the course back after almost losing his entire 2021 season to a hamstring injury.
Ojemudia was placed on the Injured Reserve list before the season even started. He appeared in the season's last two games and got the start in Week 18.
He made the most out of that start, recording eight solo tackles, with two passes defended, and almost notching two interceptions against Patrick Mahomes.
With only 12 starts on his resume, the jury is still out on the type of player that Ojemudia can be.
So far in this offseason, though, he's received tons of praise from his teammates and coaches.
In a recent press conference, the Broncos' new defensive coordinator, Ejiro Evero said, "He's gotten so much better. It's a credit to him and a credit to Coach' C.P.' (Defensive Backs Coach Christian Parker), [Assistant Defensive Backs Coach] Ola [Adams], 'Dre' (Diversity Coaching Fellow DeAndre Thompson), and those guys that are working with him. He's really, really improved, which is good because we need a lot of depth at that position."
During the team's OTAs, Surtain was asked which corner had "caught his eye" this offseason, and he immediately responded with, "O.J. He's made plays throughout these OTAs." Surtain added, "He's been ballin'. He's been showing that he's capable of making those big-time plays. He's been showing out these whole OTAs, so I'd say him."
If Evero and Surtain are right about Ojemudia's massive improvement this offseason, this put the Broncos in a fantastic situation.
Going into last season, the Broncos looked poised to have one of the best secondaries in the league. However, with Kyle Fuller ultimately being a tremendous and expensive disappointment, Ronald Darby being inconsistent, and the injuries to Bryce Callahan and Ojemudia, they finished far from it.
The Broncos let Bryce Callahan, Mike Ford, Fuller, and Nate Hairston walk in the offseason. Denver signed Bless Austin, Donnie Lewis, Essang Bassey, and K'Waun Williams to replace them.
With Surtain, Darby, and Williams as the current projected starters, a return-to-form Ojemudia would mean solving the cornerback depth problems that the Broncos have suffered for multiple seasons.