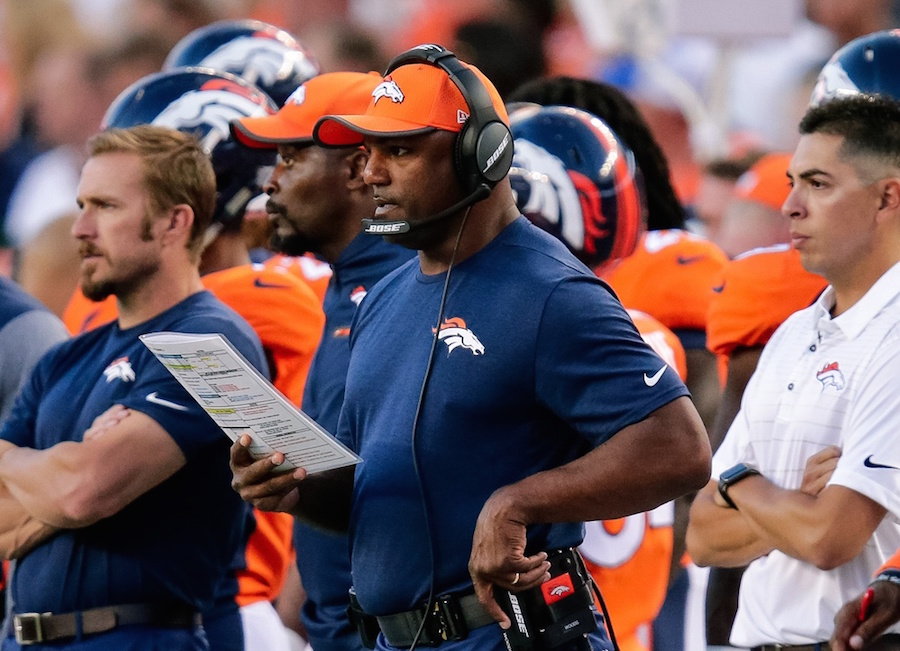 The Denver Broncos are ready to move on from a lopsided loss to the Philadelphia Eagles, but for team that prides itself on its defense, giving up 51 points isn't soon forgotten. Defensive coordinator Joe Woods on Thursday met with the media and addressed some of the issues that led to Denver's worst defensive performance since 2010.
Woods shouldered most of the blame, but didn't let his players off the hook entirely.
"Part of our problem is that I think I can be better with some of the calls," Woods said. "You can never make a perfect call, but it's just been execution. A lot of the plays that we got beat on were just [not] being in the right positions in zones. A couple mans, but being in the right position when we're playing zone defense."
Woods, in his first year as a coordinator, is still acclimating to being the primary play caller on the defensive side of the ball. Last Sunday offered a valuable, but costly lesson.
"It's a great lesson. Going into that last drive before halftime, I think they had 27 yards rushing. It was a situation where I was calling certain defenses anticipating what we were going to get and we were a little bit soft. We didn't execute on the edge and they hit us on two big runs. I was really fishing, trying to find the right call based on what they were doing personnel wise. I was a little off. I was a little off that game."

Video: Denver Broncos Facebook
Woods was referring specifically to back-to-back plays in the second quarter when Jay Ajayi went for 14 yards and then a 46-yard touchdown run that gave Philadelphia a 31-9 advantage at the half.
Prior to that drive, Denver had allowed passing touchdowns to a wide receiver, a running back and a tight end in the half. Committing too much protection against the pass set up Ajayi's big runs.
Denver now welcomes to town the defending Super Bowl Champion New England Patriots. New England defeated the Broncos in Denver last season 16-3, as the Denver offense was unable to gain any traction throughout the game. It was the third consecutive meeting between the two sides in which Denver held New England below 25 points.
Woods' defense again faces a matchup problem with a dangerous pass-catching tight end like they've encountered over the past two weeks. Denver struggled to slow down Travis Kelce (seven catches for 133 yards and a touchdown) two weeks ago in Kansas City and the duo of Trey Burton and Brent Celek (five combined catches for 80 yards and a touchdown) last week in Philadelphia. This week they welcome Rob Gronkowski, who ranks behind only Kelce and Philadelphia's Zach Ertz (who was hurt last week against Denver) for total receiving yards by a tight end this season.
Gronkowski, however, is averaging more yards per reception than both Kelce and Ertz, with an impressive 15.0 mark this season. He also has five touchdowns.
New England added another weapon at tight end on Thursday, claiming Martellus Bennett off waivers from Green Bay. Bennett played the 2016 season with New England before signing in the offseason with the Packers. He had seven touchdowns and 701 yards receiving for the Patriots last season.
Woods was asked if the game plan would change with Bennett back in the fold for New England.
"Nope, you just have to go out and play. Regardless of who they put on the field, we just have to be able to execute our defensive scheme. Guys have to be able to play their techniques and make the plays their supposed to make. That's the way we try to coach. That's what I always talk to those guys about."
The Broncos (3-5) and Patriots (6-2) kick off at 6:30 p.m. MST Sunday from Sports Authority Field at Mile High.