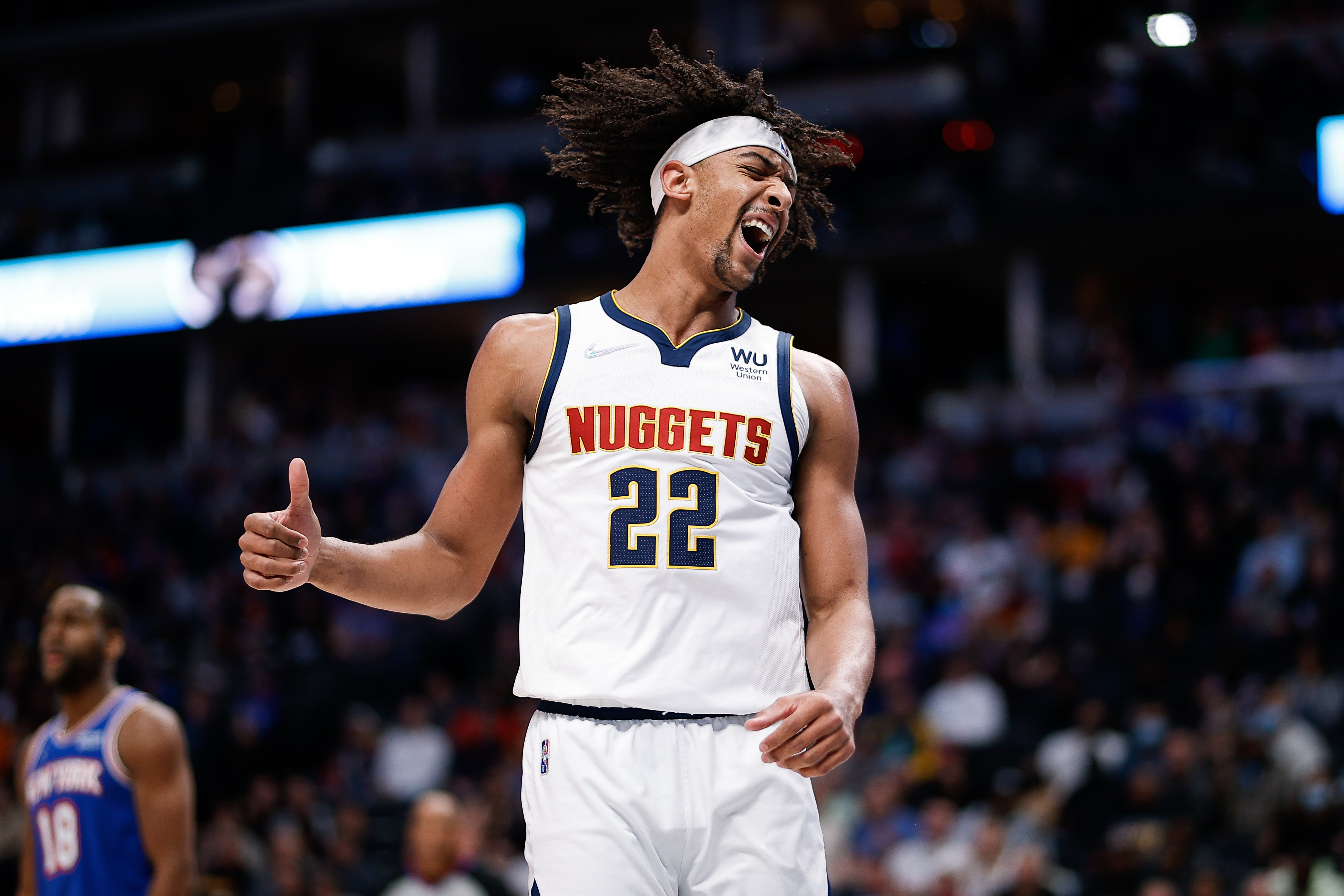 Through the first two seasons of his career, Zeke Nnaji is still trying to find his niche.
The Denver Nuggets selected Nnaji with the 22nd pick in the 2020 NBA Draft. His first season was mostly an afterthought in the larger scope of Denver's plans as he played just 397 total minutes. There were flashes to be excited about though, as he showed out against the Los Angeles Lakers on Valentine's Day of 2021, among other appearances during the middle of the year.
In his second season, Nnaji began to see the floor more regularly. Nnaji was initially a healthy scratch from the rotation for nine of the first 14 games of the season. After a three game injury absence, Nnaji played in 34 of the next 38 games as primarily a backup power forward behind Jeff Green. During that stretch, Nnaji averaged 17.7 minutes, 6.7 points, and 3.7 rebounds per game, shooting 53.9% from the field and 47.0% from three-point range. He was clearly a role player, but he was good within his role, spacing the floor for bench units and playing good defense.
Nnaji was beginning to find his groove before suffering a knee injury against the Boston Celtics right before the All-Star break. That knocked out Nnaji for several games, and in his return to the floor against the Sacramento Kings, he re-aggravated the injury. That sidelined him up until the final game of the regular season in April, and he played just eight total playoff minutes in Denver's five-game loss to the Golden State Warriors.
The injury was really poorly timed as he was just starting to develop a rhythm. Nnaji stated in an interview recently that he is fully healthy and will be ready for training camp in late September though, so it shouldn't be a nagging issue going forward.
Two years and a little under 1,100 minutes played later and the Nuggets are still trying to identity Zeke Nnaji's best role to help the team. Nuggets head coach Michael Malone recently stated during an interview that simplifying Zeke's role would be good for everyone, and that the Nuggets believe Nnaji is best suited to play power forward. They're probably right.
But for a Nuggets team with several candidates to rack up power forward minutes, it's in Nnaji's best interest to be as versatile as possible. Aaron Gordon is the power forward starter, but Michael Porter Jr. will spend some time there too. Jeff Green is a strong candidate to compete for backup power forward minutes, and don't sleep on Vlatko Čančar or even two-way player Jack White finding some opportunities to play too. Denver's backup small forward and backup center positions are a bit more in flux, and if Nnaji shows a consistent ability to impact winning, Malone will find a way to get him on the court.
If Nnaji does make his way onto the court, he will bring with him a career 43.9% three-point percentage. The only players in the NBA 6'9″ and taller to shoot above 40% from three-point range last year were Nnaji, Karl-Anthony Towns, and Mike Muscala. Nnaji only attempted 80 threes last year though, which is a pretty low number for a floor spacer. The Nuggets utilized Nnaji primarily as a spot up threat rather than involving him in pick and pop actions, which seems like a mistake in retrospect given how poorly Denver's bench offense ran with JaMychal Green as the primary pop big.
That may end up changing those season. JaMychal Green is gone, but Jeff Green remains. He's joined by DeAndre Jordan as Denver's primary competition to Nnaji in the frontcourt. There will be opportunities to use various combinations of Nnaji, Green, and Jordan, but the Nuggets will certainly look to evaluate Nnaji more closely. Entering the third year of his rookie contract, the Nuggets need to know exactly what they have in the 21-year-old power forward.
At his best, Nnaji is a superb perimeter defender. He's fluid enough at 6'9″ to move his feet and defend perimeter players without fouling. He often forces opposing players into long jump shots, contesting well with good timing. In terms of defenders on the Nuggets, Nnaji had a strong case to be the third best perimeter on the team behind Aaron Gordon and probably Austin Rivers. Given that Nnaji is listed at 240 pounds, that's pretty impressive.
Nnaji uses that quickness and instinct when defending passing lanes as well. His arms are always up, doing good things in pick and roll coverage by stopping the ball handler and making their life difficult.
The biggest issue is also born from those instincts though. As Nnaji's perimeter defense has shown impressive growth, the interior defense has lagged behind. His discipline maintaining drop coverage in pick and roll leaves a lot to be desired, and his rotations across the lane aren't deterring enough shots at the rim. His job on the perimeter has been to make shots as difficult as possible, but there's still a lot to show in the "big man" skills.
Sometimes, that can just be a young player thing. Nnaji is still just 21 years old after all. A lot of times, young players don't go full speed in certain situations because they're tentative and don't want to mess things up. That tentativeness often goes away with experience. He also has a lot of physical development left to do, including adding that grown man strength. Those Nnaji is already strong for his size, he's still learning how to use that size to his advantage the best way possible. Soft label this "softness" but it's really just a learning curve like any other. For Nnaji to be truly successful at the NBA level, he will need to add that functional strength.
For the Nuggets, it will be important to find out just how ready Nnaji is to impact the rotation in a positive way. He doesn't have to become much better than he already is to make a consistent impact. If the Nuggets find ways to leverage his outside shooting more, then the entire team will benefit. If Nnaji simply stands in the corner, there's only so much he can do.
Michael Malone has discussed Denver's intention to run a more aggressive, switching unit off the bench next season to make things difficult for opposing teams. In order to run a switching scheme, the personnel has to be right for the job. Nnaji is a great option for switching, because even if he doesn't have the functional strength to battle centers consistently, he will be switching away from those matchups to defend smaller players just as often. Could an initial bench lineup of Bones Hyland, Bruce Brown, Davon Reed, Jeff Green, and Zeke Nnaji be switchable enough to play such a style? Perhaps Bones would struggle, but every other player in that lineup would excel, headlined by Brown and Nnaji.
However the Nuggets decide to do it, they will have to figure out if Nnaji can be a mainstay in their playoff rotation. Most of the other rotation spots are spoken for, including the five starting spots, Bones Hyland, and Bruce Brown. Adding Nnaji to the mix as a versatile, floor spacing forward with defensive chops could be a really good thing for Denver's chances.
Nnaji will have to prove it though.