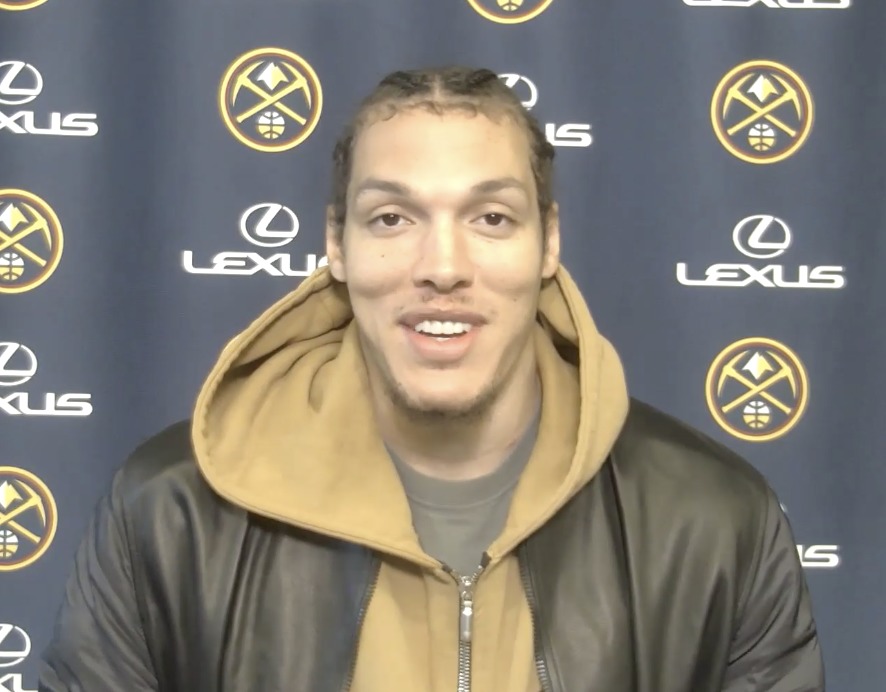 Aaron Gordon and JaVale McGee have arrived in Denver and spoke with media for the first time on Saturday morning. They're expected to suit up on Sunday at home against the Atlanta Hawks although the two won't have much time to get acclimated to their new team.
But McGee is no stranger to getting traded and having to adapt on the fly. He actually embraces it. 
"It's not really that complicated as being a player that's been traded plenty of times," McGee said. "I've been on plenty of teams that had to mesh with different players. Random fact I've played with other 190 players in my career but that's besides the point. But for me personally it's easy for me to mesh with anybody."
McGee has played for seven different teams over his 13-year career including a stint with the Nuggets from 2012 to 2015. Of course, the Nuggets back then were a much different team than they are now. They only went to the playoffs in his first year there and missed the playoffs until the 2018-19 season. 
"Six years ago when we would beat good teams it was a surprise," McGee said. "I feel like now this team is more of… on the scouting report it says you better play hard or this team is going to destroy you. I feel like we just got even better with the addition of me and Aaron of being a team that people look on the calendar and know this is not going to be an easy game." 
The Nuggets aren't the only ones who have been through a transformation since then. McGee has had his fair share of growing as both a person and a player. Since his departure from the Nuggets, he has won two consecutive championships with the Golden State Warriors and then won another one last season with the Los Angeles Lakers. This Nuggets team is getting a more advanced version of JaVale McGee. 
"The way my game has developed I'm definitely more of a vocal leader than I was when I was originally here," McGee said. "I'm just a lot more focused on one goal and just winning. That's always been my thing is winning but it's a whole different level when you win an NBA championship, and then you win another one and then you win another one in a matter of 4 years so it just changes your whole perspective of life and how it's supposed to be when you play basketball."
Winning is the only option for McGee and he knows he can do that here in Denver with a team who's coming off of a Western Conference Finals appearance against his former team. He remembers what it was like playing against them and was impressed with their level of competitiveness and how they were able to come back from two 3-1 deficits against top teams. Now, he gets to be apart of it alongside Nikola Jokić. 
"Having a big out there who can pass so dynamically and he can shoot it so just having that threat really spreads the floor and opens up the floor for players like me who the spotlight isn't on all the time so I'll be in those open spots and be able to relieve the pressure off of him," McGee said. "Also, being able to contest every shot knowing that Nikola is going to go get the rebound if I get out of position going to block a shot. It's a great insurance policy to have behind you." 
Gordon is also looking forward to pairing up with the 3x NBA All-Star and frontrunner for MVP and plans to make his job easier. 
"I'm just here to make his job easy whether that be cutting or running out, hitting open shots when he finds me, finding him where he likes his spots, and really feeding him the ball and just locking up on defense and making sure people on the other team don't go unchecked," Gordon said. "I think his passing ability is incredible. I think my passing ability is slept on so I think with both of us out there on the floor I think there's going to be a lot of space." 
He has been waiting for this moment to compete at the highest level for his whole career. Gordon, who has proven his versatility on both ends of the floor, requested a trade from the Magic last week and got his wish. He was drafted to Orlando in 2014 and has been there ever since. It was time for a change and he couldn't be happier to continue his NBA journey in Denver. 
"It has been really stressful," Gordon said of the last few days. "It's a huge relief to be apart of a great organization and I'm just happy that I found a new home. It was rough. I was just so ready to pick up my phone from my agent so any call I would get regardless of who it was I was thinking I was being traded." 
He said he didn't have much of a say in where he was going to get traded to but he knew it was between a couple of teams. Denver was, however, the best fit for him to play alongside both Jokić and Jamal Murray. 
"They're both tremendous basketball players," Gordon said of Jokić and Murray. "They play the right way, very high IQ so if I play the right way and make the right reads and make the right passes, make the right plays, I think everything will be seamless."
The 6'8" 235 pound power forward is ready to play his role with a winning organization and has a mutual understanding with the team of what is expected of him which is just to be himself: an athletic slasher, runner, cutter, facilitator, spot up shooter and a tenacious defender. 
Gordon refers to himself as an all around player but especially takes pride on the defensive end of the floor. He loves going up against the best of the best like LeBron James and Kawhi Leonard. 
"My niche coming into the league is a defender," Gordon said. "So, if I can help this team defend some of the best players in the league I'm more than happy to. I'm excited to. I know that's what they're going to ask me to do night in and night out and I can't wait for that challenge." 
This is the first time in Gordon's career that he has been traded and he won't have much time to gel with his new team before playing on Sunday but McGee, a guy who has been here several times before offered some advice for the 25-year-old. 
"The advice I would give Aaron is to just be yourself," McGee said. "Come in and be that dynamic scorer that you've been in Orlando. Don't shatter your game trying to fit in just be yourself that's why they brought you here."
Now, as Gordon gets ready to take the floor, he's going to start looking for a place to live and get the rest of his stuff shipped from Orlando. His main focus though is stepping out on the court with his new teammates. 
Get ready Denver. The Nuggets, who are currently in 5th place in the Western Conference with a 27-18 record, just got even better with the additions of Gordon and McGee. Expect another run to the Western Conference Finals and more.