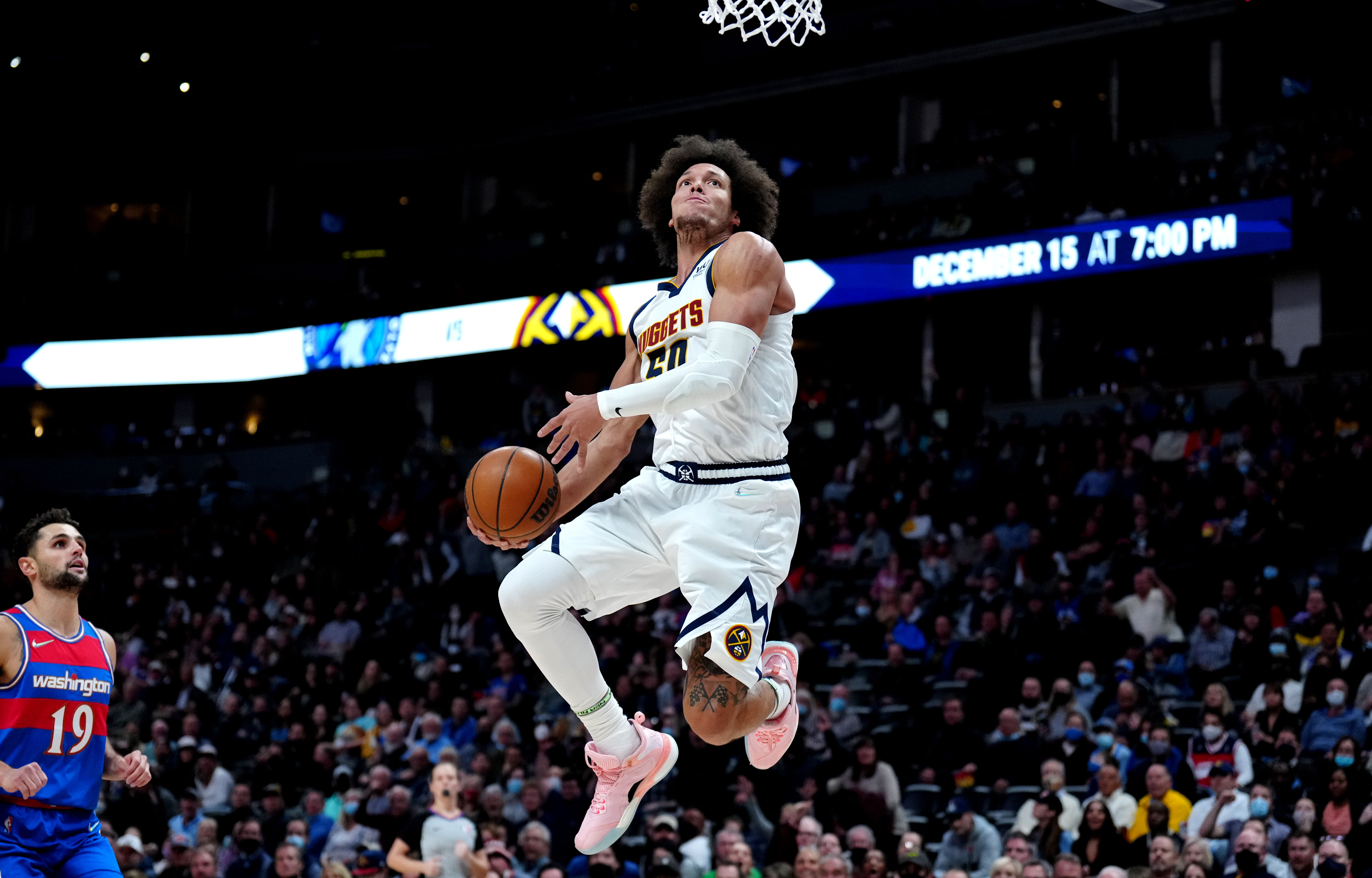 As the Denver Nuggets watched their 33-point lead disappear in the second half at home against the Washington Wizards, the reality set in that their margin for error with four starters out was essentially nonexistent.
With Nikola Jokic's polarizing ejection in the fourth quarter, Denver was without four of their five-best players. Jamal Murray has missed all season so far as he rehabilitates from his ACL tear last April, but every indication points to Murray's recovery going as well as possible. Will Barton III has been battling through a non-COVID illness which has bothered him for the better part of a week, but he is feeing much better according to sources and he has been upgraded to probable to return against the Minnesota Timberwolves on Wednesday night. Lastly, Michael Porter Jr. will continue to be out indefinitely with low back pain which resulted in a surgical procedure to correct.
The lone remaining starter was Aaron Gordon, who found a way to do just enough to help the Nuggets escape with a 113-107 wire-to-wire victory over the Washington Wizards despite battling through a back injury that Nuggets head coach Michael Malone thought would keep him out of Denver's battle with the Wizards.
"I think a lot of guys in Aaron (Gordon)'s situation would not have played knowing that you are going to be tasked with the responsibly of guarding a guy who has led the league in scoring," Malone explained. "If you have a sore back – he did not really go through shoot around this morning – I did not think he was going to play because the trainers said he was that bad."
Still, Gordon was not deterred. He intended to play and relayed that to Malone in hopes that it would increase the odds of being cleared to play.
"He told me, 'let me give it a go and see how I feel'," Malone explained to the media after beating the Wizards 113-107. "For him to go out there and play 39 minutes and get 16 points, five boards, three assists, and some big, big plays on defense speaks to him just being a warrior."
Not only did Gordon produce statistically, as Malone pointed out, but when the game was on the line, it was his dunk after dropping his defender with a crossover with 1:17 left in the game that solidified the Nuggets' fifth win in eight tries despite Jokic being ejected earlier in the fourth quarter by none other than Tony Brothers, who has a track record of throwing Jokic quickly and without hesitation.
"We needed a basket, putting that move on him and just dunking, I think that shows the kind of player he is," Nuggets starting point guard Monte Morris explained. "That was big time. He is a big time player."
This play was a perfect microcosm of Gordon's impact. No matter the situation, he remained steady and composed. He understood when a bucket was needed, how he could create that opportunity for himself, and executed at a high level to secure the victory. It may not always be flashy, but the impact is almost always there.
"Kudos to him for not only playing that way tonight, but really all season," Malone said.
All year long, Gordon has been the overlooked stabilizing force for Denver on both ends of the floor. No matter who has been injured or what opponent they are facing, Gordon has taken on the responsibility of guarding the toughest opposing offensive player regardless of position and filled his role being the jack-of-all-trades offensive role player masterfully. Denver's offensive rating with him on the floor is 20.7 points better than when he is on the bench and he is constantly acting as the anchor on defense regardless of filling in as a point of attack defender on a player like Beal or battling down low while playing center.
"Aaron has been playing tremendous," Jeff Green said. "What he has been giving us on both ends of the floor has been great. He has been playing well in the post, he is shooting the ball well, and he showed off his versatility today by, on the defensive end, all day guarding Brad and doing a good job at it and then finishing at the five. That shows his limitless skills of what he can do on the floor."
Defensively, Gordon has asserted himself in a way no one has seen during his eight-year NBA career. Every game, there has never been a doubt in this dedication to slowing the opposing offense and suffocating his defensive assignment. He is fully willing to put his body on the line for the betterment of the team – as seen in his performance against the Wizards as he held Beal to 19 points on 19 shots despite his ailing back – and he has shown that willingness each and every game with the Nuggets thus far. So long as they have Gordon on the roster, Denver will have a higher defensive ceiling than at any point of the Michael Malone era in Denver simply due to the determination, skill and versatility Gordon has displayed.
His ability to smother guards or wings on the perimeter or win battles down low with power forwards and centers in the paint is incredibly rare which allows Malone to open up his defensive playbook and begin to experiment. Over the past few seasons, Denver has guarded pick and rolls by playing at the level of the screen. Now, Denver is dropping, switching, hedging, blitzing and playing at the level of the screen because they know they can put Gordon on the opposing team's best player allowing the rest of the lineup to simply execute their role.
"When you have a guy who can guard, who can contain, who can play one-on-one, it allows you to stay away from helping and committing two bodies to the ball," Malone explained. "You get beat when you cannot contain the ball and you get beat when you have to send a double team. Teams are going to generate open looks because of that. That is what happens when you put two on the ball defensively. When you have a defender like Aaron who can guard, cover, and, even when he is beat, he has the size, speed and athleticism to get back in the play and have an impact that helps everyone on the floor."
On offense, Gordon has not attacked the rim with such conviction in his career. He is shooting an incredible 77.7 percent at the rim according to Basketball Reference and only 61.3 percent of those made shots were assisted. Not only has he been a terror as a cutter and a roller, but he has been able to create points at the rim individually for a Nuggets team that has been inconsistent at best on offense over their first 27 games of the season. He has been a productive scorer in the post, he has attacked the offensive glass when available, and has been able to hurt defenses by attacking closeouts from the perimeter opening up lanes to drive to the rim utilizing his advantage against slower-footed defenders. He is also pushing the ball in transition, being ideally selective with his three-point shots, and converting open looks at a high level. Gordon looks like a player entirely comfortable within his role and that confidence has allowed all of his skills on both ends of the court to shine.
Without Gordon, the outlook for the Nuggets would be bleak. He has helped, alongside Jokic, keep Denver above water when injuries have hit and has accentuated their best traits when they have been as close to healthy as they can be. He is simultaneously someone who raises their floor, but also their ceiling. He has been exactly the player the Nuggets have needed him to be.
"I think he is really cementing himself amongst the best defenders in the NBA and one of the more complete players in the NBA," Malone stated.