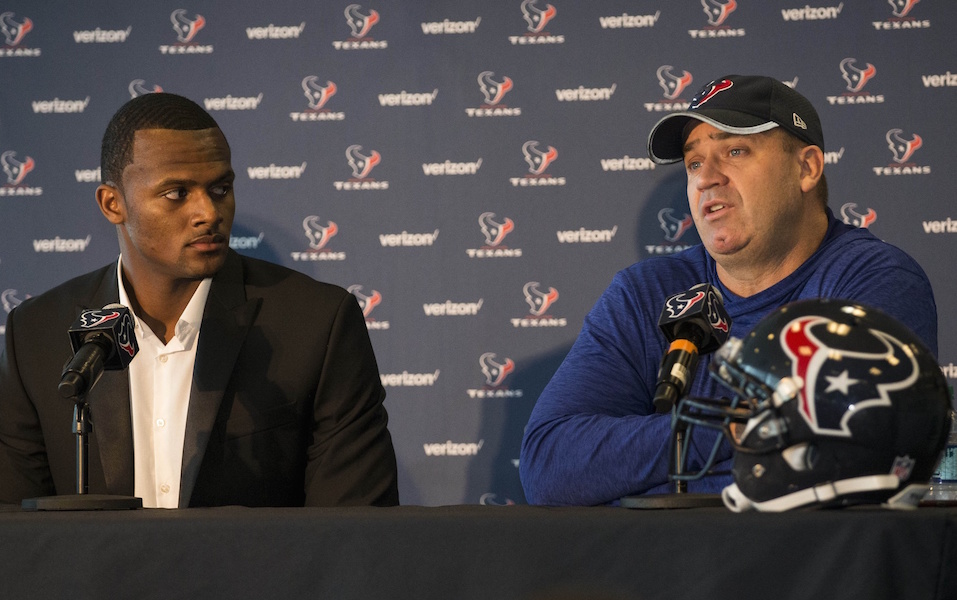 If the Denver Broncos are going to get back to the Super Bowl, they may have to go through the Houston Texans, winners of the AFC South two years running. Here's what the Texans did in this year's draft that Broncos fans need to know…
Overview
The Texans went into this year's draft looking for someone to replace the disaster that was quarterback Brock Osweiler. With the since-departed QB now in Cleveland, the Texans are exactly where they were before his signing, looking for the last piece of the puzzle to help it get over the top in the AFC.
Most notable pick – Deshaun Watson, QB, Round 1
Like the Kansas City Chiefs' selection, Patrick Mahomes, two picks earlier, I wasn't high on Watson being a first-round selection – much less a top-15 choice. That said, his confidence is admirable and his play in the past two national championship games is proof of his potential. However, he has a long way to go in his development going from a spread-offense to Coach Bill O'Brien's rigid system. For as much as the Texans have given up in the way of draft picks to unload Osweiler and draft Watson, the team desperately needs him to start sooner than later.
Head scratcher – D'Onta Foreman, RB, Round 3
Let's start off by saying this: Foreman was an excellent running back while at Texas, winning the Doak Walker Award for the nation's best running back and earning All-American honors in his junior season. What he comes into with Houston is a crowed backfield that already has recent free-agent signee Lamar Miller in addition to similar-style runners in Alfred Blue and Akeem Hunt. Freeman has the type of running ability to be a starter somewhere, but his skill set doesn't translate well to having to be a third-down back for the Texans.
Final Thoughts
Like the Chiefs, the Texans draft class will depend heavily on whether or not Watson is able to come in and claim the starting quarterback job from Tom Savage, which is no guarantee. It's hard to tell if the Texans simply went the best player available in a few spots due to another player that would have filled a need not being there. Having a shaky grip on the division and the Colts closing the talent level between the two, Houston picked a bad time to have uneven draft class.