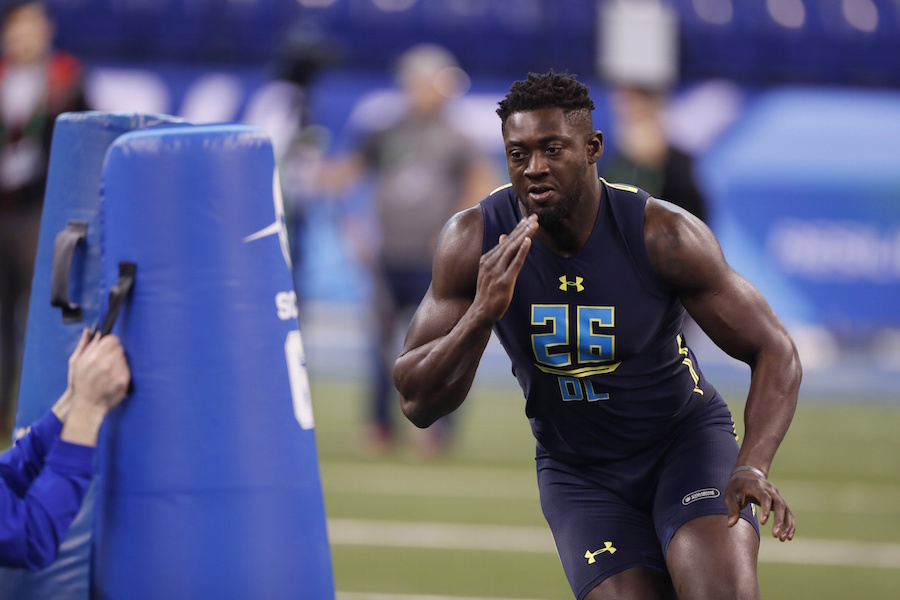 While the Broncos were adding reinforcements to the trenches on the offensive and defensive line in Garett Bolles and DeMarcus Walker in Rounds 1 and 2, the rest of the AFC West was out improving their rosters as well. The reigning AFC West Champion Kansas City Chiefs took a long view with their first two picks, planning for the future on both offense and defense.
Round 1 – No. 10 Overall
Patrick Mahomes
QB, Texas Tech
The Chiefs made a lot of noise on the opening night of the draft when they moved up 17 spots to select Texas Tech quarterback Patrick Mahomes. Owner of one of the biggest arms in the draft, heaving an 80-yard bomb on his pro day, there is a lot to like in the former Red Raider. In his final year in Lubbock, Mahomes threw for 5,502 yards for 41 touchdowns and only 10 interceptions.
One of the most interesting picks during the night, this is a signal towards letting Mahomes take a "redshirt" season this year to learn the nuances of reading defense at the pro level and an eventual move away from established starter, Alex Smith. For better or worse, the Chiefs felt compelled to give up their 2018 first-round pick and this year's third-round pick to select their quarterback of the future.
Round 2 No. 59 Overall
Tanoh Kpassagnon
DE, Villanova
The Chiefs added to their defensive ranks with the selection of the Villanova Wildcat. This pick makes sense, even with stars Justin Houston and Dee Ford on the roster. With Tamba Hali in the twilight of his career and starting to slow down, it's reasonable to add another rush defensive end in that same mold. Playing for the FCS Wildcasts last season, Kpassagnon had 20 tackles, 16 tackles for loss and 11 sacks.
While Kpassagnon looks the part of premier pass-rusher, he is at least a season away from being able to contribute on a full-time basis. Luckily for the Chiefs, they have several players ahead of him that can help speed up his learning curve. This was another move with an eye towards the future for the AFC West champs. Don't expect too much from Kpassagnon aside from special teams work this season, barring injury.
The Chiefs made a surprise selection in fifth-round choice Tyreek Hill and unleashed him on the league late in the year last year, much to the chagrin of the Broncos. While it may not resound with some, the Chiefs prove capable in finding players that fit their scheme and develop them accordingly.