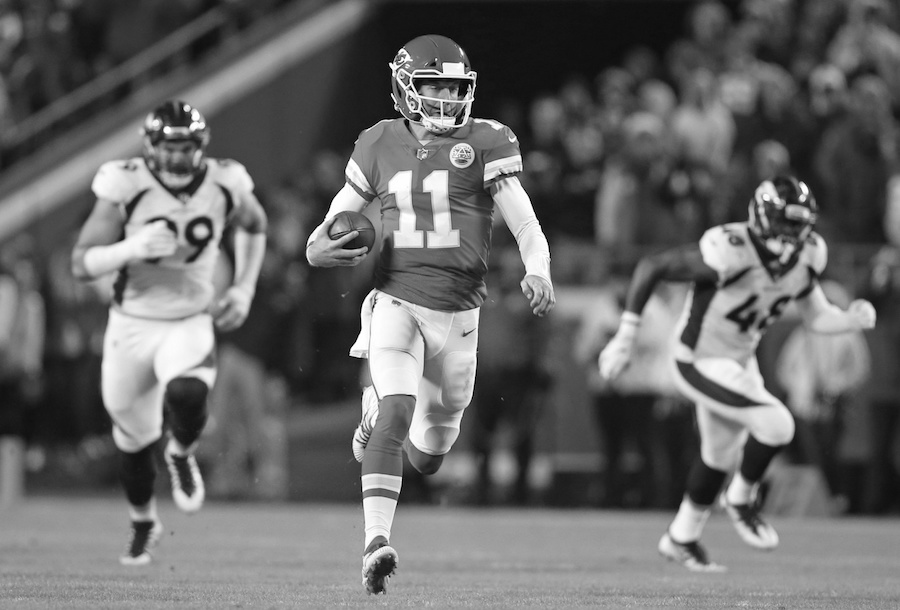 It was a season that started like any other season. Training camp. Four preseason games. You know — football.
The Broncos picked up an expected Week 1 win, just like they've done every year since 2012. They cruised to a 3-1 start through the first quarter of the season. It was a season that started like any other season.
Then it hit us. It hit us blindly. We didn't see this season coming.
The AFC West is good, we all thought. Probably the best division in football.
Instead, the Broncos are the worst team in a division that claims zero teams with a winning record. Hope for the playoffs, stolen.
Like being robbed of our belongings, we feel vulnerable, we feel angry, and we need someone to blame.
Angry hoards of fans, radio hosts and sports columnists are on the lookout for someone — anyone — to pin this crime on. They are asking the question in concert: "Who's to blame for this out of sorts spectacle?" Sadly, they all emphatically believe they have the answer. The investigators of this dastardly act have their lineup of suspects assembled and they are more than ready to finger their man.
But Broncos Country is not the only place where the angry mob is clamoring for a cause of this crime against fandom. There are plenty of other NFL cities that have too begun the search for a criminal menace. A menace who has robbed their expectations and brought them into a vulnerable misery in fandom.
So like a good detective, let us look at another crime scene, another NFL team, and just maybe it could possibly lead us to find who the real culprit is running amuck in Broncos Country. 
Criminal Case No: 6-6.2017
Location: 1 Arrowhead Drive, Kansas City, MO
Possessions Lost: A winning season, and possibly a Super Bowl Ring
In a heartbreaking crime within Chiefs Kingdom, Kansas City fans feel absolutely robbed of what was looking like their best season since Joe Montana. The Chiefs started off with five wins. Even after two losses they seemed to be getting back on track after beating the Denver Broncos at Arrowhead. The Chiefs before November had a record of 6-2 and sat alone atop the AFC West, about to enter the weaker part of their schedule. The Chiefs were legitimate threats. This could be the year… to win it all!
But like a thief in the night coming to take everything but the kitchen sink, the Chiefs seemed to lose everything they once had. Four straight losses including at the Dallas Cowboys, at the abysmal New York Giants, and even a rare home loss against the Buffalo Bills. After losing last week to the now 5-7 Jets, the Chiefs sit in a three-way tie for the AFC West at 6-6.
In the blink of an eye, everything has seemingly been taken from what was a very rich in happiness Chiefs fan base.
So who is Chiefs Kingdom blaming for the loss? Who are the suspects in this kingdom caper?
Look to the top: Owner and CEO Clark Hunt?
No, Mr. Clark Hunt, the son of legend Lamar Hunt, seems to be a steady owner dedicated to winning. No signs of change for the Chiefs or money issues which might change the boys in red anytime soon. And as of Week 14, Mr. Hunt has yet to take a snap. Perhaps we should look elsewhere.
It's the New Guy! General Manager Brett Veach?
Brett Veach was hired in July of 2017. He too has yet to take a snap on the field and moreover very few of the players he has signed have either. Veach, hired internally from the scouting department is now a hotshot young GM. With Veach being so new, and having a possible subservient role to head coach Andy Reid, these are not Veach's players, and he has little to no fingerprints on this roster. No prints, no criminal, no proof. Moving on.
So its Andy Reid then? I knew it all along!
While you might be able to blame Andy Reid for breaking the lawn furniture, the big guy is not to blame for the Chiefs' slide. Andy Reid is truly one of the best coaches in the NFL, and possibly the best coach in the AFC West. In his time with the Chiefs, Reid has won 49 games, only losing 27. In the previous four years, Andy Reid went to the playoffs three out of four years. That is in a division where he had to contend with Peyton Manning, Phillip Rivers, and a resurgent Oakland Raiders team who has a new look and some great young talent. If you are looking for a great coach and a great evaluator of talent, Andy Reid is your man. If you are looking for someone to blame for the Chiefs' stolen season, look elsewhere.
So it must be the leader on the field! The Quarterback did it?
Alex Smith was mentioned earlier this season as a possible MVP candidate and a hot commodity on the free agency market in 2018. In his last game, a loss to the Jets, Smith threw for 366 yards, four touchdowns, and had zero interceptions for a passer rating of 135.9. That loss surely isn't on Alex Smith. And while he has struggled from time to time, most of the other losses are not his to bear either. Smith is a good quarterback, and it takes more than one guy to lose a season.
Back to the scene of the crime in Denver
So in looking at this crime in K.C., we look back to Denver. We look at the GM in John Elway. While he has had his misses, he too has had his hits. He brought in Manning, he brought in Aqib Talib. He has signed Chris Harris and Derek Wolfe to team-friendly deals, and was able to keep Von Miller here, even when it looked impossible.
We look at the quarterback situation, and try to blame Trevor Siemian or Paxton Lynch, but they are who they are, and they are learning the game of football. It's hard to pin a three-win season on just two guys. While they have had their part in the crime, it takes more than just young quarterbacks to do this much damage.
We look to the new coaches, who have had to take over for legendary winners in Gary Kubiak and Wade Phillips. Vance Joseph (and his crew) are not without guilt, but they can only do so much damage. Like his young quarterbacks, Vance Joseph is learning on the job, I am not sure what we expeced out of a first-year head coach?
The truth is — for both the Broncos and the Chiefs — it's a host of culprits. Too many players not delivering with consistency. Too many coaches trying to fix too many problems at once. Too many fans with expectations set too high.
As much as we may want to lock up one single person, there's no one individual to blame for the crime.