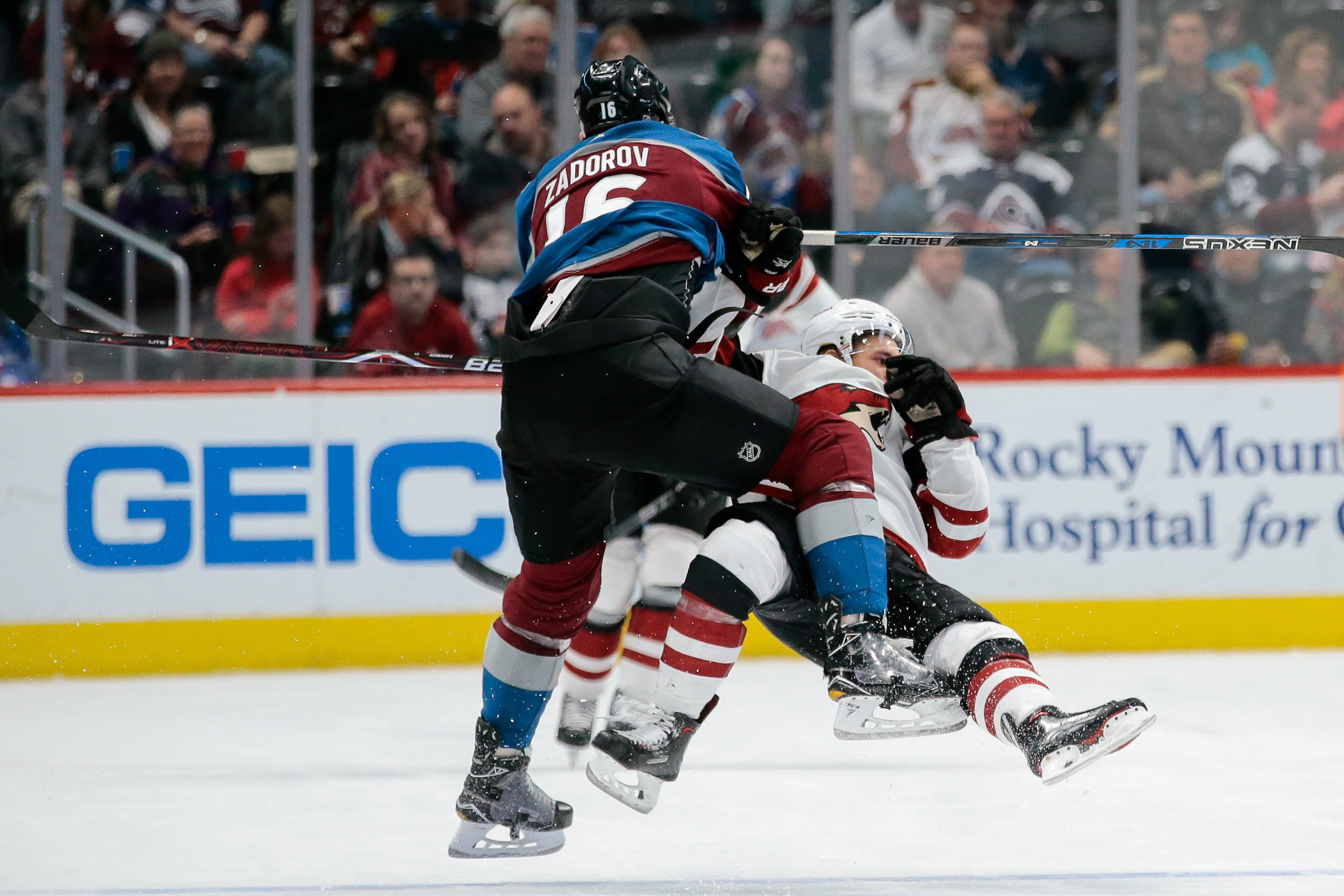 You don't have to tell Nikita Zadorov he led the NHL in hits this year. He already knows.
"I mean, it's cool," Zadorov said after the Avs final practice before leaving to Nashville. "It's part of my game, that's what I'm looking for. It's great, and if it helps our team, I'm going to keep doing it."
In the end, it really wasn't that close. In 77 regular season games, Zadorov was credited with a whopping 278 hits. The next closest player in the league was Milan Lucic, who finished 24 hits behind Zadorov, despite playing five more games. The Russian blueliner became a force on the Avalanche back end, but he knows the intensity will pick up a notch in the postseason, and he's ready for it.
"It's a war out there, usually," Zadorov said. "We've got to be physical on those guys, especially on their top lines and top forwards. It doesn't matter if it's playoffs or regular season, I'm still going to do it."
Listed at 6'5″, Zadorov towers over every skater in the upcoming series against Nashville. When the series begins on Thursday night, the Avalanche will likely be dressing nine skaters listed at 6′ or less. Coach Jared Bednar isn't concerned about his team's ability to handle the physicality of playoff hockey.
"I think we'll be fine," Bednar said Tuesday. "I just look at recent games, and how we've responded to that and how we've competed in some physical moments. We're not a team that looks to mix it up after whistles. That's just not us. We have to be hard to play against in our own way, and that's using our speed and being tenacious on pucks."
For Zadorov, the 2017-2018 season has been his breakout year. Beyond making life miserable for opposing teams, he set career highs in goals, assists, and points, as well as finishing the season with a positive plus/minus rating for the first time in his career. A talented scorer in junior hockey and in his brief stint in the AHL, Zadorov had entered this year with no goals in 78 games with the Avs. He credits his teammates for helping him produce more this season.
"It was a rough season for our team so it was kind of hard to provide offense last year," Zadorov said. "When I go out there with Nate's line, I'm getting those chances because of the great players that make plays for me. I'm getting those passes and I can finish them."
The underlying numbers also show that Zadorov had a successful year. He was the only Avalanche defenseman that played more than 20 games who also was on the ice for more scoring chances for than against. For the third consecutive year, his individual shot generation went up, rising to 10.34 shot attempts per 60 minutes, a full attempt more than he had last year. He did all of this while being assigned tough matchups and being deployed heavily in the defensive zone against other teams top forwards.
Beyond all of that, perhaps the most encouraging thing to happen to Zadorov this year was his ability to develop chemistry with both of the Avalanche top defensemen in Erik Johnson and Tyson Barrie. During the Avs ten-game winning streak, the Zadorov/Johnson pairing played a huge role in shutting down opposing top lines, but when Johnson went down to injury on February 18, Zadorov shifted to playing with Barrie. The chemistry wasn't there immediately.
"I think it took a few games with Tyson to get to know each other," Zadorov said. "Now I think we're doing great, and I'm enjoying playing with him."
While Johnson and Barrie are both fantastic defensemen, they play the game very differently. For a defensive partner, that requires some adjustments. Speaking exclusively with Mile High Sports, Zadorov went into more detail on adjustments he had to make.
"With Tyson, you have to stay back a little more," the blueliner said. "He's got lots of offense. Sometimes you have to cover him more so he can jump more in the rush and can do more things in the offensive zone. With EJ, it's more of the balancing game. I think we're close players who play similar. It's more of a shutdown role."
The versatility shown by Zadorov gives the Avs options moving forward with what they want to do on defense. Between Johnson, Barrie, Zadorov, and 19-year-old phenom Samuel Girard, the Avalanche have a clear-cut top four and can mix and match with their combinations. For now, the focus is clearly on the Nashville Predators, and for Zadorov, making life as difficult as possible on their highly-skilled forwards.
Let the war begin.