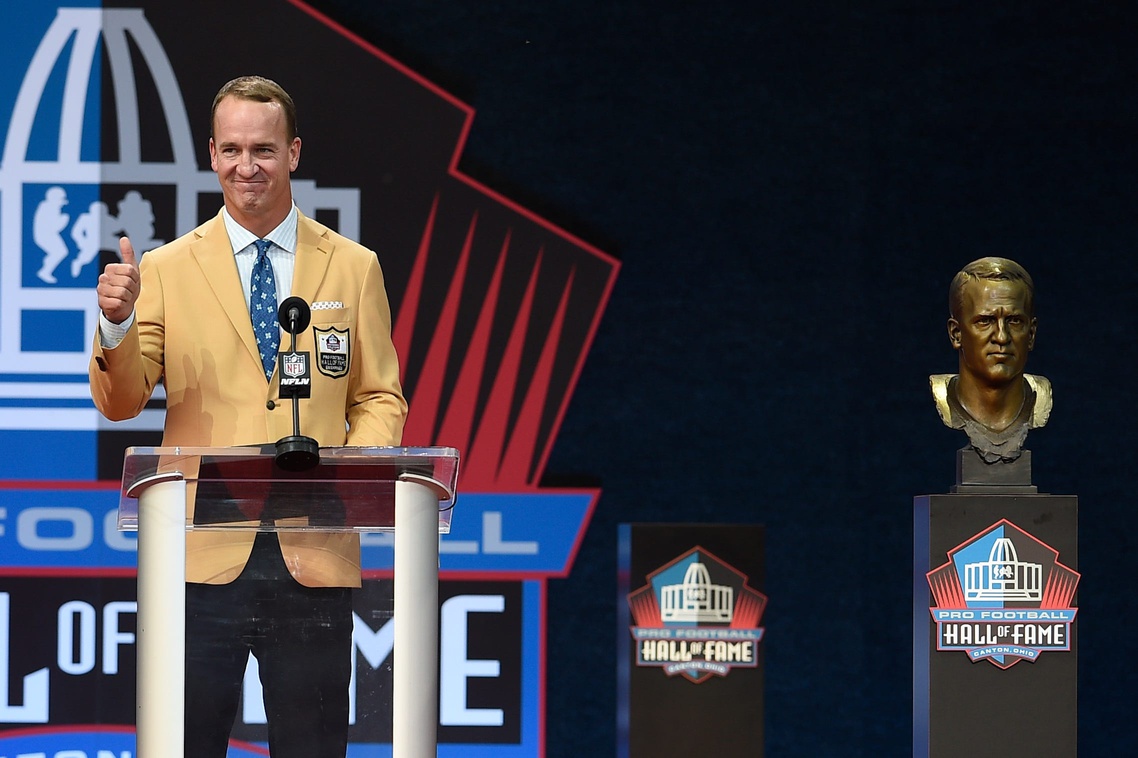 Could there be a safer investment than Peyton Manning?
That's a serious question, at least for anyone with the kind of bucks to buy an NFL franchise, or even a small part of one. Would anyone who put up a dollar – for a loan, a stock, a gift – believe Manning couldn't turn it into $2? There are a handful of brilliant billionaire business folks scattered around the world, but none of them are as smart or passionate about the game, and maybe even the business, of football as the great Peyton Manning.
"I am not done with this game!" Manning roared on Sunday in Canton, dawning his new gold jacket while accepting his induction into the Pro Football Hall of Fame.
Manning jokingly griped that the inductees' speeches had been limited to six minutes, but those seven words should be heard loud and clear for the next few months, particularly in Denver Colorado.
By March, the Bowlen Family must have a plan for the future of the Denver Broncos. The NFL has made it clear that the current mess must be cleaned up and if anyone in the family cares about the franchise their late, great father loved so dearly, they need to let Manning be the janitor.
Now, that's nobody's call to make but theirs. And nobody but nobody has the right to tell another what should be done with their money, assets or even a football franchise that's the fabric of an entire region. So, call this a suggestion, a wish, a hope, a dream.
Somehow, some way, Peyton Manning must become the next owner of the Denver Broncos.
This assumes, of course, Manning wants to become an owner. It's an assumption that feels pretty safe following Manning's acceptance speech, although some have already interpreted his speech to mean that he should the NFL's next commissioner – not a bad idea, but that seems too far down the road for Manning, who might like to roll up his sleeves sooner than later.
Only Manning could deliver a six-minute talk that eloquently wove together the past, present and future of football, wasting not a single word, while providing food for thought for generations of football fans to come – and maybe, just maybe, a bit of a sales pitch. Though he never mentioned ownership specifically, he took ownership of the game's future. Manning seems so indebted to the game, not a soul who listened could imagine him drifting away as simply an ambassador, a flag football coach, a product pitchman or studio analyst. Sure, he could – and might – be any of those things (if he's not already all of them anyway). But Manning doesn't seem like the type who's half-in on anything he genuinely cares about.
What better place to impact and guide the game than from a seat at the table, from a place setting amongst the most powerful men in sports, running the most powerful league in sports?
And what better way for the Bowlen Family to collectively – and independently – graciously depart as heroes? Rather than exiting stage left as the bickering bozo children of a billionaire, they could rewrite their own, and their family's, legacy.
Now, this is not a suggestion that Manning should get anything for free or even at a discount. The Bowlens should get every penny the Broncos are worth. Sentiment shouldn't have any negative impact on their father's investment.
But they do have a say in who the buyer is.
Despite the boatload of money he's made as a player and endorser, Manning likely doesn't have the kind of money requied to buy an NFL franchise, not outright, not by himself. He's probably got a nice start, but it would take some help.
Outside of the Green Bay Packers, NFL franchises aren't owned by "groups"- fellow owners want an individual – one person – who has the power to make decisions on behalf of their franchise. Folks that powerful don't have the time or patience to wait around on multiple sources of input, boards or families.
Manning's name is bigger than bucks. His he's got a reputation that makes him an investment worth making. Wouldn't you invest in Peyton Manning Inc.?
Wouldn't anyone? Jeff Bezos knows a little about money, but don't you think he'd trust an investment in football to Manning? Bezos may or may not be interested in that – for this purpose he's just an example – but the theory applies to any wealthy person who wants to see Manning captain the Broncos and help guide the game into the next half-a-century.
Would Manning possibly ever settle for four straight losing seasons? Would the NFL ever put a Manning-owned team on the field with Kendall Hinton as it's starting quarterback? Wouldn't the league benefit from Manning's presence on any of its guiding committees? The Competition Committee? The Media Committee? The Labor Committee?
Peyton Manning can work a room. A stadium. A league.
As the next owner of the Denver Broncos, he'd do wonders for a frustrated fan base and the game itself. However it must happen, it must. He's an investment worth making.