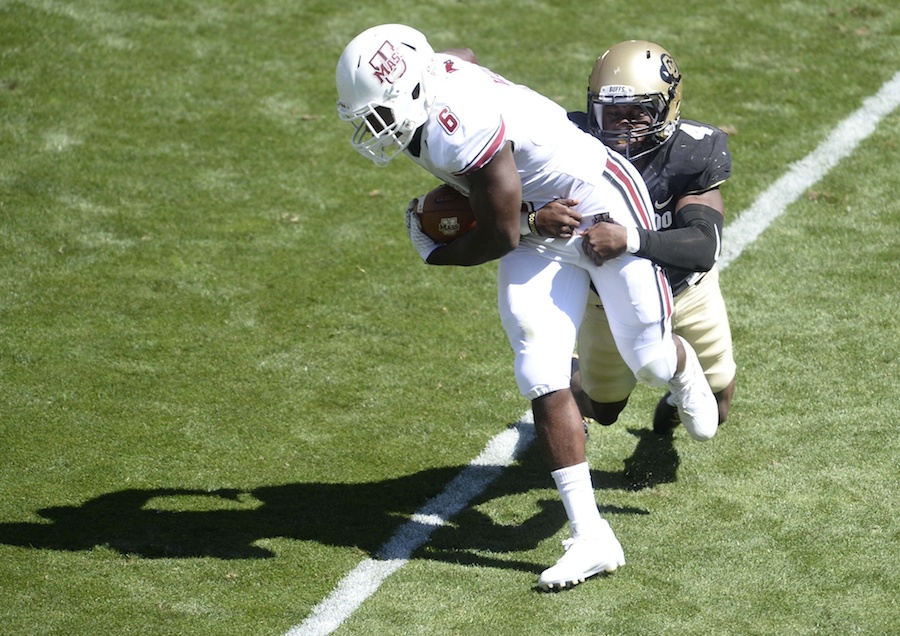 Editor's Note: This column originally appeared in the fall edition of The Stampede, the official publication of the Buff Club. It was published before the Colorado football season began, but with Chidobe Awuzie racking up 18 tackles, four tackles for loss and a sack in the first four games it was clearly onto something.
Injuries are a part of football. There's not a player, coach or analyst that would try to argue otherwise. The pure physicality of the game ensures that not everyone can stay healthy for an entire season.
Some players miss weeks due to a broken bone. Others might miss an entire season with a torn ACL. And then there are the freak injuries that don't just end football seasons; they put life as a whole in perspective.
Chidobe Awuzie experienced just that toward the end of the 2014 season.
The Buffs were coming off a tough 38-23 loss to Washington. Three days later at practice, the coaches were upset over the amount of hustle they were seeing from their players. They kept barking at them.
"Pick it up!"
Awuzie, playing safety at the time, heeded the warning. As a pass flew into the air on the other side of the field, he decided that he was going to make a play. Fellow safety Evan White made the same decision. They both went up for the ball and it was Awuzie who came down hard.
"I fell down on my ribs," Awuzie recalls. "I think when I fell down, my elbow hit my kidney and lacerated it."
At first it didn't seem like a big deal. He knew it hurt, but he still able to walk under his own power; he didn't think it was too serious.
After practice, he went into the locker room as usual. It was then that he realized just how serious this injury might be. The revelation came when he noticed blood in his urine. At first he brushed it off and even joked about it with his teammates. But he soon realized the discoloration and the pain in his side had to be linked.
"That's when I went to the training room," Awuzie said. "(The trainers) examined it and realized that (the discoloration) was blood and they rushed me to the hospital."
Awuzie was enjoying a breakout season at the time. He had just taken over the team lead in tackles and had successfully defended eight passes that had been thrown his way. He had become one of the most reliable defensive backs in the Buffs secondary.
All of sudden, his season was over.
It didn't help that a few other defensive backs had already gone down with injuries. Prior to Awuzie's injury, Jered Bell had torn an ACL and would miss the entire season; so the loss of one more body in the backfield was frustrating for the coaching staff, not to mention Awuzie himself.
"(Losing Awuzie) was a pretty big loss for us," cornerbacks coach Charles Clark said. "But it was a great opportunity for us to get some of the younger guys in there."
With his injury not being of the stereotypical football variety, Auwzie had a moment of panic on his way to the hospital. He pulled out his phone and began looking up the potential damage that a lacerated kidney could cause.
"It scared me a lot," he said. "I didn't know what to expect, I had never felt anything like this. On my way to the hospital I went on Google to find the worst possible scenario. I saw some pretty bad things that got me kind of frightened."
Awuzie and the coaches weren't the only ones concerned over the bizarre injury. His teammates didn't know what to expect either and they had to wait for news to filter in from the coaching staff, rather than wait for the doctors to provide updates.
"It's one of those freak deals, you know," Bell said. "You don't realize it happened and you're just thankful that they realized it early because that could be a career-ending injury."
But because the training staff acted quickly and got Awuzie the medical treatment he needed, he quickly recovered. In just under three months, Awuzie was ready to go for spring ball.
But as with any injury, there was still some hesitancy when taking the field for the first time. With an injury to an internal organ, there are other factors. Is it really healed? Will another hard hit cause another rupture? Could the entire process repeat itself all over again?
During spring practices, Awuzie tried to remove the psychological aspect of the injury and focus on what needed to be done on the field.
"I'd try not to think about it," he said. "When we got into pads the first time, of course I had it on my mind. I like to play basketball a lot, so I'd play some basketball and there'd be a little bit of contact there. It was one of those things where I just had to get in there and not think about it. I'm not really an injury-prone guy so I knew if I worried about it, I could injure myself again. I just had to put it behind me."
And by all accounts he was able to do just that. By the time the Buffs took the field for spring practices there was little to no sign that he had suffered so serious an injury.
"His kidney didn't have any problems," Clark said. "Probably about a month or two after (the injury) he was completely healed."
What the Buffs now have in Awuzie is a versatile defensive back who can play anywhere he's needed on the field. When other defensive backs went down with injury last fall, he shifted to safety, which was where he was practicing when the injury occurred.
After spring ball, he was moved to left corner, but will shift to nickel back when the Buffs play in that formation. The ability to shift him and around, playing him wherever he's needed the most, is a big positive for the coaches on the defensive side of the ball.
"Now, with two seasons under his belt, he's played every position," Clark said. "It helps with his knowledge of everyone and everything back there that he can help get guys lined up."
This season, the Buffs figure to come back with a healthy and more experienced secondary. Last year, once they could see that Awuzie was out of danger, the coaches focused on getting the young guys in the game, which will only help down the road. The second and third-string defensive backs will no longer be players being thrown into the fire for the first time. They'll have experience that will be necessary when the time comes.
"It gives us more depth now," Bell said. "Everybody has experience playing in games now and that's something we've missed in the past. So if we have the most experienced positions on the field, I feel like the coaches should be able to lean on us a lot more."
With the added depth and experience, the Buffs will count on their veterans from the start, now seemingly healthy. At the end of the spring season, one senior, two juniors and a sophomore were penciled in as the starters in the defensive backfield. The sophomore is White, who played in 11 games as a true freshman last year and collided with Awuzie in that fateful practice.
For Awuzie, it's important that his personal success parallels the overall success of the Buffs. There would be no better way to bounce back from an injury than to return as the best cornerback on his team – a team that turns the corner and returns to winning ways.
"First and foremost, I love to win," he said. "I've seen all the work that my teammates and I have put in and nothing comes easy. We know that, so we need to push it up a notch. With my situation, I have my separate goals – my individual goals. I'll push those aside if it comes to the team."
He isn't alone in that mentality. There is no shortage of Buffs who are willing to sacrifice their personal accolades for the success of the team.
But the defensive backs are aware that their success as a unit will be essential to giving CU players, coaches and fans the winning season they so desperately crave.
"Two years ago, when we were on the field, our team forced a lot more turnovers than what we did last year," Bell said. "We were missing all those turnovers. We need those to be able to win those close games in the Pac-12. It's important for us to have a good season to help this team go far."
But first things first. The players don't dare to think about the end result of the season without preparing and doing what's required to earn the desired outcome. For players like Awuzie who have faced setbacks between last season and the start of this season, they had to enter training camp with the right attitude.
"Awuzie's spirits are good," Bell said. "He's ready to step up as a leader. You can see that at practices, when coach isn't around, and in the weight room. He's really embracing that leadership role."
But a leadership role isn't the only thing that Awuzie is looking to embrace. With a serious health scare now nothing more than a memory, he is ready to get back to the level at which he was playing last year. A ruptured kidney isn't a concern in any way for the junior.
"Not at all," Awuzie said. "I don't really feel any pain. I'm not really sensitive in that area, so I feel really good about the kidney. There's nothing to worry about."
Except for football. And he can't wait.