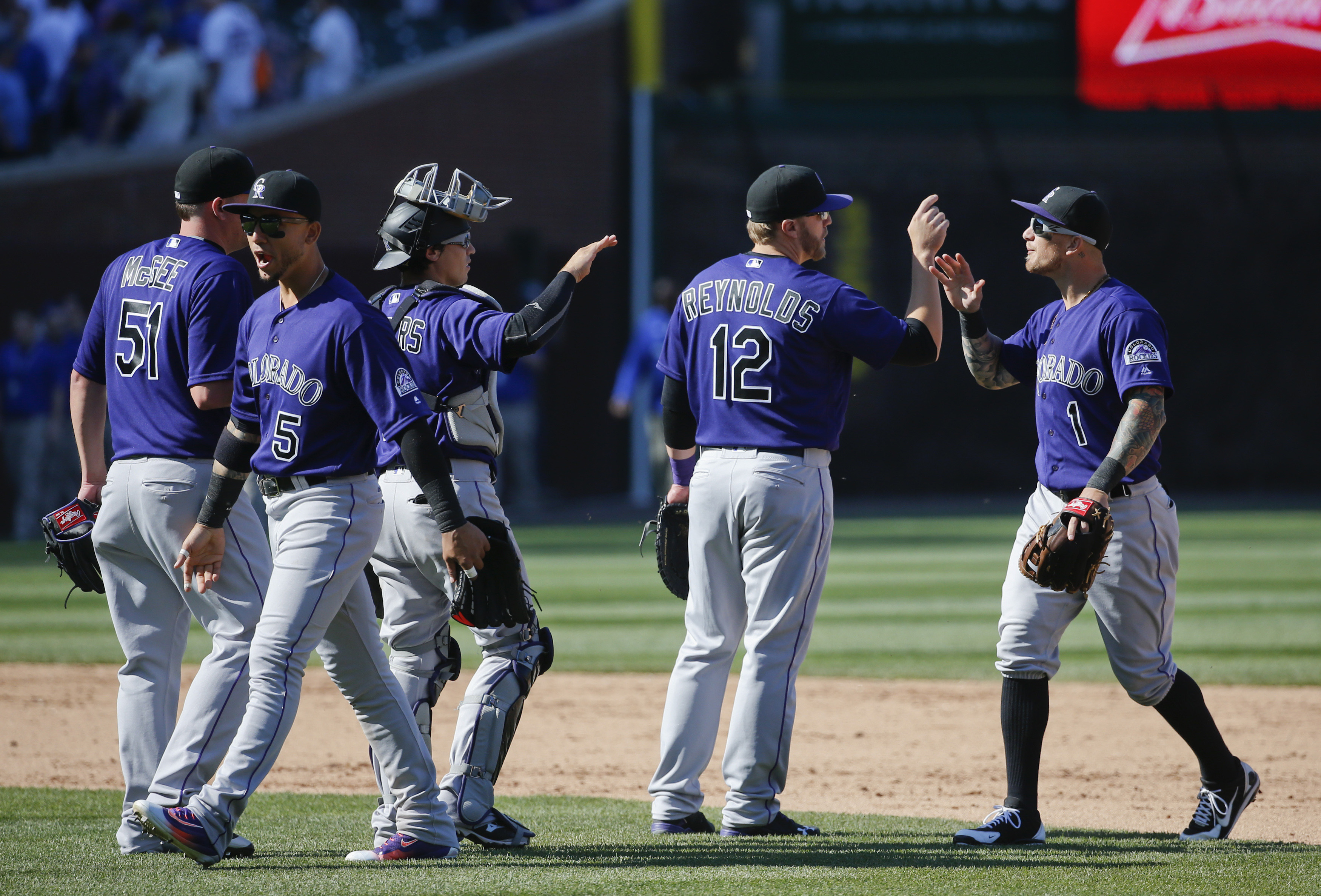 The Rockies haven't won a series on the North Side of Chicago since 2011. With a 2-0 victory on Sunday, though, that five-year drought is over. And with three series victories in their first four, including wins over the Cubs and Giants, the Rockies are off to a great start.
Pitching and good defense have the Rockies only a half-game back of first place in the National League West.
Here's how the series went down:
Arguably the best win for the Rockies came on one of the best days in baseball, Jackie Robinson day. While the Cubs made four errors, Bettis turned in a remarkable performance, going six strong without giving up a run. And the bullpen only surrendered one run.
Nolan Arenado's second bunt single of his career was huge, too. The team's leader is doing anything he can for this team to win, sacrificing gaudy power numbers to try to get something going on the road. In the second inning he reached on a Hendricks error, and by catching Dexter Fowler off guard, he took third off a Ryan Rayburn single. Ben Paulsen singled Arenado home.
After putting up an unimaginable number of extra base hits against the Giants, all the hits for the Rockies in this game were singles. This is the exact type of run production the Rockies need on the road. This led to the kind of win that gives Rockies fans hope that they can compete with a team that many experts predicted to win the World Series.
This game was never really close, thanks of the reigning NL Cy Young Award winner, Jake Arrieta. If it's even possible, Arrieta looks like he's pitching better than last year.
Bergman didn't pitch terribly. Besides giving up back-to-back homers on the first two pitches of the fourth inning, Bergman did his job, with seven strikeouts in five innings.
His spot start, though, gives Rockies fans even more reason to long for the return of Jon Gray.
Neither starting pitcher deserved a loss in this game, but Chatwood outdueled the veteran lefty by only giving up two hits in seven innings, even going perfect into the fifth. He effectively changed speeds while having immaculate control of his cutter. Any doubts of limitation from Tommy John surgery were erased in Chatwood's performance in the rubber match.
What was nearly as satisfying was Miguel Castro's eighth inning hold. If he is any indication of what is to come from the rest of the pitchers received in the Troy Tulowitzki trade, the future looks very exciting.
While Jake McGee tried everything in his power to blow the save by attempting to overpower his opponent, Trevor Story made an unbelievable defensive play to eliminate the tying run from coming to the plate.
As the rookie added even more compelling footage to his highlight real, Arenado (who had his second two-run home run game in the last five nights) could be seen elated by his teammates play. Arenado is coming into his role as a leader for this team not just by his numbers, but also by his actions. You can see his enthusiasm that is rubbing off on this clubhouse, getting this team to play with purpose and make everyone feel that April games matter.