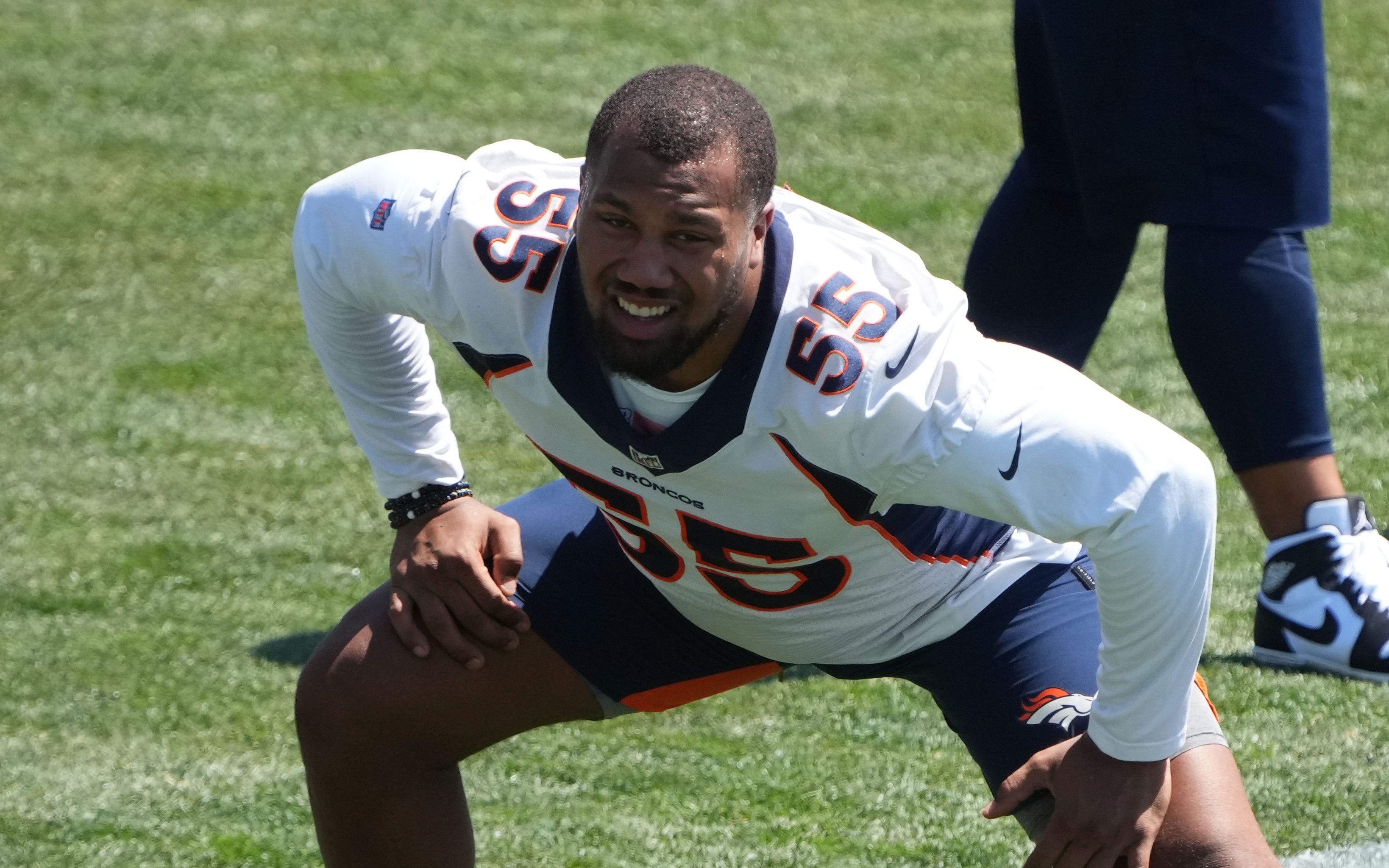 After missing the playoffs for five straight years, the Denver Broncos are ready to get to the next level.
And if they're going to do just that — make the postseason — Denver will be led by what should be a dominant defense this season.
Bradley Chubb, who anchored the pass rushing front for the Broncos in 2020, also enjoyed his first Pro Bowl berth thanks to a superb season. His 7.5 sacks weren't the most of his career, but he still enjoyed arguably his best season as a pro. Especially when considering he was double-teamed more often than in previous years because Von Miller was injured before the season kicked off.
Chubb also racked up 39 QB hurries and 10 QB hits last year, while his 70.7 overall grade was the highest of his career per Pro Football Focus.
He and Miller could be the most dynamic duo in all of football in terms of rushing the passer. But, the two have only played together for one full season, Chubb's rookie year in 2018 when the two combined for 26.5 sacks.
Then, in 2019, Chubb tore his ACL four games into the year and Miller didn't play a single down in 2020 after injuring his ankle late in training camp.
Having Chubb and Miller on the outside is deadly for any offensive tackles to contend with, but when one adds in Shelby Harris, Dre'Mont Jones, Mike Purcell and Malik Reed; the Broncos have a cohesive group of players up front.
That's a huge plus, too, because new GM George Paton overhauled the team's secondary, bringing in Kyle Fuller and Ronald Darby to start at corner alongside Bryce Callahan.
"I feel like we have a lot of new faces on the back end," Chubb explained on Tuesday after training camp practice. "We're getting everybody on the same page. I feel like we're already there. With the reps and with the communication, we can always be better."
"Just having that cohesive unit [up front] and being on the same page is going to take us to the next level," the young leader continued.
That new group of cornerbacks will be helped in terms of chemistry and communication by Justin Simmons and Kareem Jackson, who were the best one-two punch in terms of safeties last year in the NFL per PFF.
This year, the Broncos have the best secondary, period in the NFL and it's so good Patrick Surtain II won't start immediately. Denver's first-round pick would start right out of the gates for nearly any other team in the NFL, but the Broncos are so deep he will likely be the first man up when others need rest. And we'll see Surtain in dime packages, too.
"He played well, obviously," coach Vic Fangio said of Surtain after the rookie enjoyed a Pick-6 against Minnesota on Saturday. "And I expect a lot out of him. We only played him at corner today. We did not play him inside at all, and I wanted him to just play one position today."
Back in 2015, the last time Denver made the playoffs (and won Super Bowl 50), the Denver defense was great at rushing the passer. That year, Miller and DeMarcus Ware (as well as Shaquil Barrett and others) led the league in sacks with 52, while the passing defense was No. 1 in terms of yards given up. Plus, that secondary picked off 14 passes, too.
The simple recipe is: Rush the passer, hurry him into making poor decisions, and then pick of those passes or watch them fall incomplete and end drives. Oh, and also, strip-sack the quarterback when possible, like the Broncos and Miller did twice to Cam Newton in Super Bowl 50.
This 2021 team is built similarly in that we know they can rush the quarterback without having to send extra defenders. First and foremost, that disrupts offenses quickly because it throws off timing. When the QB does throw, it could end up being a poor decision and picked off, and if they hold onto it too long; sack city.
And with the best secondary in the league, it's a safe bet to expect some coverage sacks as well.
In a way, Chubb laid out the expectations well. This defense should be good to start the season, but there may be some lapses in communication. Especially if starters don't play much in the shorter preseason leading up to the longer (17-game) regular season.
And as the year goes on, if they don't have too many major injuries, this defense will grow in strength and become a top-5 unit.
Not saying this team will compete for the Super Bowl like the 2015 squad did, but they will have to win games similarly to that group; in tight, defensive-led fashion. They'll need to get to the next level, just as Chubb suggested they will.