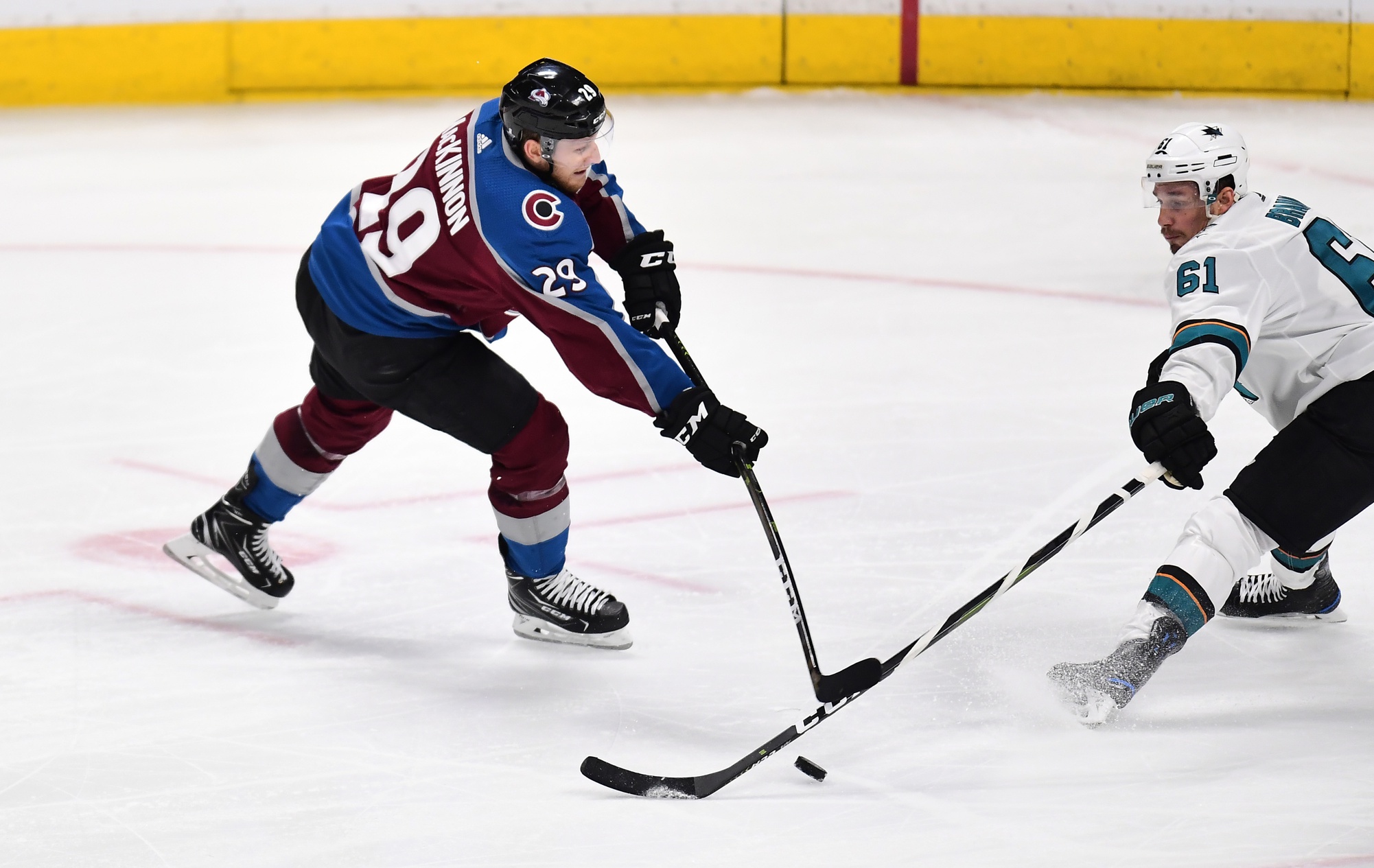 The Avalanche picked a bad time for a stinker.
Here's hoping they get back to playing like themselves.
With a golden opportunity on Tuesday night in a 1-1 series, Colorado kicked home ice back to San Jose and played their worst game of the playoffs so far. The team looked out of sync, out of sorts and without answers for the Sharks.
The most frustrating part of the 4-2 loss was the bad turnovers, by Erik Johnson and Gabe Landeskog, that led to San Jose's second and third goals respectively.
Landeskog's gaffe in particular was tough to swallow given the fact Colorado had managed to tie the game at two just 65 seconds before. Even without playing their brand of hockey, and slogging through the first period and neutral zone, the Avs looked to be on the verge of stealing Game 3 and taking a 2-1 series lead.
Not to be.
In a performance that made Jared Bednar call his team "bonehead(s)" with the puck, the Avalanche managed to lose all their well-earned momentum from Game 2. A Western Conference Finals berth appeared to be a real possibility before Tuesday's loss, now this series could be trending towards Sharks in five.
If there was a game worth overreacting to, it's that one, because San Jose totally had the Avs out of their element. Rarely did it feel like Colorado had any open space to work with on the ice, and the one time they did Nathan MacKinnon made them pay. More of that in Game 4 please.
MacKinnon's a star, but he can't carry this team on his own. Mikko Rantanen was "-3" in the game – which is tough to do in a 4-2 loss. Landy's play left a lot to be desired (and some to wonder if he's more hurt than we realize) and Johnson, Tyson Barrie and J.T. Compher didn't exactly have banner nights, either.
When Matt Nieto is your second best player on the ice, (with all due respect to Nieto who's wildly overachieved in these playoffs) that's a problem.
And while Philipp Grubauer had his moments, preventing the Sharks from going up three, four or even five to zero in Game 3, he's still yet to steal one from San Jose like he did twice against Calgary. "Grub," as the Pepsi Center faithful likes to call him, has been fine in this series, but not borderline spectacular like he was against the Flames.
The absence of Matt Calvert was also very noticeable, as the licking he took to help seal Game 2 ended up costing the Avalanche because he was missed in Game 3.
All this leads to a monster game Thursday night (tonight) at The Can, with the team's season essentially on the line. Drop this one, and Saturday night in The Shark Tank will be curtains on the year. Win it, and well this resilient bunch might have one last run in them.
Here's the biggest suggestion for Bednar: Quit tinkering with the top unit. If MacKinnon, Landeskog and Rantanen are all going to end up on the same line at some point in the game, just start it that way and try to get an early lead. The thinking behind mixing it up makes sense – secondary scoring hasn't been great for the Avs this year – but that line is a nightmare when it's on, which is most of the time.
Some magic out of the 20-year old dynamic duo of Cale Makar and Samuel Girard would be welcome as well, along with bounce back performances from Barrie and Johnson.
What would be so disappointing about the season flaming out now is that the Avalanche absolutely could still win the Stanley Cup. The field is wide open, the top dogs have all bowed out, and this year's victorious team will be one no one saw coming.
That could still be them, but the Avs need to do a 180 from the way they played Tuesday night.
The playoffs are never a good time for a stinker, now the season hangs in the balance.