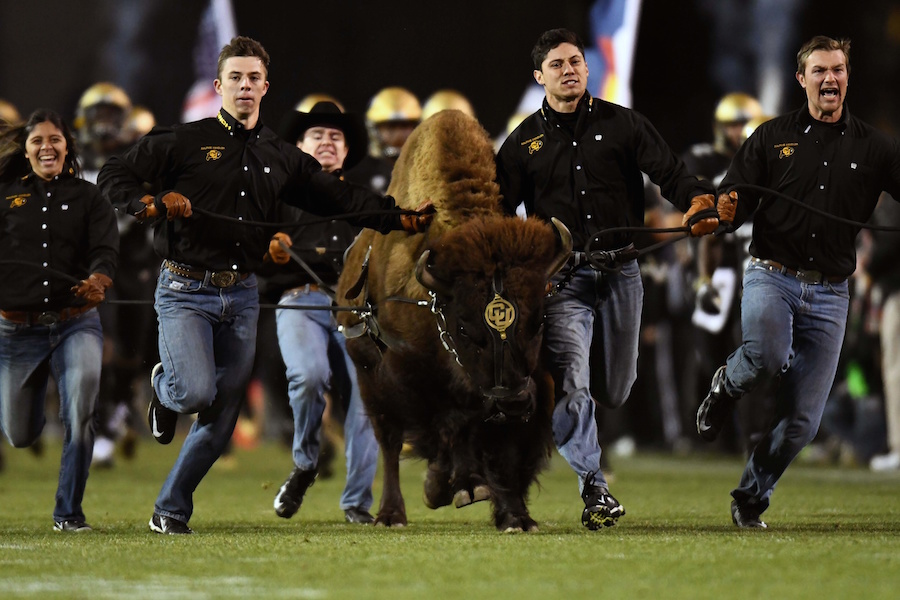 It has been a tough few weeks for Mel Tucker's Buffaloes.
Following three straight losses and back to back road games, Colorado (3-4, 1-3) will play the University of Southern California Trojans (4-3,3-1) Friday night at Folsom Field. Coach Tucker expressed his appreciation for CU fans to the media this week.
Back home with our fans 🏡 pic.twitter.com/WzFieHiNqO

— Colorado Buffaloes Football (@CUBuffsFootball) October 22, 2019
Hopefully the home crowd can give the Buffaloes a boost to break out of their current skid. After competing with Arizona for first in the Pac-12 South when the two played at the beginning of October, Colorado is now last in the standings.
On the other hand, USC is coming off of a big win at home against Arizona, remaining undefeated at the Coliseum. The Trojans also beat No. 10 Utah (now No. 12) there at the end of September.
With USC's momentum, the Trojans are 13.5 point favorites over the Buffaloes despite the game being at Folsum Field. USC will be looking for their first road win. They have lost to BYU, Washington, and Notre Dame. The Trojans play at home against Oregon next week, and if they look past the struggling Buffs, Colorado has an opportunity to get back to a .500 record.
"One big thing is complimentary football," Brady Russell said when discussing keys to the game. "That means defense, offense, and special teams all working together."
The Buffaloes' offense has struggled in recent weeks. Colorado has scored only 13 points in their last two games combined after being held under 30 points only one time through the first five games. Steven Montez has thrown 6 of his 8 interceptions in the last two games, so taking care of the ball and proper decision making will be priorities this week
The defense has had some issues with injuries, soft spots, and breakdowns this year, but the explosiveness of the offense has made up for it in Colorado's three wins. In the last two games, there were quarters or periods where the defense stepped up big time, but the Buffs' offense was unable to capitalize.
Colorado has carried the same "short memory" mentality through the season, win or lose.
"I like the quick turnaround, and getting your pads back on, especially after a week like last week. You want to get back out there and start getting ready for the next team and get the last game off your mind," said Russell, Colorado's sophomore tight end.
The USC Trojans are no slouch competitor though.
USC freshman quarterback Kedon Slovis has had success since taking over starting duties for J.T. Daniels (torn ACL) early in the year. Slovis broke the record for most passing yards by a true freshman in his first start, with 377 yards on 28 of 33 passes and 3 touchdowns against Stanford.
Facing a hot USC quarterback, the Colorado secondary will need to truly lock in this week. Michael Pittman Jr. and Tyler Vaughns are the two leading Trojan receivers, both with more yards than any receiver on the Colorado sideline.
SLOVIS and PITTMAN making it look easy. 💯

Tyler Vaughns scores a couple plays later to put @USC_FB up 2️⃣7️⃣ against the Wildcats.

Watch #AZvsUSC live on Pac-12 Now: https://t.co/iRSNZhe6WM pic.twitter.com/I7lNJROxEH

— Pac-12 Network (@Pac12Network) October 20, 2019
The Trojans will be without their two leading rushers, Vavae Malepeai (knee) and Markese Step (ankle). The third-string back, Stephen Carr (hamstring) is listed as doubtful for Friday. This could be good news for a Colorado team that has had difficulty on defense all year. If they can focus on the pass and make USC one dimensional on offense, Colorado could find an edge.
Look for the Colorado offense to get back on track against a team giving up over 400 yards per game to opponents as well as 24 points per game. At the end of the day though, the game will be won or lost on the shoulders of the Buffs' defense.
USC at Colorado will be broadcast Friday October 25th at 7:00 PM (MT) on ESPN2.