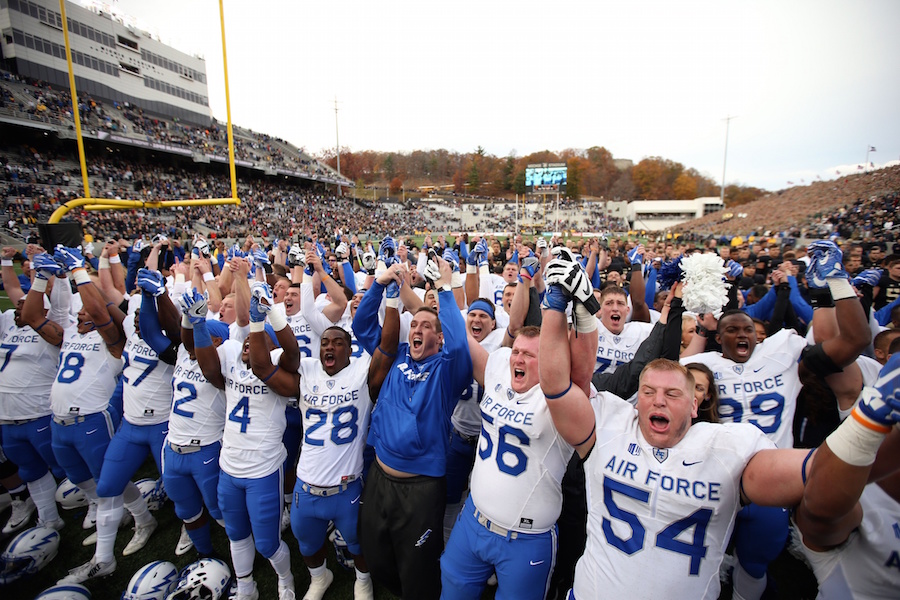 For the 20th time in its history and the fourth time in the past seven years, the Commander-in-Chief's Trophy will reside at the U.S. Air Force Academy after the Falcons defeated Army 31-12 at Michie Stadium in West Point.
In his first start at quarterback, Air Force sophomore Arion Worthman passed for 195 yards and rushed for 63 in the win. He rushed for a 4-yard touchdown and hit running back Jacobi Owens on a 46-yard pass play for another. Owens rushed for 106 yards to lead the Falcons on the ground. It was the 12th time in his career he's eclipsed the century mark, good for third in program history. His 59-yard run in the third quarter was a season long and set up a Timothy McVey touchdown.
Defensively, the Falcons stymied an Army rushing attack that ranks second in the country. The Black Knights produced just 144 yards on the ground, nearly 200 below their season average of 342. Army was just 4-of-12 on third down and logged a mere 84 yards passing.
Despite the easy victory, things started out slowly for the Falcons. Luke Strebel missed a 47-yard field goal attempt on Air Force's 15-play opening drive. On their second possession, D.J. Johnson fumbled on the first play to give Army the ball on the Air Force 15-yard line. Weston Steelhammer picked up Johnson, however, by picking off Army quarterback Ahmad Bradshaw in the end zone on the ensuing possession.
Strebel was true from 20 yards on the next drive and Air Force would lead the game from that point on.
The win extend's the Air Force lead on owning the Commander-in-Chief's Trophy. With 20 wins, the Falcons have five wins on the Midshipmen of Navy. Army trails far behind both with six. The trophy has traded hands between Air Force and Navy each of the past four years. The Falcons defeated the Midshipmen 28-14 on Oct. 1 thanks in part to two Steelhammer interceptions.
The win also makes Air Force bowl eligible before they host Colorado State next Saturday night. At 6-3/3-1, the Falcons are fifth in the very competitive Mountain West – Mountain Division. A bowl invite this year would be the ninth in 10 years for the Falcons, all under head coach Troy Calhoun.
The Falcons and Rams kickoff at 8:15 on Nov. 12 at Falcon Stadium in Colorado Springs.