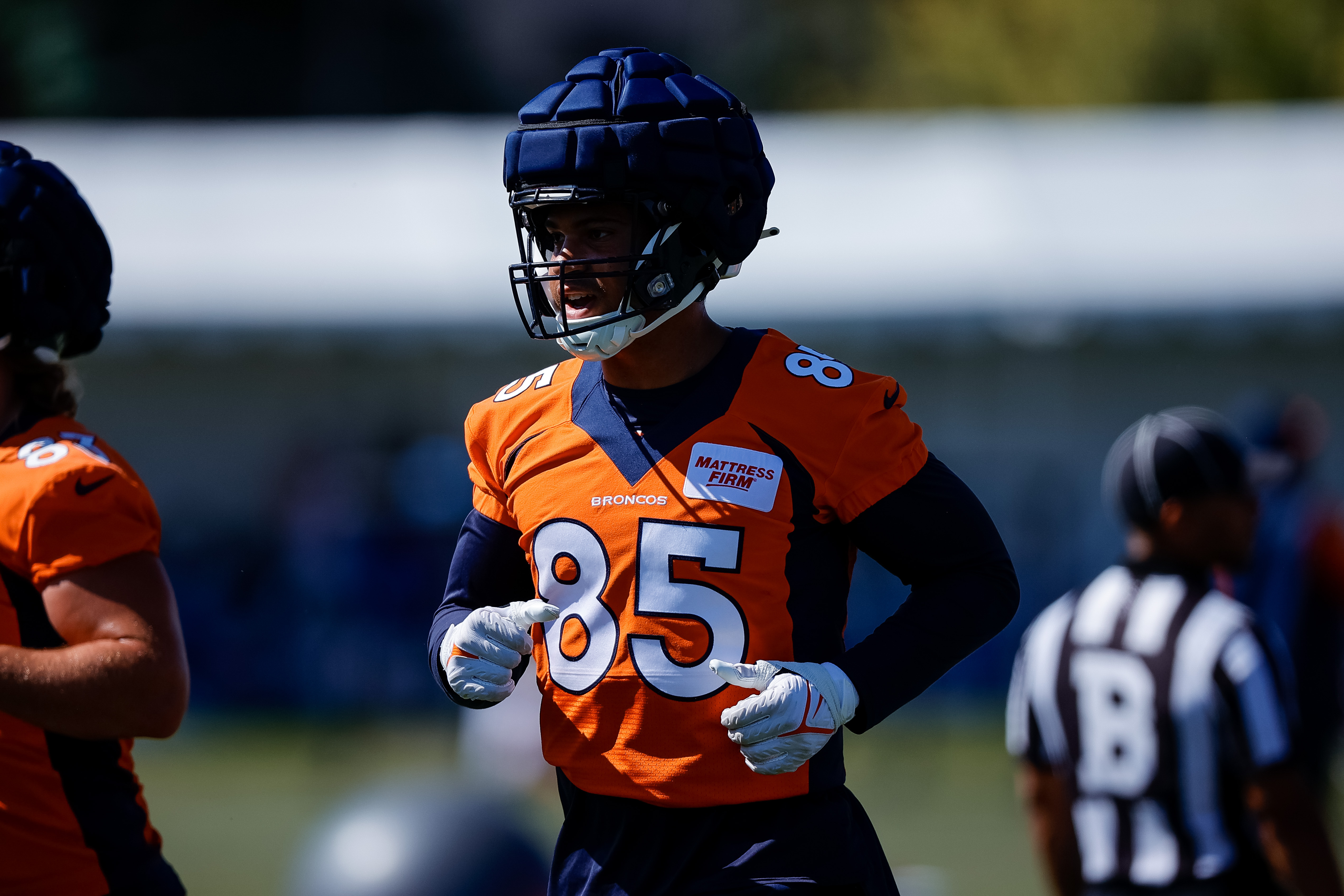 The Denver Broncos offense has a multitude of players looking to step into a pivotal role this season, but Albert Okwuegbunam is a player who is doing a little bit of everything.
How might the Broncos' third-year tight end thrive in an elevated role?
Albert Okwuegbunam doing more in Denver Broncos offense
The Broncos' offense will have plenty of options in the receiving game, but Albert Okwuegbunam could become a wildcard option for Russell Wilson.
Okwuegbunam has caught 44 passes for 451 yards and three touchdowns through his first two seasons in the NFL, somewhat underwhelming performance for him. Last season, the third-year tight end came into the season after tearing his ACL during his rookie year.
Unfortunately, Denver's offense didn't prioritize targeting tight ends vertically downfield.
His average depth of target last season in Pat Shurmur's offense was 5.7 yards, but his ability to create opportunities after the catch stood out.
245 of his 330 receiving yards last season came after the catch.
Throughout training camp, Okwuegbunam has stood out as one of the most improved players on the field.
After Tuesday's practice at the UCHealth Training Center, Broncos head coach Nathaniel Hackett discussed the growth he's seen from Okwuegbunam.
"Earlier on in OTAs, picking up the system took him a while," Hackett said following Tuesday's practice. "He's been absolutely splendid going out there right now. He's been going out there and we've been putting him all over the place, from motioning, playing wide, playing 'F' and doing all kinds of different things. He's really picked it up and I think that's been exciting because now we can evaluate him as a player, and he can play faster."
Denver Broncos injury updates
The following players did not participate in Tuesday's training camp practice.
Cornerback Ronald Darby (chest): Broncos head coach Nathaniel Hackett gave insight into Darby's injury.
"He's just got like a chest contusion right now," Hackett said. "We're just going to be day-to-day with him."
Tight end Greg Dulcich (hamstring): Did not appear on the practice field
Offensive guard Netane Muti (knee): Did not appear on the practice field
Wide receiver Courtland Sutton (shoulder): Appeared on the practice field but did not participate in any team drills.
"We're just kind of hanging out with him," Hackett said. "He's got a little shoulder thing we're just working through."
Broncos offensive lineman Ben Braden (back) and running back Tyreik McAllister (hamstring) exited practice on Tuesday.
Day 12 standouts
With Courtland Sutton missing practice with a shoulder ailment, wide receivers Kendall Hinton and Brandon Johnson stepped in, making several plays during the Broncos team period.
Defensively, Michael Ojemudia came away with an interception downfield, picking off a Russell Wilson pass intended for Jerry Jeudy.
Towards the end of practice, Wilson would connect with Jeudy for a long touchdown with Ojemudia in coverage.
Broncos rookie cornerbacks Damarri Mathis and Faion Hicks each had several plays that impacted the outcome of a play.
During the team period, Mathis had tight coverage on Jerry Jeudy preventing a deep completion by Wilson.
Hicks had several plays during the day where he provided tightly contested coverage against the pass and aggressively played the run on the outside.
One highlight of the day featured Patrick Surtain and Jeudy who competed in one-on-ones.
Surtain covered Jeudy on a deep route down the right sideline and knocked the pass away from Wilson. Jeudy came back during the next rep and hauled in a deep touchdown pass that was placed perfectly by Wilson, with Surtain in his hip pocket.
Tomorrow's practice will be a jog-through pace.
The Broncos will hold an official press conference for the Walton-Penner ownership group at 1 PM in the team auditorium. Our Cody Roark will be at the presser, reporting the proceedings for you, Broncos Country.