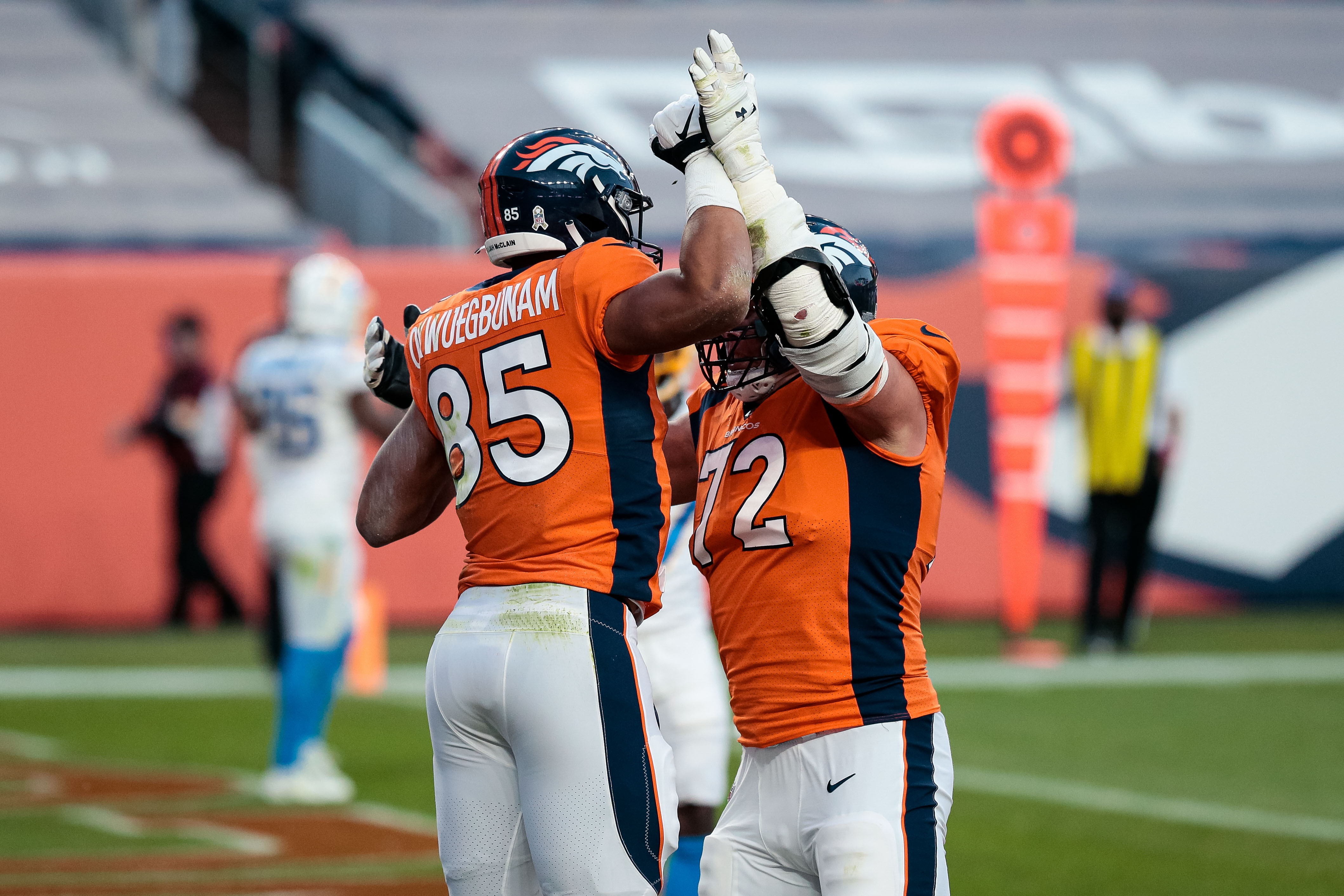 Very early in the 2020 season, it became clear that the Denver Broncos had found something special in their fourth-round selection, Albert Okwuegbunam.
He appeared in just four games, hauling in 11 passes for 121 yards and a score, which would have set him on a statistical trajectory to have a very similar rookie season to his tight-end co-star, Noah Fant.
Unfortunately, fate had other plans as Okwuegbunam tore his ACL in a matchup with the Atlanta Falcons, prematurely ending his season.
However, after watching him in camp and in the Broncos' recent preseason action, one would never think he was returning from such a devastating injury. In his return to a game environment — Denver's preseason game against the Los Angeles Rams –, he showed a lot of confidence in that knee as he attempted to hurdle an oncoming defender.
Those game reps were important for Okwuegbunam to gain some confidence before the start of the season.
"Getting those extra reps is definitely beneficial, obviously," the second-year tight end said. "I'm excited going into it. Knee feels good and was able to get some good game reps in this last preseason game. I'm really confident going into the season and I'm just excited."
Vic Fangio has also been very pleased with how his young tight end has progressed in his return from injury.
"He's just picked up from where he left off last year," Fangio said. "If you remember last year, he didn't play much early, then he was starting to play more. [He was] playing [well], having success. He's just picked up right from where he left off there. He's blocking [well]. He's a much better blocker than I think people are aware of. We know he can catch, and he's a good runner after the catch. I'm really excited about him."
Along with Fangio, Okwuegbunam also has high expectations for his second season, despite the return from injury.
"[My confidence] came from last season," Okwuegbunam explained. "The games that I did play—just my ability to go out there and make plays and be a mismatch out there. That gave me the confidence rolling into this season that I can do those things and I will do those things. As far as my ACL rehab has gone, I'm just expressing how I feel out there. It's not on my mind. You take that along with the plays that I made last year, that's what instills the confidence in me this season."
At first glance, that high bar Okwuegbunam has set for himself might appear difficult to clear. Noah Fant is still ahead of him on the depth chart, and the Broncos have two running backs and four wide receivers who should see the field plenty as well.
However, the Broncos are looking to incorporate a lot more two-tight-end looks into their offense, which opens the door to more opportunities for Okwuegbunam.
"Just based off practice, I definitely expect [to see more of those looks]," Okwuegbunam said. "With the tight end room that we have and how good we've been playing and practicing, I definitely expect that and just because of the ability we have and our impact on the run and pass game. We're very good in the run game and can create a lot of mismatches in the passing game as well. I feel like that can help our team, for sure."
Next Sunday's matchup with the New York Giants can't get here soon enough.