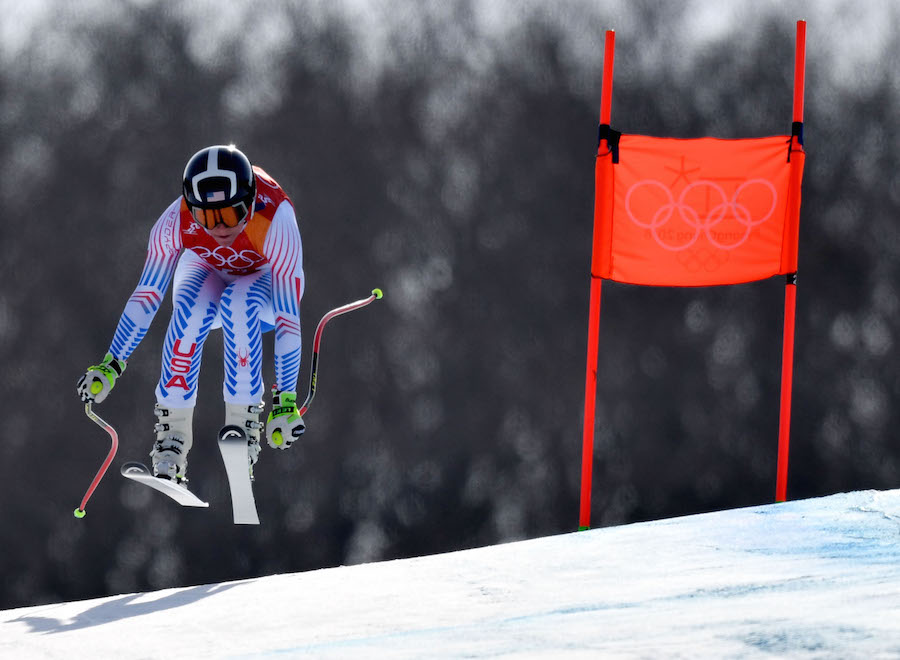 What appears to be Lindsey Vonn's last Olympic Games resulted in a bronze medal in the women's downhill. It was a dramatic end to a historic career. Right there by Vonn's side was teammate Alice McKennis, who finished fifth, her best downhill result since winning a World Cup race in 2013. Like Vonn, McKennis battled back from significant injuries to compete in PyeongChang in 2018.
McKennis came out fast through the first intermediate, 0.11 seconds ahead of the eventual gold-medal winner Sofia Goggia. McKennis stayed strong throughout the run, ultimately earning a fifth place position 1.02 seconds behind Goggia.
"I'm happy with my run," she told the Aspen Times on Wednesday. "I wanted to ski for myself and ski my run, and I'm really proud of the way I performed. It's such an intense situation and such a big day."
McKennis also performed well in her training runs finishing third, ninth, and 17th.
"It was a good first training run," McKennis told the Vail Daily after Sunday's training run. "The conditions are really good out there. The snow is really well prepared, grippy and feels really good underfoot, which makes for a fun course."
This was McKennis' second Olympic appearance. She was disqualified in the downhill at the 2010 Winter Olympics in Vancouver, British Columbia. She suffered major injuries in the years leading up to the 2014 Games, including a left tibial plateau fracture in 2011. She also shattered her right tibial plateau into 30 pieces in 2013.
"Two knee injuries, elbow injury, six surgeries along the way," McKennis told the Vail Daily on Feb. 10. "I missed a lot of time. There's been a lot of times where I thought it was the end of my career and that I wasn't going to be able to have this opportunity again to compete at the Olympics."
Overcoming injuries has been the theme over the past two Olympic cycles for both McKennis and Vonn. Each missed the 2014 Games in Sochi, Russia because of injury. Vonn was overcome with emotion following her run, telling NBC she was probably more excited for her teammate's outstanding run than she was about the prospect of earning a third Olympic medal.
McKennis is very pleased with her finish, especially given the circumstances.
"It's been a journey since then, a lot of ups and downs and injuries even since my knee injury, so it's amazing," she told the Aspen Times. "Having made it back to even the Olympics and to do well on the downhill is incredible."
This may not be the 28-year-old's last Olympic performance. As long as she keeps training hard and scoring well, we could see her representing the United States in four years.