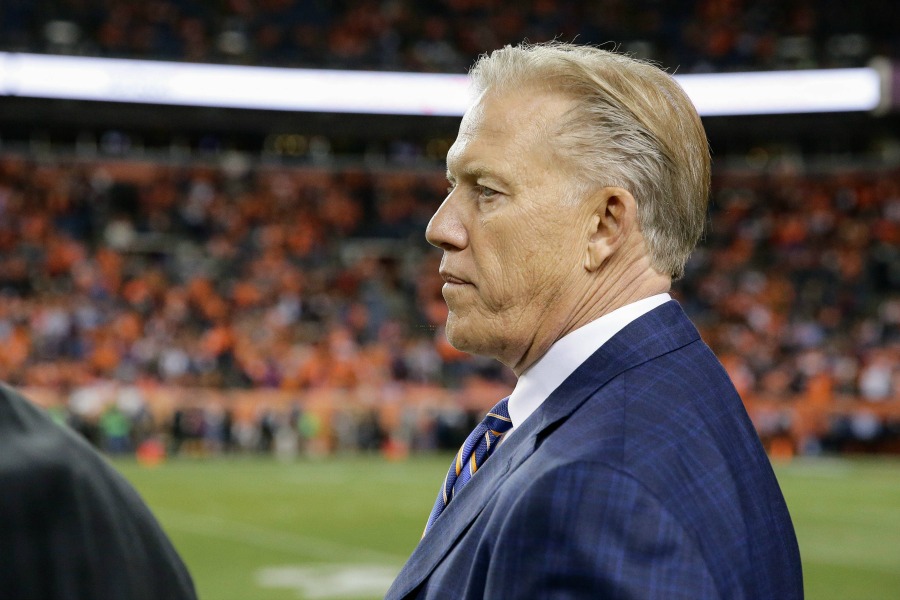 It's quickly becoming the worst kept secret in town.
The Denver Broncos might be in trouble.
A rudderless ship. A train on the verge of derailing off the tracks. A team — a franchise — headed for yet another losing season.
Unless John Elway saves the day.
The magic of Elway is slowly disappearing. At least, it feels that way. I wrote in this space just six weeks ago that wanting to fire No. 7 is a terrible take — and it's still bad — but feelings can change. And some have slowly started to change.
The Broncos finished 5-11 under Vance Joseph, a guy whose clock management makes John Fox look like Einstein, and Elway decided he deserved another chance.
Why?
No one knew then, and no one knows now. In the least shocking development ever, Joseph's team got trounced in the Senior Bowl by a final of 45-16, but they probably had a good week of preparation. Or some stupid cliché like that.
Besides keeping his overmatched head coach, Elway hasn't had a chance to do much else, and that caveat is an important caveat.
Still, nerves in Broncos Country are at an all-time high. That flu bug going around isn't actually the flu – your stomach is uneasy because it's unclear if the Broncos are going to be any good next season.
The quarterback position remains a crapshoot. Land Kirk Cousins (who now seems very gettable after Washington's trade-and-sign for Alex Smith) or Baker Mayfield, and Denver will be ecstatic. Overpay for Case Keenum or reach for Josh Allen (Paxton Lynch 2.0) and every single person who bleeds orange and blue will turn green in the face.
Doctor, I've got a fever, and the only thing that can cure it is Elway taking a time machine to 2014.
It's the last time he did something splashy.
The last time he had the courage to jump off the high dive and win the big splash contest. The last time, frankly, the Broncos did an adequate job in free agency or the NFL Draft.
Elway was so good in the spring 2014 (and before that) he was rewarded with Super Bowl 50 fewer than two years later. Now, 23.5 months removed from the parade, Elway must prove himself again.
It's not fair, but that's how the NFL works.
#InElwaywetrust has been tweeted just 17 times since January 2. That hashtag used to be a Twitter trending topic in Denver; now only a few diehards bother to burn any of their 280 characters on it.
Look, I still trust Elway. He's brought three Lombardi trophies to the Mile High City. But it's been a frustrating couple of years — and a frustrating offseason thus far.
Why keep Joseph? A guy who made Broncos fans forget how much they hated Josh McDaniels and has some of the least flattering searches on the Internet (start with "Vance Joseph CU" if you're curious).
Why float to everyone and their brother you want to trade Aqib Talib, only to have general managers call your bluff? If Elway doesn't want to keep Talib — whatever — it's a bad "on the field" decision, but it does make sense "off the field" when money is considered.
But, uh, if cap space is the concern, I'd rather move on from both Demaryius Thomas and Emmanuel Sanders.
With that in mind, here's a seven-step plan to get the Broncos to at least 10 wins next year – if not 11 or 12.
Nuke the offense. Get rid of Thomas, Sanders, C.J. Anderson, Trevor Siemian, Paxton Lynch, Menelik Watson and Donald Stephenson
Keep the entire core of the defense, including Talib
Sign Nate Solder (bring him home) and Jarvis Landry (a middle finger back at Adam Gase)
Move Garett Bolles to right tackle and have a starting offensive line from left to right of Solder, Ron Leary, Matt Paradis, Connor McGovern and Bolles
Make Landry the No. 1 receiver, Cody Latimer No. 2, Jordan Taylor No. 3 and Bennie Fowler No. 4.
Draft Mayfield at No. 5 overall
Draft Sony Michel at No. 37 overall
There you have it, John.
If Dak Prescott and Ezekiel Elliott can go 13-3, there's no way the above roster can't get to 10-6. It'd probably be more like 12-4 if Joseph weren't still in charge. And this plan still works even with the Alex Smith to Washington news.
The Avalanche are intriguing. The Nuggets are intriguing. The Rapids are intriguing. The Rockies are intriguing.
Right now, the Broncos just aren't – and it's the worst kept secret in town.
That doesn't mean John Elway can't fix it, but he needs to get moving once the calendar hits Feb. 1.