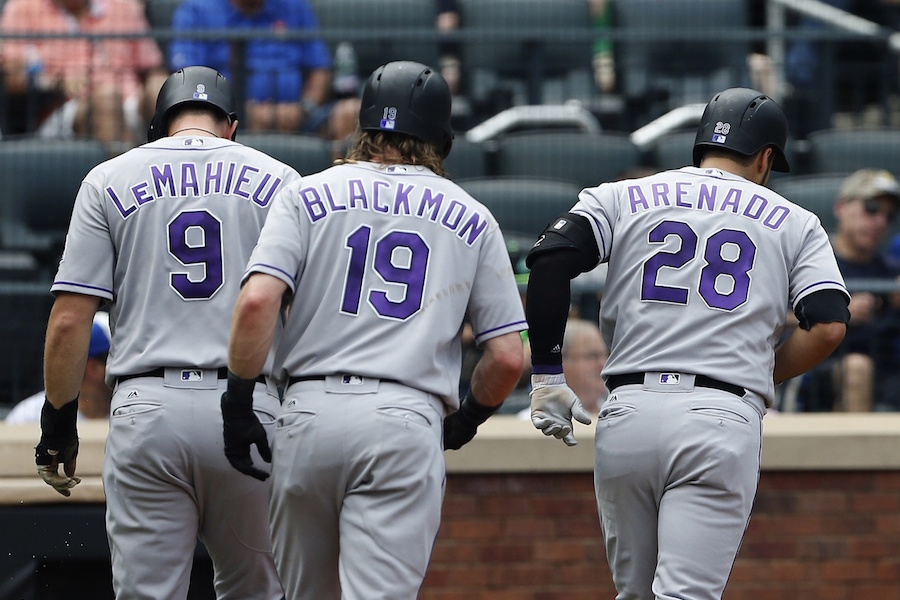 This story originally appeared in Mile High Sports Magazine. Read the full digital edition.
Free agency can be a wonderful thing. It can also be terrible, depending on one's perspective.
Through free agency the Colorado Rockies landed both Wade Davis and Bryan Shaw this offseason. Davis signed the largest contract ever handed to a relief pitcher – $52 million for three years. Shaw claimed $27 million for three years, which could become four with 60 appearances or 40 games finished in 2020. Those two relievers make Colorado one of the most fearsome bullpens in baseball entering the 2018 campaign.
Carlos Gonzalez in the same free agency period was without a MLB home until March 12, three full weeks after position players reported for Spring Training. The three-time All-Star and clubhouse staple at Coors Field had virtually no market in what turned out to be an ironically icy "hot-stove" season. Gonzalez's base salary upon re-signing with the Rockies, according to reports, is just one-quarter of what he made in 2017.
Free agency can help fortify a roster. It can also tear one apart.
In 2019 three Colorado Rockies All-Stars will become free agents, including Gonzalez for the second time in as many years. Colorado's biggest star, Nolan Arenado, hits free agency in 2020.
Because of free agency, this is quite possibly the last season that Arenado, Gonzalez, Charlie Blackmon, and DJ LeMahieu will all play together in a Colorado Rockies uniform.
While the quartet's impending free agency could be great for their agents and financial advisors, it will no doubt be bittersweet for the Colorado Rockies and fans who have watched that core group develop from blossoming young talent on a 96-loss team in 2014 to bona fide stars on a legitimate contender in 2018.
Credit Owner Dick Monfort and General Manager Jeff Bridich for doing everything in their power to set up 2018 to be a magical season at 20th and Blake. At $137.681 million, according to USA TODAY (Spotrac has them at $145.456 million), the Rockies will roll out the highest Opening Day payroll in club history. Their payroll ranks 11th in baseball, per USA TODAY, tying 1996 (the year after their first playoff appearance) for the highest-ever ranking relative to other MLB clubs in a given season.
A bolstered bullpen (with over $100 million in total commitments, including Davis and Shaw) and one-year deals with Blackmon and LeMahieu to avoid arbitration, plus the reacquisition of veteran catcher Chris Iannetta, signal that Colorado is all-in on making a run at the club's first National League West title and even a World Series.
Bringing back Gonzalez, the de facto team captain, on a one-year deal was part of that effort. A down year in 2017 may have hurt Gonzalez's value in free agency, but just one year prior he compiled a 174-hit, 100-RBI performance that earned his third All-Star appearance. His return in 2018 also helped keep Arenado (and presumably others) happy heading into this all-important season. The five-time Gold Glove winner and fellow three-time All-Star lobbied openly during Spring Training to see Gonzalez back in the clubhouse.
"I want him on my team. I'll voice that. I would love to play with CarGo again," Arenado told the Denver Post in late February.
Bridich and Monfort wouldn't have re-signed Gonzalez simply to keep Arenado happy; there is too much young talent in the Rockies' farm system ready to make the leap to the big leagues to re-sign Gonzalez only as a salvo to their biggest star. The organization believes Gonzalez can still contribute.
But signing the 32-year-old Gonzalez to a one-year, $5-million base salary deal (with service time incentives) is very different than trying to retain the services of the other three All-Stars long-term.
Blackmon and LeMahieu, who both become free agents after this season, will be in line for multi-year deals worth tens of millions of dollars. Arenado could be due hundreds of millions when his free agency arrives in 2020.
EDITOR'S NOTE: Charlie Blackmon signed a six-year extension (including two player options) with the Rockies on April 4, 2018 reportedly worth up to $116 million.
With the dollars Bridich and Monfort committed to Ian Desmond last offseason ($38 million from 2019-21), and Davis ($36 million from 2019-21) and Shaw ($19.5 million from 2019-21) this offseason, it seems unlikely that Colorado will have the resources available to pay that group plus Arenado, Blackmon and LeMahieu – not to mention Carlos Gonzalez.
According to the salary tracking website Spotrac.com, Colorado has $73 million already on the books for 2019 without any one of those four All-Stars. Six players currently under contract – Davis, Desmond, Mike Dunn, Iannetta, Jake McGee and Shaw – comprise $61 million of that figure. Gerardo Parra would account for the other $12 million if the Rockies select his club option next year.
That's roughly half this year's current payroll for less than one-third of the 25-man roster. And again, that's without any of the team's four biggest stars.
The Rockies are in an enviable situation with its starting rotation and shortstop Trevor Story. The top seven starters on the depth chart are still under team control for several years, as is Story. They will save money there. But one big contract to Arenado or Blackmon could make for tough decisions elsewhere on the roster. And then there's the little matter of cash flow.
Colorado is the No. 17 television market in the country. However, according to Fangraphs, the Rockies' estimated television rights revenue was tied for the lowest in baseball in 2016. Colorado has a 10-year deal with AT&T Sports Net worth an average of $20 million per year, which expires in 2020. Their closest competitor in the NL West, San Diego, has a deal worth nearly double ($39 million annually) that amount. The Diamondbacks and Giants come in at $50 and $54 million per year, respectively. The Dodgers take in an MLB-high $204 million per year. The Rockies must sell a lot of Coors beer at The Rooftop to keep up with the Joneses in their division.
It should be considered impressive, then, that the Rockies' annual team payroll over the past five years has ranked between 17th and 22nd in baseball despite the relative shortage in TV revenue. The MLB-wide revenue sharing program and competitive imbalance tax helps pad the pocketbook somewhat, but those aren't long-term answers to staying in the top 11 in spending.
Tough choices are coming. And so are big bills.
Arenado is in the second year of a two-year, $27.5 million contract. He has one year of team control still remaining. Should he and the Rockies enter into arbitration for 2019, Arenado could command as much as $30 million for that one year. Even if they avoid arbitration, a hefty one-year deal in that same range should be expected.
A long-term deal is very much in play for Arenado, but not in the immediate short-term. He said in March he does not expect to discuss his contract situation this season.
"I don't think anything's going to happen until after the season," Arenado told MLB.com. "We have a good team and our focus is on winning – as it should be – and that's what everybody wants."
Rockies fans would swoon if the club signed Arenado to a long-term deal next offseason. However, it very well could mean losing Blackmon and/or LeMahieu. A rebound year for Gonzalez could put him out of their price range, as well.
Bridich and Rockies Manager Bud Black have been vocal this offseason that they believe they are building a club that can be perennial contenders. Retaining Arenado, Blackmon, Gonzalez and LeMahieu beyond 2018 would certainly help make that vision a reality. But the financial reality of the Rockies and MLB free agency will in all likelihood prevent retaining all four.
That's what makes 2018 the most important Rockies season in recent memory, if not ever. The window for Colorado to win a World Series may be as wide open as it ever has been. The loss of any one of these impending free agents, let alone several, runs the risk of closing it.
Drafting and developing young talent pushed the Rockies to the cusp greatness. Free agency could push them over the top. But just as much as it has helped this year, free agency could be the reason it all unravels in the coming years.
The All-Stars are still aligned, for now. Enjoy it as much and as long as possible.