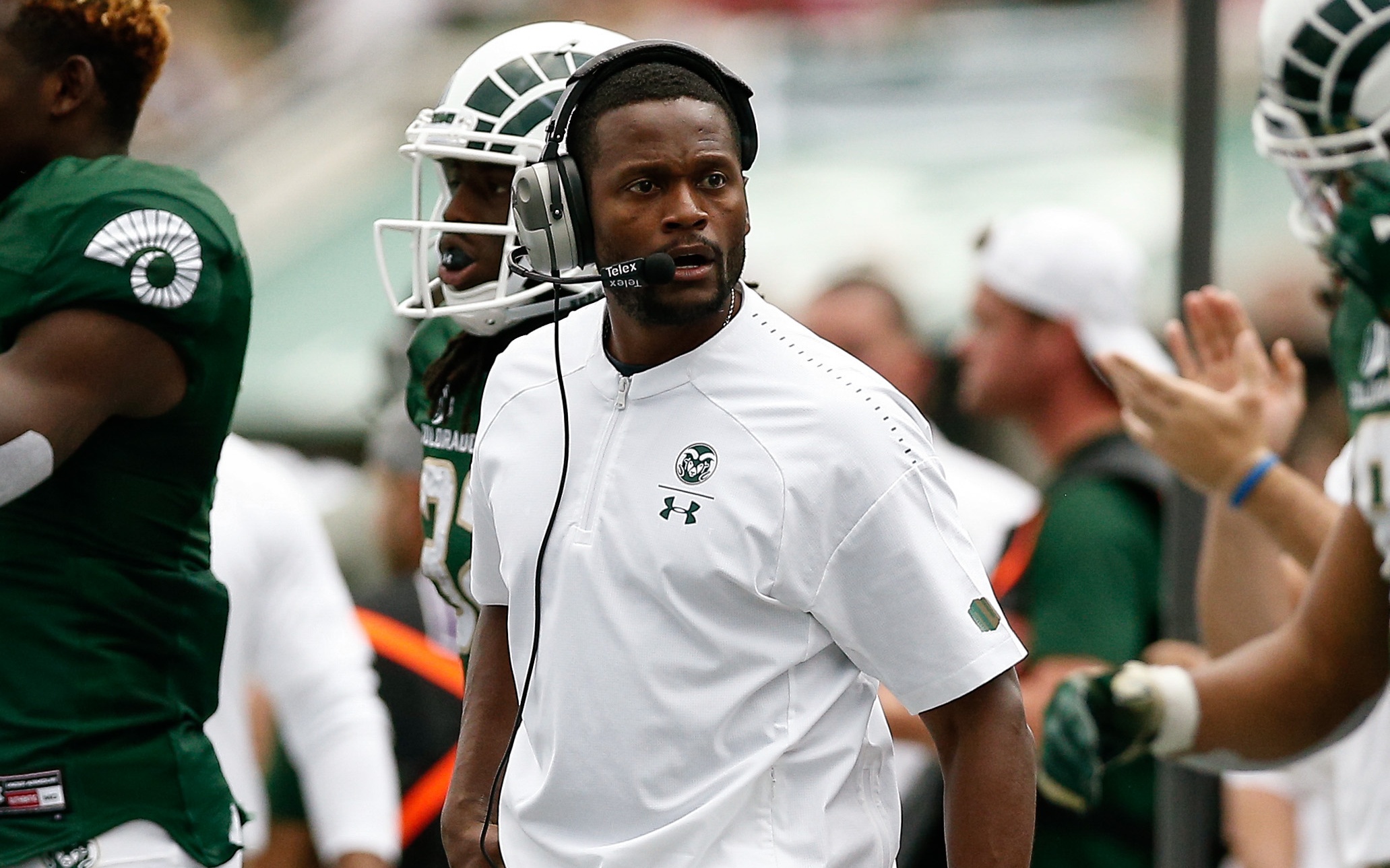 Things usually come in threes, so for Colorado State Football, hopefully the coaching exodus comes to a conclusion with their latest departure.
According to a report, Alvis Whitted — the phenomenal wide receivers coach for the Rams — has been hired by the NFL's Green Bay Packers.
Whitted, who's coached three All-American receivers over the last five years, has now graduated from the college ranks to the NFL. After a strong playing career in college at North Carolina State as a wideout and participating in Track and Field, Whitted went onto the NFL where he played for the Jaguars, Falcons and Raiders.
After one year with UCLA as a quality control assistant, he was hired by the Rams under Jim McElwain in 2012. Since then, Whitted's help coach up Rashard Higgins, Michael Gallup and Preston Williams, turning Colorado State into "Wide Receiver U" the last five years.
Higgins flashed brilliance early on, but his work ethic was refined by Whitted, turning him into a consensus First-Team All-American in 2014 as well as the runner-up in the Belitnikoff Award for the nation's best receiver. His junior, 2015 season, was his second straight with 1,000 or more receiving yards and Higgins finished his three-year stint as the career leader in receptions (239), yards (3,649) and touchdowns (31) at Colorado State. He was arguably the greatest receiver in the history of the school and has since been playing with the Cleveland Browns, really catching on this season with Baker Mayfield.
Following Higgins, Michael Gallup shined under Whitted's tutelage, recording two 1,000-yard seasons with Colorado State. His senior year, Gallup was one of three finalists for that prestigious Belitnikoff Award, being drafted in the third round by the Dallas Cowboys in 2018. Despite Dallas being ranked 23rd in passing, Gallup enjoyed a great rookie year (506 yards and 2 TDs).
Then, after a long wait, Tennessee transfer Preston Williams put on a dazzling display yet again. Williams enjoyed a 96-catch, 1,345-yard and 14-touchdown season with Colorado State last year, electing to go into the draft a year early.
Those three were each named All-American and they kept pushing the envelope of what it means to be a receiver at Colorado State. But, don't forget about guys like Olabisi "The Standard" Johnson, Joe Hansley and Charles Lovett who all benefited from Whitted's coaching. And, the up-and-coming guys Warren Jackson and Nikko Hall will likely be something special for CSU in 2019 and beyond, extending Whitted's CSU legacy.
For Mike Bobo, Whitted leaving is both a blessing and a curse. Of course, losing one of the best receivers coaches in the country is a huge blow, but one positive takeaway are that Bobo's coaching staff is being hired away by bigger programs. In Whitted's case, the NFL, but remember Tennessee came in and took Will Friend as well as cornerbacks coach Terry Fair last offseason.
Before Whitted was hired away by the Packers on Tuesday night, strength and conditioning coach Ryan Davis was hired by Maryland of the Big Ten on Jan. 24 while cornerbacks coach Eric Lewis took a job at Boston College of the ACC on Jan. 21.
Real Sports with Bryant Gumbel (Ep. 258) recently reported on the shocking world of strength and conditioning coaches in NCAA Football, and clips of Davis — being shown as one of the best in his field — were included. That documentary explained the utmost importance of strength coaches in today's college football world and how head coaches lean heavily on them to develop their players. Davis originally started in his position at CSU in 2015, hired by Bobo, and was seemingly always in a joyous mood when out at practice.
Lewis, who spent only the 2018 season as Colorado State's cornerbacks coach — splitting duties with George Helow as safeties coach — was extremely well-spoken and intelligent during Media Day. He now takes 15 years of experience to Boston College as their cornerbacks coach.
Last season, Bobo welcomed in six new coaches, which was roughly half his staff. Now, Bobo has three critical coaches to replace for the 2019 season.