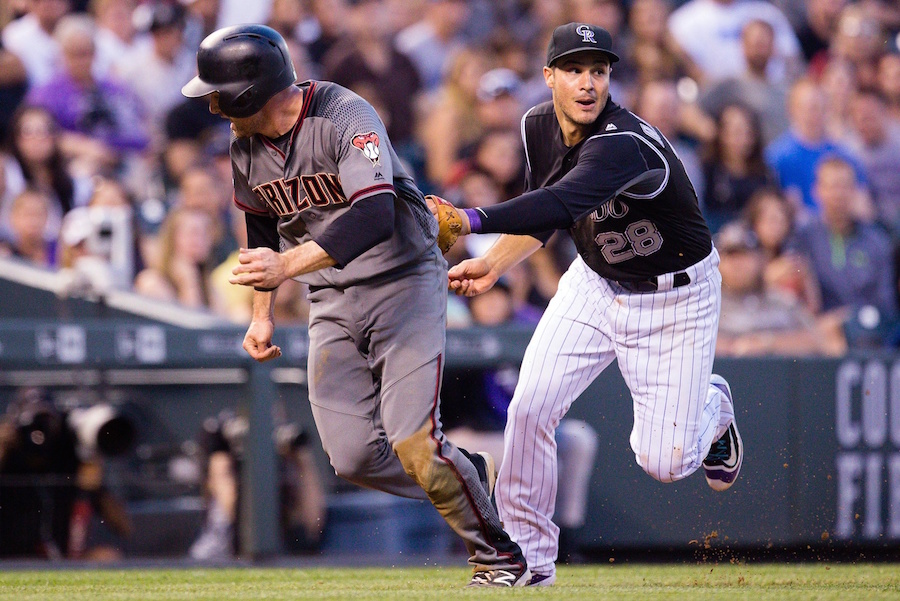 Your weekly update on Nolan Arenado is… He's still the best player in the league, and he's still not an All-Star starter.
Arenado hasn't missed a step in the field, continuing to show why he is easily the best-fielding third basemen in the league. This nifty grab he made off Blue Jays slugger Edwin Encarnacion on Monday night is a nice reminder.
His hitting isn't so bad either. Arenado is hitting .295 while leading the National League in home runs (t21), RBIs (65) and total bases (t173). He is on pace to have similar if not better numbers than last season when he also led the NL hitting 42 home runs with 130 RBIs.
Dan Williams and Marcello Romano of Morning Mayhem on Mile High Sports AM 1340 | FM 104.7 are keeping a close eye on the All-Star voting, and discussed why Arenado is the best, why the Rockies are not the Cubs and where Arenado sits in Rockies history.
"Power, average and then the slickest glove in the league, Arenado is the best player in baseball right now because his position is more important than [Mike] Trout's and Bryce Harper's," said Williams.
Yet, right now Arenado is behind Chicago Cubs third basemen Kris Bryant by more than 300,000 votes in the All Star ballot, which closes Thursday. Arenado is hitting for a better average, they're tied with 21 home runs (after Bryant hit three on Monday night) and Arenado has eight more RBIs.
For Arenado, there's not much he could do. Being in a smaller market compared to the third-biggest market, Chicago, doesn't serve him justice according to Williams. The Cubs have a lot more fans and being the best team in baseball has given their fans hope the team can bring back a World Series Title for the first time in more than 108 years.
"Arenado's a Rockie, the other guy is a Cub playing on baseball's best team," Williams said."This is where Arenado's a victim."
Arenado is slowly making a name for himself with MLB fans outside of Colorado, but not at a fast enough clip to surpass Bryant and earn an All-Star start this season.
There's little doubt that Arenado will be named an All-Star, given the stats he's putting up and his reputation with players and managers around the league.
"Last year [he had] 42 bombs and 130 RBIs and he's on pace to do it again. That is some rare freakin air," said Williams. "That's Manny Ramirez in his prime."
Arenado is just hitting his prime and 2016 will mark his second All-Star appearance, putting him three behind his mentor and former teammate, Troy Tulowitzki. Williams thinks that even without the honors Arenado has already surpassed Tulowitzki's standing with the Rockies.
"He is the best player in baseball and greater than Tulo ever was."
Romano isn't sold on that idea.
"Not yet," Romano said when asked if Arenado was better than Tulowitzki. "The trajectory says yes, he'll be a far better player." But he's not ready to make that claim right now.
An All-Star start might help that case, but Arenado will likely have to wait until at least next year for that to happen.
Listen to the full discussion in the podcast below…
Catch Morning Mayhem with Danny Williams and Marcello Romano every weekday from 7a-9a on Mile High Sports AM 1340 | FM 104.7 or stream live any time for the best local coverage of Colorado sports from Denver's biggest sports talk lineup.