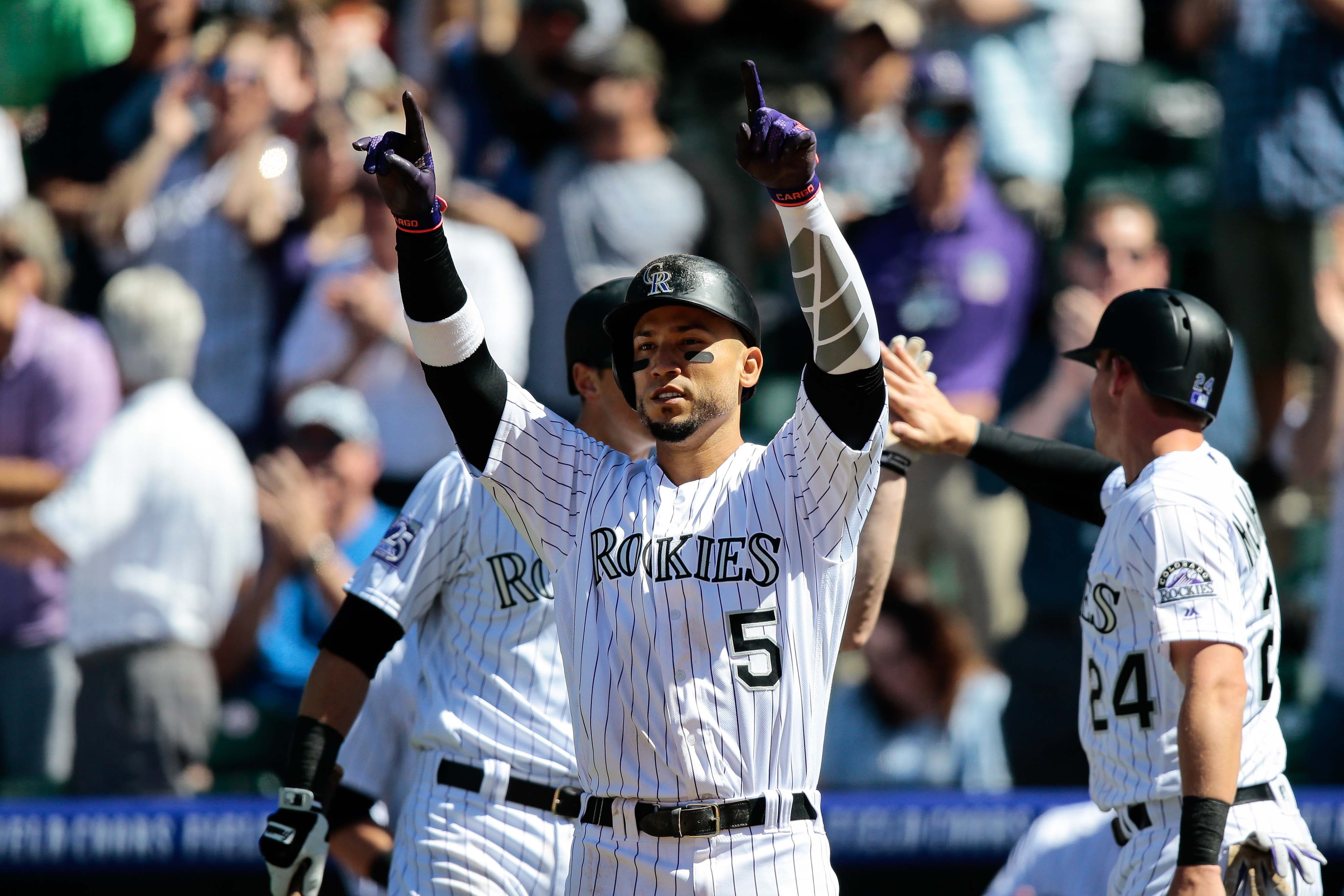 "I've got your tacos right here."
With a swing as smooth as butter and a smile that would make most movie stars jealous,  Carlos Gonzalez is basically a real-life version of Benny "The Jet" Rodriguez – and I'm greatly going to miss him.
For the last 10 years, we've been fortunate to watch Gonzalez launch baseballs through the thin Mile High air. Recently though, the veteran outfielder agreed to a one-year minor league contract with the Cleveland Indians, signifying the end of an era.
While many Colorado Rockies fans understand why the team needed to move on from Gonzalez, it definitely will be weird to see him in a different uniform. Gonzalez was not only a leader in the clubhouse, but he was one of the faces of the franchise for a decade.
With 1,330 hits, 227 home runs and 749 runs batted in during his Rockies tenure, the veteran outfielder is one of the most productive players in franchise history. In fact, only Todd Helton (54.5), Larry Walker (43.6) and Troy Tulowitzki (31.0) rank higher in offensive wins above replacement than Gonzalez (23.3). And Gonzalez's .516 slugging percentage ranks in the top 10 in franchise history as well.
Between the countless spectacular plays in right field or the towering home runs he became synonymous with, it's tough to determine what my favorite "CarGo" moment of all-time is. But if I had to pick a single moment to remember him by, watching Gonzalez complete the cycle with a walk-off home run against the Cubs in 2010 is tough to beat.
My favorite Carlos González moment from his tremendous career in a #Rockies uniform. A walk-off home run to complete the cycle to go along with a vintage Cargo bat drop. pic.twitter.com/NE7xTskkGA

— Brandon Ewing (@B_Skip17) March 17, 2019
More than anything – Gonzalez was just a really cool guy and made everything look much easier than it was. Much like Ken Griffey Jr., whether at the plate or in the field, Gonzalez had the ability to make the spectacular look ordinary without breaking a sweat.
I'll forever remember the sound of the ball coming off his perfectly timed swing and the grin he would make after watching one of his teammates go yard. Shoot, even his cheesy Taco Bell commercial was endearing.