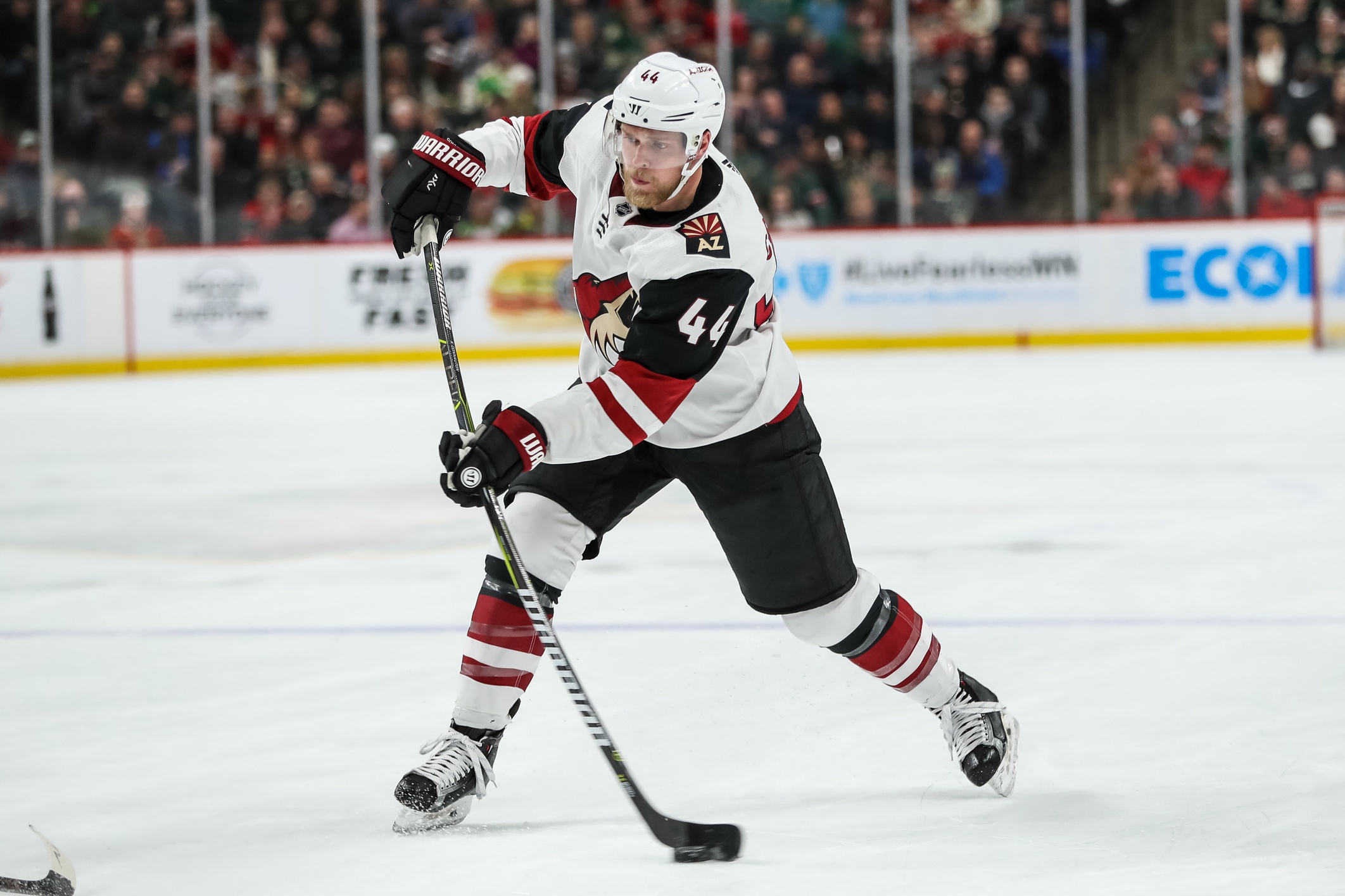 The centerman is on his last year of a five-year deal signed in 2015
The Avalanche have made their first trade of the summer, sending C Carl Soderberg to the Arizona Coyotes for D Kevin Connauton and a 2020 third-round draft pick.
Connauton, 29, is coming off a season where he dressed in just 50 games, recording one goal and eight points. In 2017-18 he enjoyed a career-year, scoring 11 goals and 23 points in 73 games. The 6-foot-2, 205-pound blueliner gives the Avs added depth to what's already regarded as one of the best defense cores in the NHL.
Colorado may need to utilize the extra blueliner early in the season if veterans Erik Johnson (shoulder) and Ian Cole (hips) are not ready for training camp.
The draft pick gives the Avalanche a spot in the third round, as their own 2020 third-round pick was traded to Florida at the deadline in the Derrick Brassard deal.
Soderberg is coming off a 49-point campaign, which saw him score a career-high 23 goals, including his first career hat-trick against the Toronto Maple Leafs in January. Soderberg has been a vital piece of Colorado's top-six over the past two seasons, most of which included Matt Nieto playing on his wing.
"This trade allows some of our young centermen to have a chance to play a more prominent role on our team," General Manager Joe Sakic said after consummating the trade.
Colorado has an ample amount of young centermen already on its roster and prospect Shane Bowers is expected to make a push for a full-time spot as well.
Prior to the swap, the Avalanche had the most cap space to work with heading into free agency on Jul. 1. With Soderberg's $4.75 million coming off the books and Connauton under contract for just one more year at a minuscule $1.375 million, the Avs have cleared upwards of three million from their salary cap.
Colorado has a league-high $38.9 million in cap space this summer, a portion of which will be used to lock up restricted free agents Mikko Rantanen, Nikita Zadorov, J.T. Compher, Alexander Kerfoot, Vladislav Kamenev, and Ryan Graves. But even after signing its own players, Colorado is still expected to be a big player on Monday, targeting the likes of Artemi Panarin and Mats Zuccarello among other forwards.
__
Sakic also took care of some house-cleaning tasks today, extending qualifying offers to a group of restricted free agents before the deadline.
The players that did not receive a qualifying offer, thus becoming unrestricted free agency on Monday, includes Sven Andrighetto, Spencer Martin, Mason Geertson, Sergei Boikov, and Julien Nantel. All other RFA's were extended a qualifying offer.
In case you missed it:
The National Hockey League announced its 2019-20 regular season schedule on Tuesday, with the Colorado Avalanche set to open the campaign on Thursday, Oct. 3, against the Calgary Flames at Pepsi Center.
The Avalanche's 2019-20 schedule is highlighted by the NHL Stadium Series outdoor game against the Los Angeles Kings on Feb. 15 at the United States Air Force Academy. This event will mark the second NHL outdoor game in the state of Colorado, as the Avalanche hosted the Detroit Red Wings at Coors Field in Denver on Feb. 27, 2016. It will be the first outdoor game in Air Force's history and the second to be held at a United States service academy. The Washington Capitals and Toronto Maple Leafs played at the U.S. Naval Academy in Annapolis, Maryland, on March 3, 2018.
The Avs will begin their season at home for the 11th time in the last 14 years and for the 13th time in the last 17. Colorado will play its first four games of the 2019-20 campaign at Pepsi Center, marking the longest season-opening homestand in franchise history (previous was three games in both 1998-99 and 2015-16).
To access the full 2019-20 Colorado Avalanche schedule please click here.