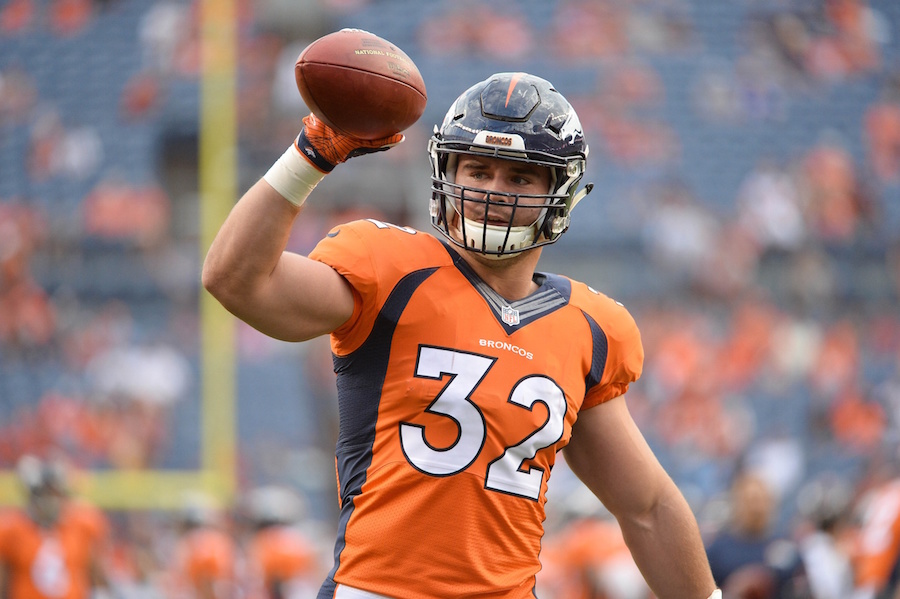 The Denver Broncos locked up their fullback Andy Janovich on a three-year contract extension on Friday that is expected to keep the gritty fourth-year pro with the team through 2022.
Official word from the #Broncos on their three-year contract extension with Andy Janovich. pic.twitter.com/VunsySKaP3

— Ronnie Kohrt (@RonnieKRadio) October 11, 2019
Janovich has has appeared in 45 games (17 starts) with the Broncos after being selected in the sixth round (176th overall) of the 2016 NFL Draft from the University of Nebraska.
Broncos general manager John Elway released a statement on the signing.
"Since he was drafted back in 2016, Andy has developed into one of the best fullbacks in the league," Elway said.
"He's exactly what you look for in a fullback—tough, reliable and a versatile part of not only the offense but also our special teams. It's nice to see how Andy's hard work has paid off, and we look forward to his continued impact on the Broncos."
The presence of Janovich and his full-time return to the lineup gave Denver a major boost against the Los Angeles Chargers when Denver ran for 191 rushing yards, their highest output on the season as a team.
Janovich, who played all 16 games in each of the last two seasons, started a career-high seven contests in 2018, helping Denver average 4.9 yards per rush—the second-highest single-season figure in Broncos history. Behind his blocking in 2018, Phillip Lindsay became the first undrafted offensive rookie to make the Pro Bowl. Additionally, Lindsay (9 TDs) and fellow running back Royce Freeman (5 TDs) became just the third rookie rushing tandem since the 1970 NFL merger to record at least five rushing touchdowns apiece.
Janovich's career totals include 12 rushes for 50 yards (4.2 avg.) and two touchdowns to go along with 17 receptions for 191 yards (11.2 avg.) with one score. He also has contributed a team-high 16 special-teams tackles since he entered the league in 2016.
In 50 career games (10 starts) at Nebraska, Janovich was a regular contributor on offense and special teams. As a senior in 2015, he rushed 42 times for 265 yards (6.3 avg.) with three touchdowns and led the team with 13 special-teams tackles.
Janovich, who played linebacker at Gretna (Neb.) High School, was born on May 23, 1993.