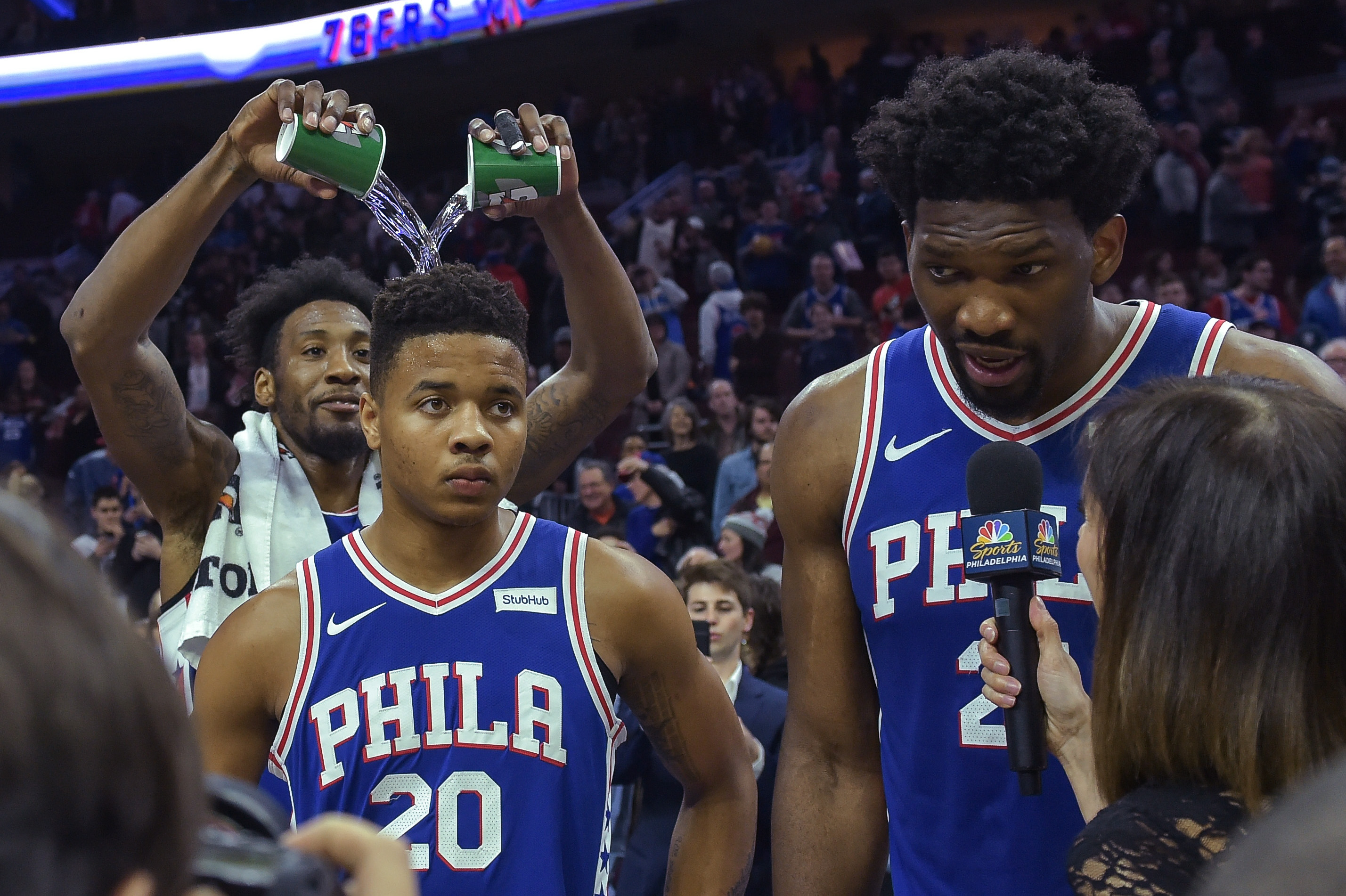 The Denver Nuggets entered Monday night's game in Philadelphia with their playoff hopes dangling by a thread. The Nuggets were less than two games out of the playoffs, but they had the most difficult remaining schedule of any playoff contender ahead of them, and Western Conference contemporaries who had seemingly developed some sort of allergy to losing. The Nuggets left Philadelphia in an even worse spot after an unlikely figure galvanized the 76ers, who mounted a furious second-half comeback and secured a 123 to 104 victory.
While Denver was fighting for their playoff lives, the 76ers were fresh off of clinching their first playoff appearance since the 2011-12 season. They had less to play for, but were just as hyped for the game — the fans were too. After all, Philadelphia's number one overall pick from the 2017 draft was set to play his first basketball game since October 23rd. This wasn't just another game for Philly, this was the return of Markelle Fultz — and the kid made his grand re-entrance in style.
Nuggets fans have grown used to, and even begun to poke fun at a dynamic that has plagued Denver with a remarkable — and almost comedic — consistency; on any given night, an unexpected player might go off for a career high, or set a team record. Think Joffrey Lauvergne or Davis Bertans — you can't blame the Nuggets fans for laughing; it's certainly better than crying.
While Fultz entered the league with a higher ceiling than most of the players who fit that bill, he certainly wasn't expected to impact this game. In fact, it was a bit of a surprise that he was even playing. It surprised no Nuggets fan though, that Fultz went off for 10 points and 8 assists, making him the first player to score 10 or more points and collect 8 or more assists in 15 minutes or less since Danny Ainge.
Despite the unexpected appearance from Fultz, and the continued absence of Gary Harris, Denver actually looked to be in control of this game for the first half. Will Barton scored the game's first nine points and he helped propel the Nuggets to an early lead. One they protected with a stingy defensive effort and allowing Philadelphia to beat themselves with lousy turnovers and poor shot selection. Nikola Jokic had a relatively slow first half, but so did Embiid — both players experienced relative foul trouble throughout the game, and neither was able to impact it the way we might've expected in the first half.
Unfortunately, when Harris is out and Jokic isn't playing well, it's hard for Denver to play winning basketball. This was certainly the case on Monday, and neither Paul Millsap nor Jamal Murray were able to help carry their team. Both had pretty disappointing games and the Nuggets just ran out of gas in the second half.
The 76ers took control of the game with a monster third quarter. The Nuggets were held to just 15 points, while Philadelphia threw up a 34 spot. Despite typically struggling in the fourth quarter, Philly kept their foot on the gas and Michael Malone watched from the sidelines as his starters flailed about in a futile effort to change alter the inevitable — they were about to lose a game they should've won, and their playoffs chances were about to take a massive blow.
Time passed, and the inevitable future grew into the dismaying present — Denver lost the game and barring some unlikely collapse from another contender, they now sat firmly on the wrong side of the proverbial glass wall. The Nuggets were stuck on the outside, ready to look in on the NBA's postseason tournament.
The door to the playoffs was all but slammed shut for Denver and their fate appeared to be sealed. But, unexpectedly, the Minnesota Timberwolves threw them a life raft. By the end of Monday night, the Nuggets found themselves owing gratitude to a cellar-dwelling team that had stuck a dagger in their own heart just a week ago. The Memphis Grizzlies had picked a weird time to start winning basketball games, but they won one in Minnesota on Monday night.
The door is almost closed for Denver and their odds of making the tournament are not good, but once again the door has been left open just a crack. They'll have another opportunity to pry it open tonight, as they'll get their passports ready for trip to Canada and a game against the ever-dangerous Toronto Raptors. That game tips off at 5:30MT.