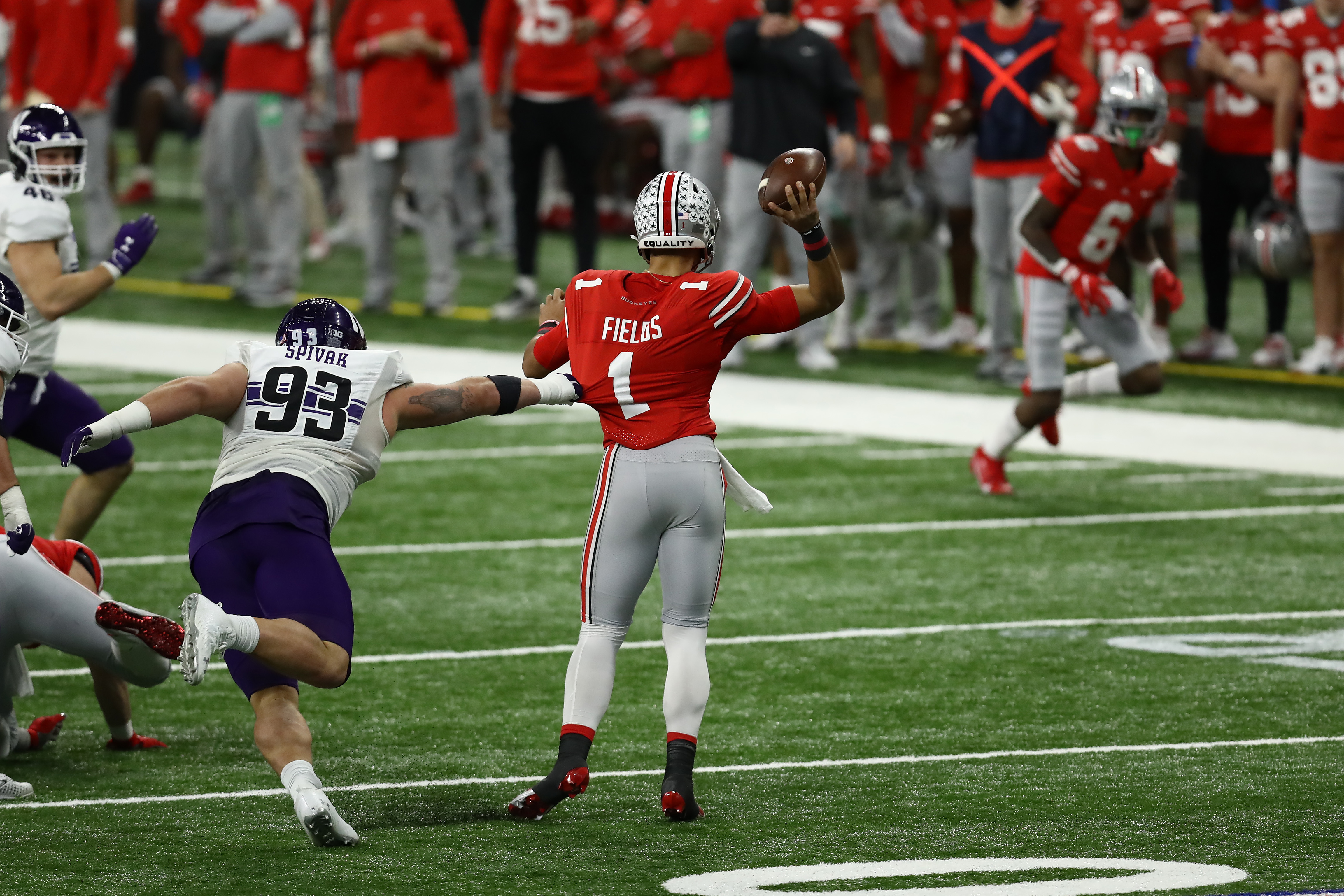 When the San Francisco 49ers flipped the draft on its head by trading three first-round picks and a third-round pick to the Miami Dolphins in exchange for the third-overall pick, there was a knee-jerk reaction from Broncos Country to write off the notion of drafting a quarterback.
Don't fall victim to that.
While it's more likely the Broncos trade down from the ninth pick to accumulate extra day-two picks, trading up to select a quarterback is still a very plausible option.
San Francisco's trade made targetting a quarterback slightly more difficult but the impact of that move is being overrated, especially now with reports surfacing that they could be targetting Alabama's Mac Jones with the pick. The Broncos are also signaling at least some interest in one of the quarterbacks most likely to make it past San Francisco
The Trade
The impact of this San Francisco-Miami trade truly seems to have been severely overrated.
Why does it stop the Broncos from trading up for a quarterback?
The only way it even mildly limits the Broncos in a hypothetical quarterback pursuit is by removing one potential trade candidate (Miami) and one quarterback (who SF will select), but we don't know who that quarterback is yet or if Denver would want the quarterback San Francisco will select.
They might, but they might not.
Now, it would impact Denver's likelihood of trading up to four, if the quarterback the Broncos hypothetically want to trade up for is the one the 49ers are planning to select third overall. That's also a very possible scenario. However, it also isn't so overwhelmingly likely that it should remove quarterback from Denver's draft discussion.
San Francisco has been tied to all three of Trey Lance, Justin Fields, and Mac Jones, with the majority of reports presently tying them to Jones. Predicting who the 49ers want right now is impossible and just because the 49ers are selecting a quarterback doesn't mean the Broncos couldn't select a different quarterback.
The 49ers' trade also impacts how many teams the Broncos can trade up with to secure a quarterback but the Falcons and Bengals are both candidates Denver could make a move with if they so desire.
If the Broncos want to trade up with the Falcons at four, they can outbid every quarterback-needy team outside of Atlanta's division (Chicago, New England, Washington). Carolina is the only team in need of a quarterback that could put together a comparable package, but they're a division rival.
It would be silly to think the Falcons would refuse to trade the fourth-overall pick to the Panthers, especially if Carolina puts together the best offer. But, the Broncos have just as much ammunition for a trade-up as the Panthers (and fewer holes on the roster, so hypothetically, they can afford to spend more of that ammunition).
If the Falcons are faced with two similar packages, it's safe to assume they'd opt for the one that wouldn't send a potential franchise quarterback to a division rival they play twice a year. If Carolina's is dramatically better, Atlanta should make that trade, but that also requires Carolina to spend more than Denver.
At the end of the day, the decision of drafting a quarterback still comes down to, how badly does Paton want to?
It was that way before San Francisco's trade and it will be that way come draft day.
Closing note: If San Francisco really does take Mac Jones (which NFL Network's Daniel Jeremiah reported was the widely-held belief inside the league), it almost removes all potential negative impact the trade-up might've had on Denver. Paton would still be looking at trying to move up with the Falcons, Bengals, and Dolphins (now at six) for either Justin Fields or Trey Lance, as he was likely doing before.
Pro Day hints
Let's open by first stating you shouldn't read too much into team pro-day visits.
That doesn't mean they're entirely worthless data points to be clear. They do have value, you just have to be careful to not read too much into that them.
Now that we've acknowledged that, let's see what we can glean from Denver's pro day visits while remembering none of these things are concrete.
Paton chose to not attend Jones' first pro day at Alabama, though it should be noted that 850KOA's Benjamin Allbright reports he planned on attending it before the sudden Kyle Fuller signing threw a wrench in those plans.
George Paton had originally intended to attend the first Mac Jones pro day, even reserving the three seats for himself, Shula & Brian Stark…but the surprise signing of Kyle Fuller nixed those plans at the very last minute.

They'll miss his second pro day as they attend Fields'

— Benjamin Allbright (@AllbrightNFL) March 29, 2021
What's more telling is that on Tuesday, the date of Justin Fields' only pro day and Mac Jones' second, that Paton chose to see Fields in-person instead of Jones. That's especially true considering the overall crop of prospects performing at Alabama on Tuesday is more impressive and includes a player Denver has been heavily tied to, Najee Harris.
This is a good time to circle back to Paton's comments from March 4th.
"There is so much that goes into that when evaluating a quarterback," Paton said. "I like to see them live. You'd like to see them in critical situations. You like to see the accuracy. How is he with his teammates? What is the leadership like?"
Any way you slice it, he is prioritizing seeing Fields live instead of seeing Jones live. There are several reasons for why that could be, including the move being a complete smokescreen.
We shouldn't read too much into what pro day Paton is or isn't attending, but it also isn't meaningless