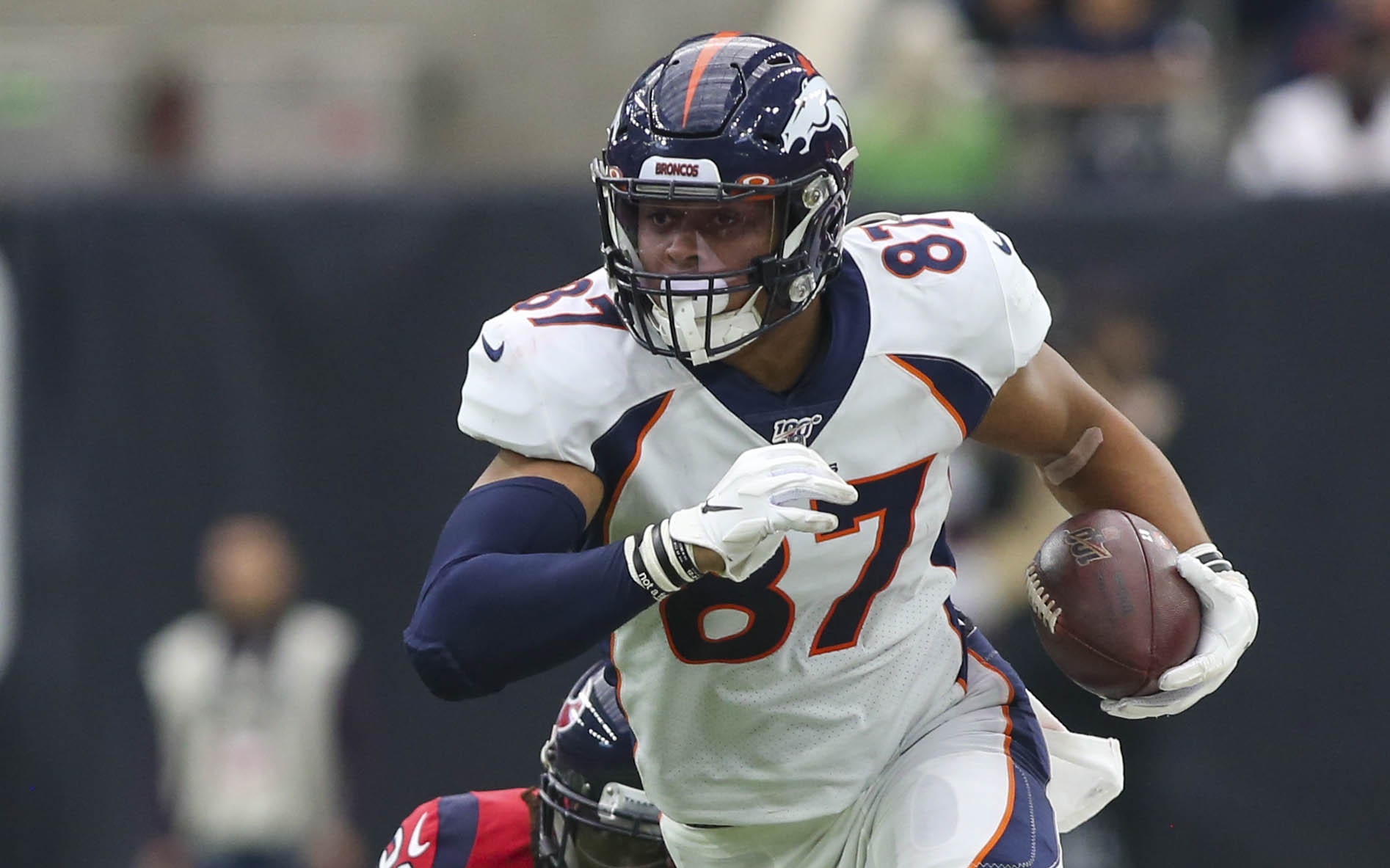 After seemingly being unable to find a solution at the tight end position since Julius Thomas left in free agency back in 2014, the Broncos are now overflowing with gifted tight ends.
While that's certainly a good problem to have, it does put them in the difficult position of having
Noah Fant
Tight ends often make a massive leap in development from their first year in the league to their second, and that was certainly the case for Noah Fant. Early in the season he looked like a changed man and was an absolute matchup nightmare for opposing defenses. While at full strength this season, he was probably Denver's best offensive player not named Garett Bolles.
Unfortunately, Fant suffered an injury against the Jets in Week 4 and continued to suffer minor injuries throughout the season.
During that first quarter of the season, Fant had 19 receptions for 219 yards and two touchdowns, putting him on pace for 76 receptions, 876 yards and eight touchdowns, which would've ranked among the league's top tight ends.
If Fant can avoid injury in 2021, it could be the year he breaks out as a bonafide superstar at the tight end position. Having Sutton back and Jeudy and Hamler entering year two (wear wide receivers also historically see a sizable leap in development) should open up a lot of opportunities for the former Hawkeye.
Albert Okwuegbunam
Although it was incredibly short-lived Albert Okwuegbunam probably had the best season out of any of Denver's rookies. Which, as previously stated with Fant, is not the usual for tight ends, as they typically struggle a lot to produce as rookies.
Okwuegbunam is certainly talented, but the real difference-maker there might have been his pre-existing relationship with Drew Lock from his time Mizzou. He popped in Week 6 against the Patriots with Lock returning to the lineup, and at that point, previous favorite targets Fant and Sutton were injured and Lock was still trying to form a connection with Jeudy and Hamler.
As a result, Okwuegbunam became Lock's security blanket until he tore his ACL, and the difference he made for Lock was apparent. When targeting him, Lock's passer rating was 119 — the best of any Bronco when targeted this year — as he went 11-for-15 for 121 yards and a score.
If both can stay healthy in 2021, the tandem of Okwuegbunam and Fant should be one of the better tandems in the league, and they should consistently give opposing defenses fits.
Nick Vannett
Nick Vannett was one of the most unpopular Broncos through the first chunk of the season as he failed to make much of an impact at all.
However, once Okwugbunam permanently left the lineup, he stepped up and performed well. Of Denver's three top tight ends, Vannett was certainly the best blocker and he even came up with some big plays as a receiver against the Dolphins and Panthers.
That's not his role on this team though. Denver is set on the receiving end with Fant and Okwuegbunam, so they really just need Vannett — or whoever the third tight end might be — to be a strong blocker that isn't a complete afterthought in the passing game.
While Vannett is an adequate blocker, he's nothing special so he could easily see himself replaced if a better option arises. He is under contract for 2021, but the Broncos would save over $2.6 million in cap space by cutting him.
Troy Fumagalli
Vannett is the odds-on favorite to be the Broncos No. 3 at the position and primary blocking tight end, but Troy Fumagalli can give him a run for his money, especially after his promising close to the season.
Much like Vannett, Fumagalli had a season-best performance against Carolina and played his best football during the final quarter of the season. He was also a sturdy and reliable blocker.
However, he is a free agent this off-season, and it's hard to see the Broncos placing a priority on re-signing him.
Andrew Beck
The Broncos got very little out of Andrew Beck as a tight end, and really just utilized him as the team's fullback. He lined up as a tight end for just 13 snaps this season, while he lined up in the backfield four times as often (53 snaps).
If Beck can prove his value to the team as a fullback he could make it onto the 2021 roster, but Shurmur rarely uses fullbacks and finding one that provides what Beck does should be pretty easy. That said, Beck is under contract for 2021, but his contract is very easy to part with.
Jake Butt
Michigan man Jake Butt is almost impossible to not root for. He had a lot of upside as a college prospect but repeated injuries more or less robbed him of his career until the 2020 season.
Finally, in 2020, injuries didn't get in Butt's way and he looked great in training camp. Butt surprisingly made Denver's final roster, but it would be unfortunately short-lived. Through the first six weeks of the season, Butt made two catches for 10 yards before losing his spot on the roster to Fumagalli and a now-healthy Okwuegbunam.
With that in mind, it's hard to see Butt making it onto the 2021 roster, especially considering his contract just expired. If Paton wanted to add more tight end talent, one would think he would turn to a late-round draft pick or the free-agent markets for a cheap veteran, as finding a replacement for what Butt offered is not a difficult task.