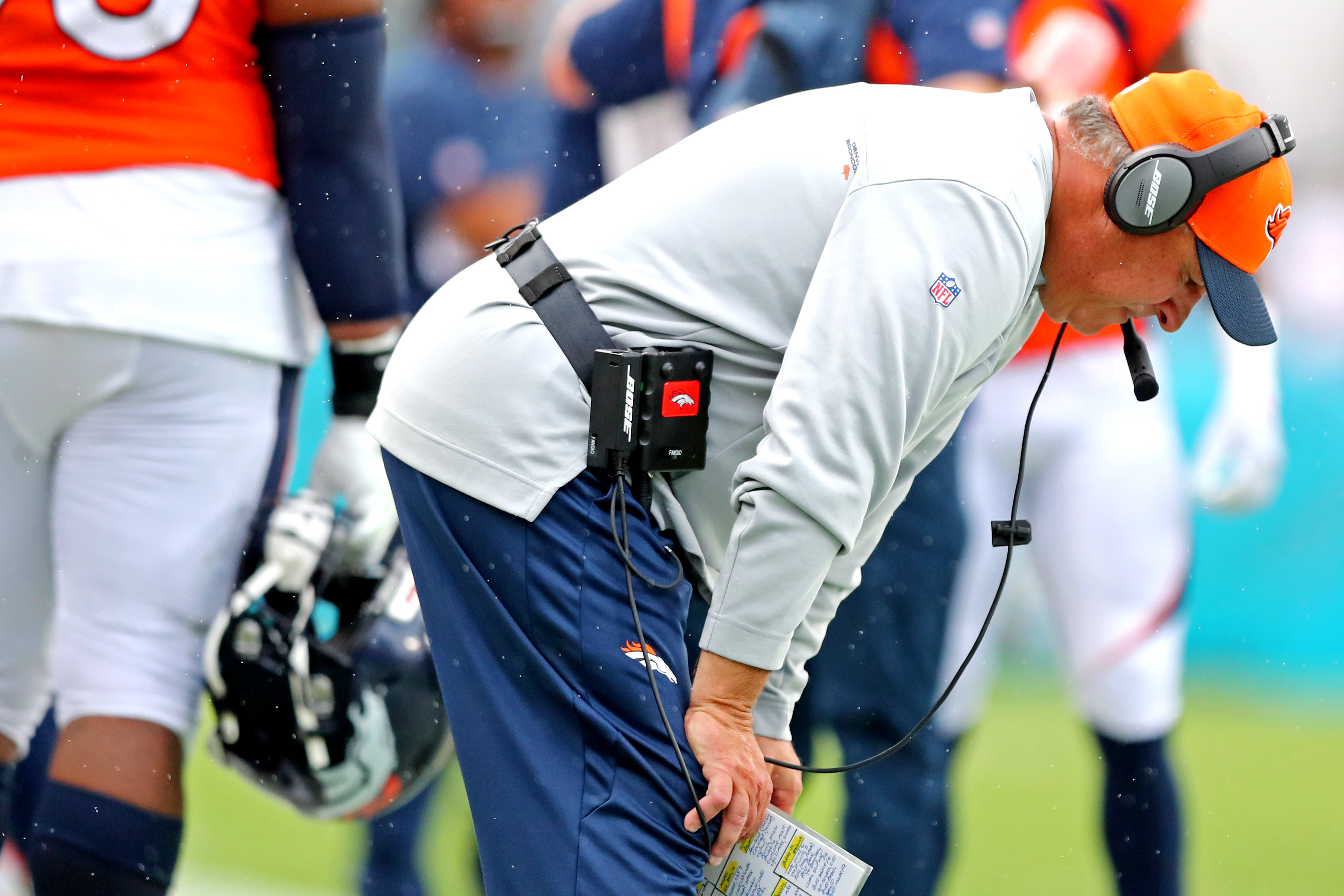 After three consecutive losses, and embarrassing losses at that, it's hard to spot what exactly the Denver Broncos do well anymore.
Does this team have an identity? What can they hang their hat on, when practically every aspect of the team is underperforming to such an extreme degree?
Understandably, that was one of the many questions posited towards head coach Vic Fangio on Monday morning.
"That's a good question," Fangio responded, which is not necessarily the ideal opener in that circumstance. "We have to feel confident that our secondary, which has been unscathed with injuries, will play really well. We have to hang our hat on our O-line, which we believe is a good O-line, and our running backs which we believe are two good running backs. [Mike] Boone is in there making it a third. I believe in Courtland Sutton and [Tim] Patrick as receivers. I believe in Teddy [Bridgewater]'s ability to lead the offense. Those are some of the things we can hang our hat on."
While those are things one would like the Broncos to be able to hang their hat on, reality hasn't quite matched that sentiment.
Let's start with the secondary. Over the past three games, Patrick Surtain II and Bryce Callahan are the only starters in the defensive backfield that are allowing a passer-rating-when-targeted under 125.0. Meanwhile, Kareem Jackson and Kyle Fuller are both surrendering passer ratings over 145.0, and Ronald Darby is allowing a perfect passer rating when the ball is thrown in his direction.
That's a flawed metric, but more advanced ones back it up. In terms of allowing explosive passing plays, only the Jacksonville Jaguars are performing worse defensively over the past three weeks, and that's beyond embarrassing for a Fangio defense that is supposed to pride itself on taking away the big play.
Let's move on to the offensive line and running game
In pass-block win-rate, the Broncos entered Week 6 ranked 17th, and in run-block win-rate, they ranked 18th. It's hard to imagine that either of those standings improved after a ghastly performance Sunday. With that in mind, is this sub-par line really something the Broncos can hang their hat on?
It's not promoting an overly efficient run game either. They rank 15th in expected points added per rushing attempt, and 21st in rushing DVOA.
As for Courtland Sutton and Tim Patrick, it's very difficult to critique their recent performances, but you can't rely on two receivers to lift your team to victory on a weekly basis. The Broncos need more than that. Especially because the existence of these talented pass-catchers alone isn't promoting a sterling passing attack.
Speaking of that passing attack, leadership is fairly unquantifiable, so maybe the Broncos can hang their hat on Bridgewater's leadership skills, but that seems like a stretch to say the least. Plus, with how flat the offense has looked recently, it's hard to view Bridgewater as the tide that raises all ships, even if he's the franchise's best quarterback since Peyton Manning.
This team is presently without an identity, but they need to find one urgently.