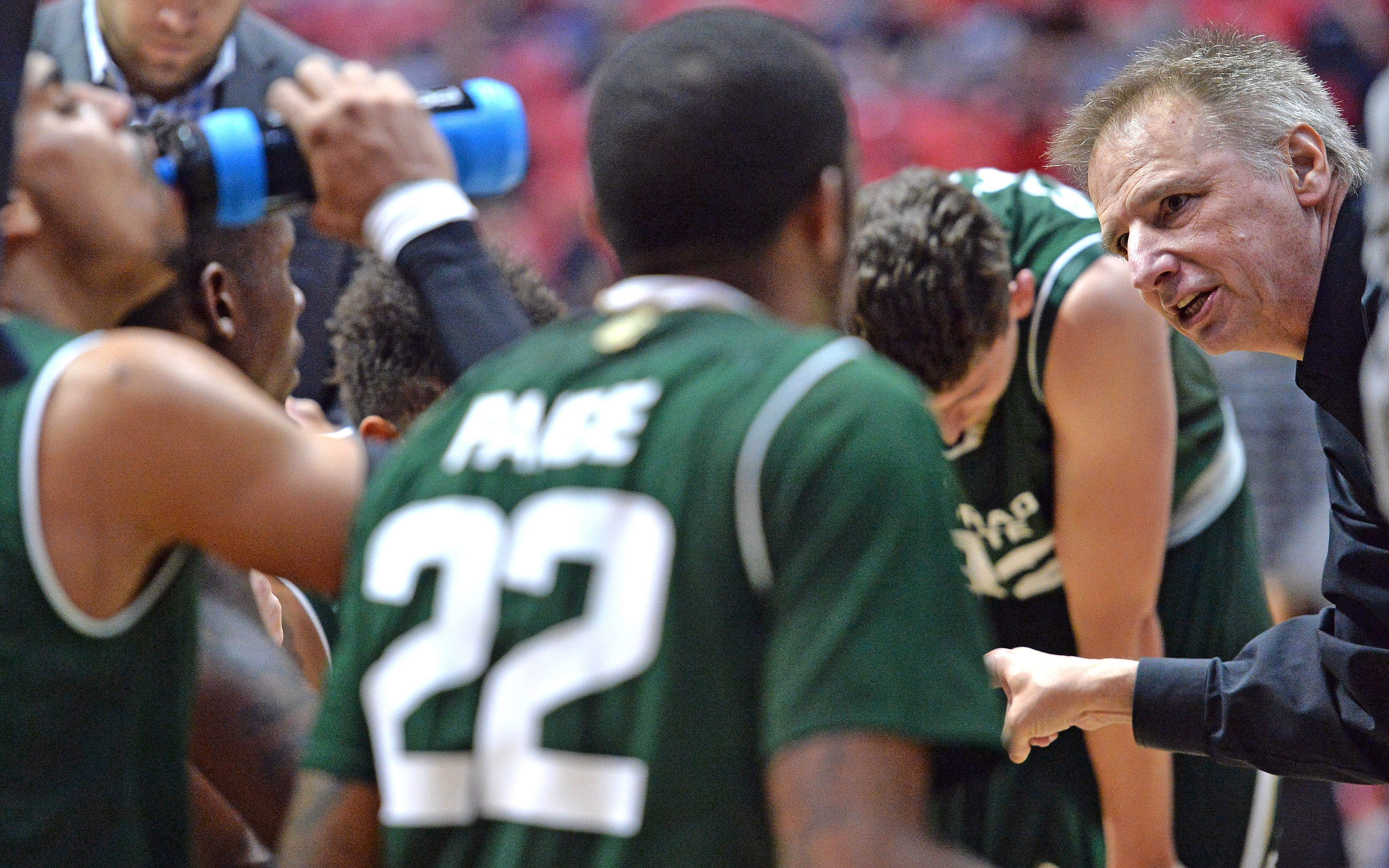 Midway through the Mountain West Tournament for men's basketball, things are going swimmingly for Colorado State.
On Day One, while the Rams rested thanks to their No. 2 seed — earned with hard work and wins in 10-12 games to finish the season — Wyoming was steamrolled 87-68 by the No. 10 seed Air Force Falcons.
That was perfect for the Rams for two reasons. First and foremost, the Cowboys have been a better team all year long, going 18-14 compared to the Falcons' 12-21 record. But beyond the teams' overall records, Wyoming put up fantastic fights against the Rams in both games the two teams played one another, with Colorado State edging out their rival Cowboys by a combined seven points in two games.
Wyoming was going to want revenge on the Rams. Instead, what transpired was a nearly identical blowout as the one from earlier in the year as the Rams rolled over the Falcons 81-55 in the conference quarterfinals contest.
How'd CSU win? The same way they need to every night: Gian Clavell scored sensationally, the Rams dominated on the glass and they gave all-out effort on the defensive end. It's a simple recipe for success which has worked overwhelmingly well this season.
Clavell intelligently allows his teammates to get involved in the game early, and then, usually in second halves, the shooting guard goes off. Last night, late in the first half, Clavell and his teammates Prentiss Nixon, with a steal-dunk by Emmanuel Omogbo, went on a 16-0 run near the end of the first half to put themselves comfortably ahead at the break.
Then, it was once again "Clavell Time" after halftime as he drained a long two and then back-to-back 3-pointers to push Colorado State's lead to 19 mid-way through the second half. When it was all said and done, the Mountain West Player of the Year scored a single-game CSU record for a MW Tournament game with 30 points, adding seven boards.
Down low, the Rams dominated, even when rebounding machine Emmanuel Omogbo rolled his ankle early on in the contest and had to sit for an extended period. Redshirt freshman forward Nico Carvacho stepped up with a big-time, nine-rebound game while reserve forward Braden Koelliker grabbed seven boards himself as CSU won the battle on the glass 38-26.
Carvacho and Koelliker — who combined to score 17 points as well as their 16 rebounds — were definite x-factors the shorthanded Colorado State team needed last night, as well as going forward through this Mountain West Tournament.
The cruising victory was just what the doctor ordered for the Rams, who were able to get Anthony Bonner and even eighth man and walk-on track athlete Juan Sabino II some playing time late.
Then, in the nightcap game, Colorado State got somewhat lucky again, as San Diego State knocked off the Boise State Broncos. Boise beat the Rams twice this season already, while CSU found ways to go 2-0 against the Aztecs; the speed of play of tonight's opponent favors the Rams.
Boise loves to get the ball up court with a quickness, while SDSU plays at a much slower pace which benefits the Rams as well. It won't be an easy game tonight for the green and gold, but they were likely hoping to play San Diego State rather than Boise.
On top of that, one of the Aztecs most talented players in Malik Pope injured his knee late in the win over the Broncos. Pope said it won't keep him out of tonight's tilt against CSU, but even a limited Pope will only improve the Rams chances.
Team of destiny? Maybe Larry Eustachy was right when he said that much following Omogbo's last-second 3-pointer which beat San Diego State on Feb. 25 at Moby Arena.
"I believe what's supposed to happen has already been determined," Eustachy explained after that win two weeks ago. "And I believe the up and down season and what's transpired was supposed to happen, just to make you tougher. I was driving over here and I go, 'Maybe it's just our year, I don't know.'"
Everything has gone their way so far in the Mountain West Tournament, and if they can find a way to beat San Diego State tonight (tip at 10:30 p.m. MT on CBS Sports Network) the Rams would face the winner of No. 1 seed Nevada vs. No. 4 Fresno State on Saturday afternoon.
At 22-10 overall, the Rams don't have enough key victories in a down year for the MW to make the NCAA Tournament without a conference tournament title and the automatic bid it brings. So, if seniors Clavell and Omogbo want to make the Big Dance, they must win the next two straight games, first.