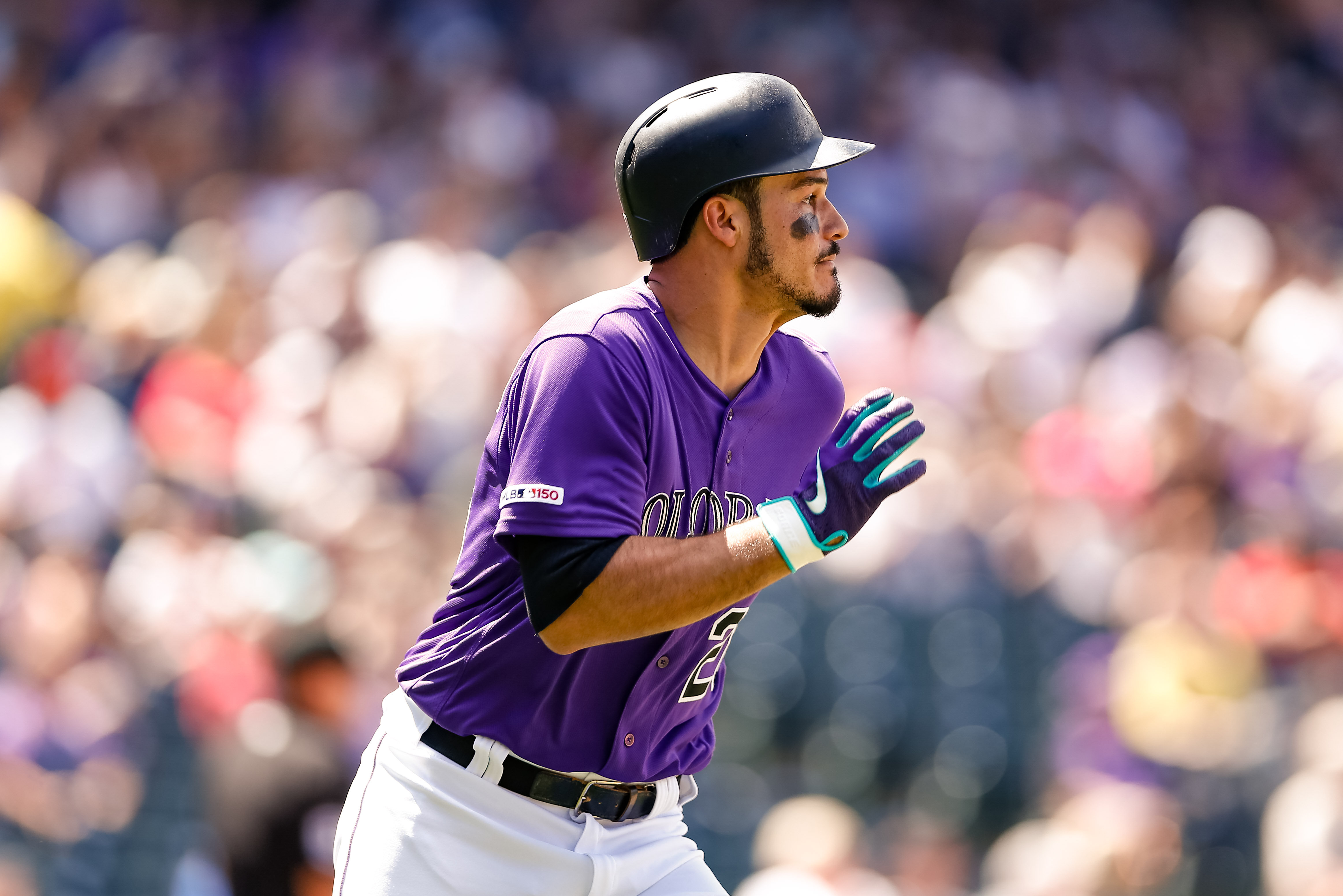 The Colorado Rockies defeated the Arizona Diamondbacks in walk-off fashion Wednesday afternoon at Coors Field, 7-6.
Ahead are takeaways from the victory.
Arenado hits a walk-off 
Things were looking grim for the Colorado Rockies entering the bottom of the ninth inning, down 6-5.
With a one-run lead, Arizona opted to roll with Archie Bradley out of the bullpen, a decision that backfired swiftly.
Bradley was erratic from his first pitch and wound up beaning Trevor Story to provide Colorado with a base runner.
Nolan Arenado then came to the plate and wasted no time, cranking the first pitch of his at-bat over the fence in left field to solidify a walk-off victory for the Rockies:
THE BEST IN THE GAME! #NolanBeingNolan 😍 pic.twitter.com/8DT6Ow61eN

— Colorado Rockies (@Rockies) August 14, 2019
The home run was Arenado's third career walk-off bomb and solidified the sixth walk-off victory for the Rockies this season.
Interestingly enough, the Rockies last walk-off victory came against the Diamondbacks on May 30.
Bookends spoil Freeland's start 
Kyle Freeland stumbled out of the gate in Colorado's series finale versus Arizona.
Trouble set in instantly as Freeland surrendered his first run less than 10 pitches into his start after Ketel Marte ripped a double to Ian Desmond in left field.
Freeland managed to record back-to-back outs, but Wilmer Flores added another run by hitting a run-scoring single to bring Marte home and establish a 2-0 lead for Arizona.
The first inning has not been kind to Freeland this season. Entering Wednesday's start, Freeland had allowed 18 runs in the 18 first innings he pitched to pair with an 8.00 earned run average.
However, after the first inning passed, Freeland settled into a groove on the mound, hurling four consecutive scoreless innings before Arizona jumped on him once more in the top of the sixth inning.
Marte smacked his second double of the day to begin the inning, triggering a surge of power from within the Diamondbacks' lineup.
With a runner on second, Eduardo Escober crushed his 27th home run of the season, a two-run shot to left-center field.
After Freeland induced a groundball out, Flores drove home another run by hitting a solo shot down the left-field line, extending Arizona's lead 5-2.
Overall, Freeland pitched a solid game for a majority of his outing, but his first and last innings crippled him. He departed with a line of six innings pitched, allowing five runs on eight hits.
Rockies take advantage of Ray's injury 
Robbie Ray has put together a solid season for the Diamondbacks and was expected to be moved at the trade deadline; however, after a deal failed to materialize, the southpaw remained in Arizona's rotation.
Ray entered his start at Coors Field boasting a 10-7 record to pair with a 3.99 ERA.
Ray was sharp through his first two innings of work, but a run did come around to score in the second inning after the Diamondbacks' defense botched a play on a sacrifice bunt from Garrett Hampson that allowed a run to score.
The damage was limited to a single run, but Ray ran into an injury issue when warming up for the third inning. After hurling a few warmup pitches, Ray was pulled from the game in noticeable discomfort.
It was later disclosed that Ray was yanked from the game due to lower back spasms.
Matt Andriese replaced Ray in the third inning, and the Rockies were able to drive a run home to tie the game at two runs apiece.
The game was scoreless through the middle innings, but the Rockies took advantage of Ray's absence and poor defense from Arizona.
The Diamondbacks committed a whopping four errors throughout the game, which helped Colorado stay within striking distance.
Colorado took advantage of Ray's absence once more when Ryan McMahon hit a game-tying, three-run home run in the sixth inning.
McMahon comes up clutch off the bench
Ryan McMahon's season has been both hot and cold as the youngster has become accustomed to everyday life in the big leagues.
Garrett Hampson was starting in place of McMahon at second base in the Rockies' series finale versus the Diamondback; however, skipper Bud Black opted to insert McMahon into the game as a pinch hitter with a scoring opportunity.
With two runners on and the Rockies down by three runs in the sixth, McMahon cranked a three-run home run to left field on the first pitch of his at-bat to tie the game at five runs apiece.
Pinch hit. First pitch. Game-tying homer.

We call him #BigMac 🍔 for a reason! pic.twitter.com/LZ60EFxwl1

— Colorado Rockies (@Rockies) August 14, 2019
The longball was good for McMahon's 14th home run of the season. It is also McMahon's fifth career home run when entering the game as a substitute.