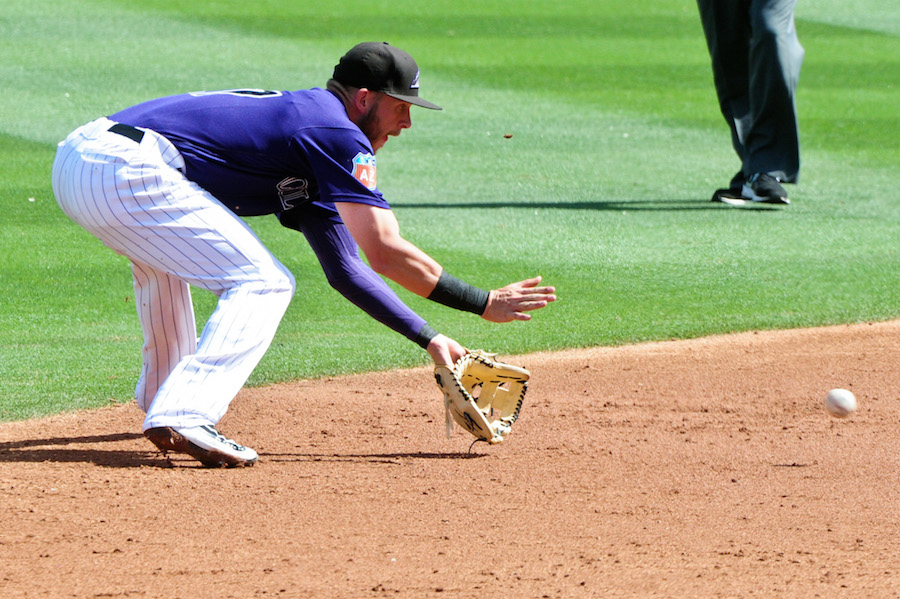 The Colorado Rockies are two weeks out from their home opener against the Padres at Coors Field (they open the season with a three-game set in Arizona on Monday, April 4), and there still appears to be some question as to who will start at shortstop with veteran Jose Reyes out indefinitely pending a ruling by the State of Hawaii and a subsequent investigation by MLB on a domestic violence charge from last October. Trevor Story, a top prospect in the organization since he was drafted in the first round in 2011, is making a strong case for the job.
Story is hitting .333 in 39 at-bats with four home runs. He was 2-for-4 with a double and run scored and an RBI in Thursday's loss to Seattle. His offensive production so far in the Cactus League has been impressive, given that he's never posted a full season above .300 in the minor leagues.
Where Story has really shined this spring training is defensively, as expected. He was excellent again on Thursday, robbing Nelson Cruz of a hit with a grab deep in the hole and throw from his knees.
Story robs Cruz 03.24.16. Courtesy of MLB.com 
Story is making it difficult for manager Walt Weiss to send him back down to the minors. He's neck-and-neck in terms of batting average with Rafael Ynoa, another possibility to start in place of Reyes, who some are predicting could miss as much as half the season due to a suspension. Ynoa is hitting .334 in 35 at-bats, although his power numbers do not compare to Story's.
The real rub with Story is that the Rockies would be forced to start his arbitration clock if he earns an Opening Day roster spot. If they choose to go with Story, they'll likely follow the same philosophy they employed with Nolan Arenado in 2013 and keep him in AAA just long enough to not burn a year of arbitration eligibility.
Speaking of Arenado, the hottest hitting player in spring training finally went hitless on Thursday. After a full team off day on Wednesday, Arenado went 0-for-4 against Seattle, marking the first time all spring he'd gone without a hit in a game.
His average dipped to .548, it's the first time he's dropped below .550 in nearly two weeks.