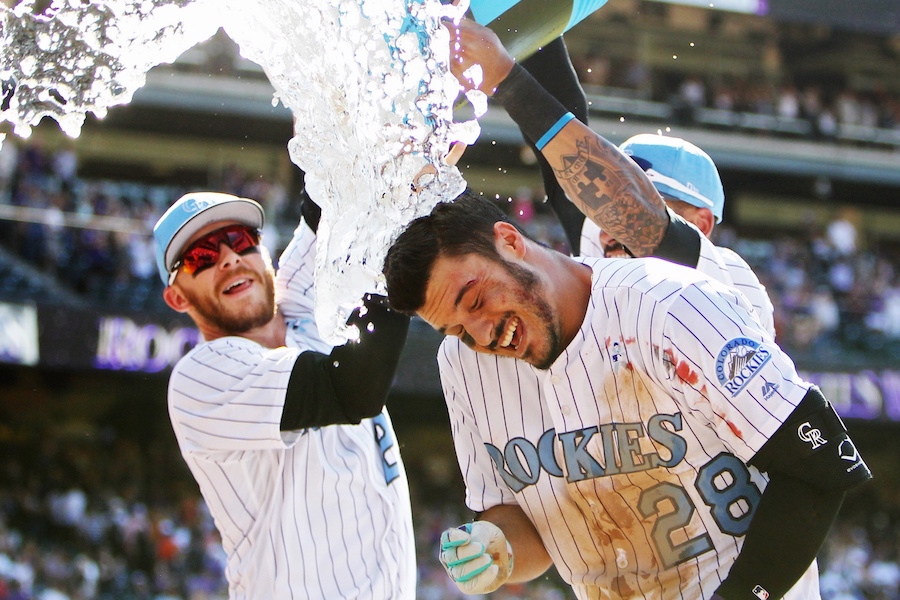 Nolan Arenado is arguably the best third baseman in baseball and on Father's Day Sunday, he bolstered his case for that honor when he hit a walk-off home run to complete the cycle in a come-from-behind, 7-5 victory over the San Francisco Giants. With one swing of the bat, the four-time Gold Glove winner, two-time All-Star and two-time Silver Slugger topped practically every previous moment in his already accomplished baseball career.
"Probably number one," Arenado said when asked where this moment ranks. "This is number one, one of the best moments of my career. Obviously, winning the [World Baseball Classic] is up there. I've hit some big homers, but [this is] by far the best."
He didn't let that detract from the team victory, or the fact that it came against an accomplished pitcher in Mark Melancon, the 2015 Trevor Hoffman Award winner for best NL relief pitcher.
"It's really special, obviously. Winning the ballgame is number one. I know how good Melancon is, and I was ready first pitch," Arenado said. "I was just trying to get the ball to the outfield, really. Luckily, I got a pitch a little in, and I was able to do some damage with it."
When the ball hit off the barrel of the bat, Arenado wasn't quite sure it would go out. But much to his elation, it went the perfect distance.
"I thought there was a chance for sure," he said. "I hit it pretty hard, I back-spinned it. That's my whole goal, is to back-spin the baseball, thank God it went out. I was a little nervous. I saw it go back and I was like, 'Oh no.' I haven't hit a homer in what felt like a while."
Arenado is only the eighth player in franchise history to hit a cycle, with the last coming from Michael Cuddyer on Aug. 17, 2014 against Cincinnati. The last to do it in a grand fashion such as this, however, was when Carlos Gonzalez hit a walk-off bomb against the Cubs on July 31, 2010.
"I remember watching CarGo's when he hit it," Arenado said. "It was amazing. It's cool, I guess I know what he feels like, you know what I mean? It's a great feeling, and I'm just very thankful it worked out today."
He's also only the 31st player in Major League history to complete the cycle in that fashion.
Arenado started out his day by hitting the 19th triple of his career, arguably the toughest part of a cycle to achieve, and certainly something that he rarely sees in his numbers.
"To hit for the cycle, I've never done it, but I felt like I've been close, but I've always needed the triple, and I ain't getting that unless I hit it like the one in the first," he joked.
Three innings later, he cooled his jets a bit with an easy base hit, followed by a double and his first RBI of the game. After that, his teammates starting taking notice. He struck out in the next at-bat, and with the Rockies leading at the time it appeared he might not get another shot.
But, a Hunter Pence home run and a Brandon Crawford double in the top of the ninth gave the Giants a late 5-3 lead.
Giants manager Bruce Bochy called on Melancon, one of the best closers in the league to finish off the Rockies. With one out, Raimel Tapia delivered a pinch-hit single. Charlie Blackmon followed with a single of his own. D.J. LeMahieu drove in Tapia to bring the game within one.
Enter Arenado.
When push came to shove with the game on the line in the ninth, Arenado only had one goal in mind, and it wasn't a cycle.
"It crossed my mind, because some guys will say, 'Oh, you need a homer.' [Gerardo] Parra was telling me if I hit a single, just run home," Arenado said, laughing. "You start knowing about it, but honestly I was not thinking about it. I was just trying to get it to the outfield. I'm not going to try to let my ego get in the way here, I got to win the ballgame. As much as I want a homer, just get the ball to the outfield, and luckily it went out."
All season long, Arenado has been terrorizing the Giants left and right, batting .333 with 10 RBIs with a career .328 average against them this year prior to Sunday's game. With the win, he helped his team sweep the Giants across four games for the first time in Rockies history.
"I don't know what it is, they're just in our division," Arenado said. "They bring out the best in me because they're always good, they're always competing and they're always a championship team. It's always fun playing them. They have good players over there."
After he completed the cycle, Coors Field was more raucous than it's been in years. It was absolutely electric.
"These fans deserve it," Arenado said. "It's getting loud here. It's louder than it's ever been, that's the loudest I've ever heard this place before I hit. But I think the fans in Denver are starting to get the hint that we're real and we need their support. They were fired up, and I was fired up for them. I just want to show them some love
"It's fun right now. It's fun in Denver right now. I don't know how else to put it. We win ballgames, and our fans are getting loud here, man, it's getting really loud, and we feed off them."