Nolan Arenado was bound to cool off eventually. Baseball is a game of averages and Arenado over the past two-plus weeks had been laughing in the face of those averages. Some of that came to an end on Wednesday as the Rockies' star third baseman ended a 17-game hitting streak and his club lost its fourth game in five days.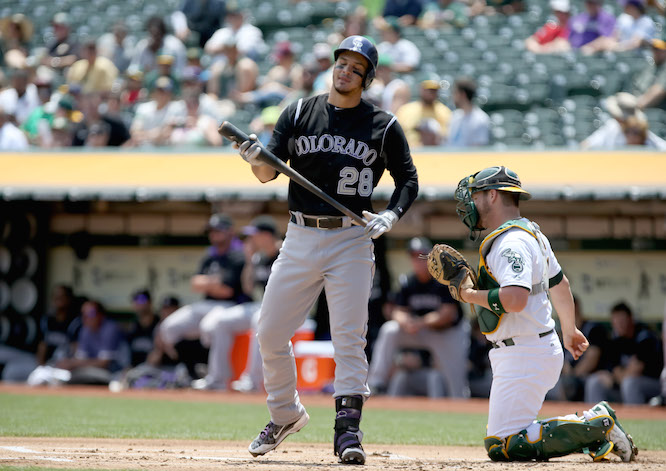 During the streak Arenado went 24-66, a .340 average, with nine home runs and 21 RBI. His slugging percentage during that stretch was .879 and his OPS was 1.270. He was awarded the National League Player of the Week on June 29 for his offensive prowess from June 22-28. The 17-game hit streak was the second-longest in the National League in 2015, trailing only Wilson Ramos of the Nationals who posted a 19-game streak earlier in the year.
Despite Arenado's outstanding offense over those 17 games, the Rockies stumbled to a 7-10 record. They lost again Wednesday to Oakland , when the streak ended.
Chad Bettis allowed three runs on seven hits over 5.2 innings to take the loss, but Colorado failed to muster any offensive output, being stifled by Jesse Hahn and the A's bullpen. Hahn allowed the Rockies' only run, an RBI double by Nick Hundley in the fourth inning.
Three of Colorado's five hits on the day were for extra bases, including Hundley's only hit on the day. Carlos Gonzales was the only player for Colorado with multiple hits.
Troy Tulowitzki was kept out of the lineup for the afternoon affair, as Walt Weiss elected to start Ben Paulsen at first base and Wilin Rosario as DH. Daniel Descalso got the nod at shortstop in place of Tulowitzki.
The day off was scheduled for Tulowitzki, but left many fans scratching their head because the All-Start shortstop has been on fire as of late, as well. With the end of Arenado's streak, Tulowitzki currently owns the longest active hitting streak at 14 games.
The Denver Post asked Tulowitzki and manager Walt Weiss about why the shortstop did not DH.
"If I'm going to be the DH, I would say: 'Hey, just put me in the lineup. I wanna play defense,'" Tulowitzki said.
Instead, Weiss elected to sit him completely. He had a similar option in Houston last month, the Post noted. "Yeah, I was going to DH him there. He said something to that effect," Weiss said. "So I didn't even ask him today."
Tulowitzki is expected back in the lineup Thursday when the Rockies take on Arizona in Phoenix. First pitch is 7:40 p.m. MDT.