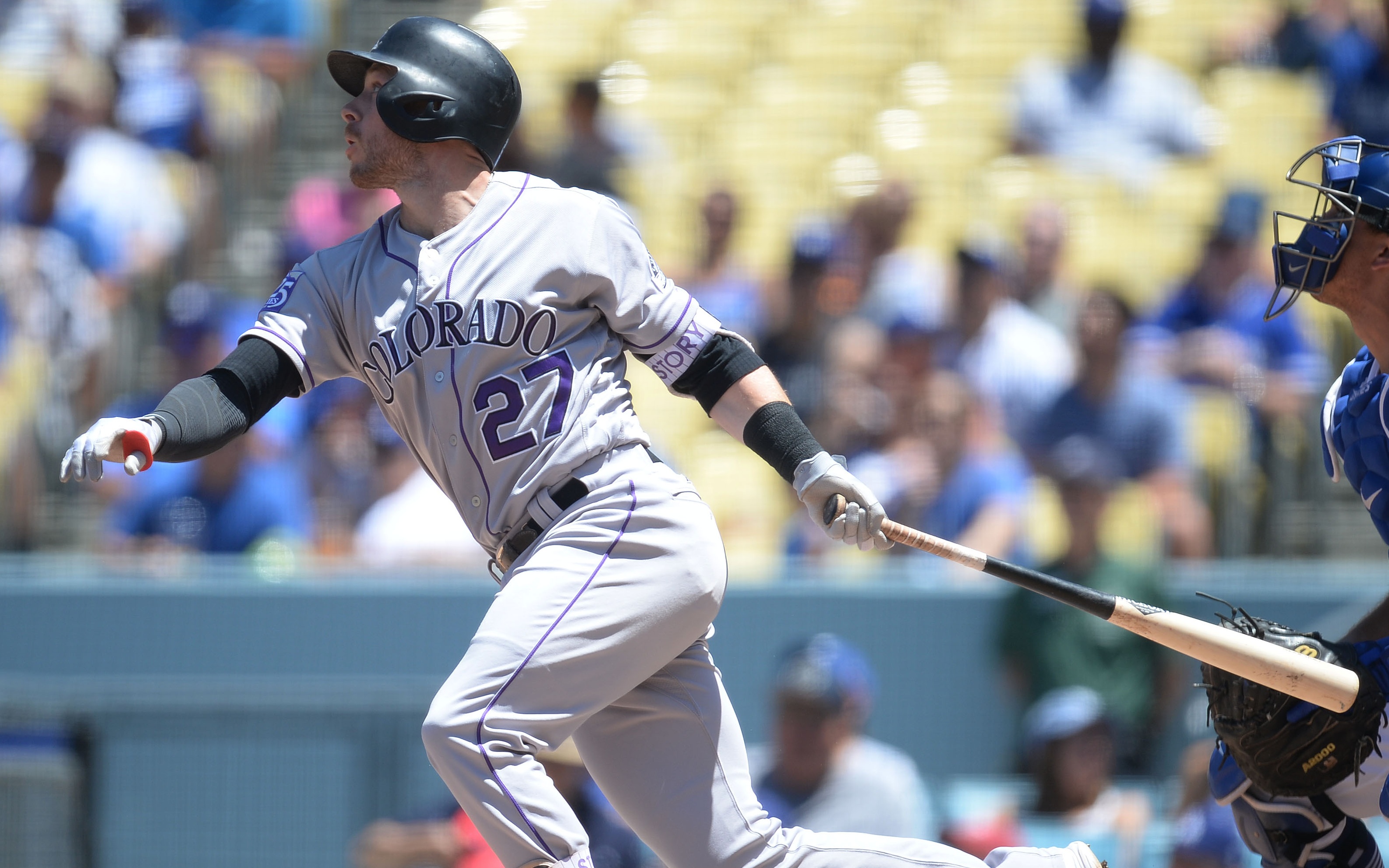 Trevor Story, All-Star?
Currently, Story is in fourth place among National League shortstops, with 820,000 votes, which puts him about 200,000 and 300,000 votes behind second and third place men at the position, Dansby Swanson and Addison Russell.
Still, many who watch the Colorado Rockies play daily believe wholeheartedly that Story should be included in his first-ever All-Star Game in two weeks when it takes place in Washington, D.C.
Why?
Likely because he does everything on the diamond, and lately, he's been raking from the plate.
While he started this season slowly, batting .226 in March and April, his numbers have steadily risen month-by-month.
And in the month of June — while the Rockies struggled, going 11-16 overall — Story was red-hot. His batting average soared to .333 in June, including 13 doubles and five home runs in that month alone. And even though they're only three games into the month of July, his hot streak is continuing; Story is hitting .346 so far.
Among his teammates, Story's 23 doubles lead everyone, as does his 10 stolen bases. Which, for people not observing the team every day, may go missed; Story's speed for a 6'1″ 210-pound shortstop is phenomenal.
More evidence the Rockies youthful shortstop should be included in the All-Star Game: His 23 doubles are third-most at the position, as are his 16 home runs, and every other player near him is from the American League. Simply, no shortstop from the NL is hitting the ball as well as Story is, and that added element of being able to steal — he also leads the NL in that category from his position — makes him a perfect, versatile fit for the game.
When it comes to fielding, Story has had a few ups-and-downs, including his seven errors on the current season. But, he also regularly makes phenomenally athletic plays as well.
Simply, at 25 years old, we're seeing the emergence of a new star for the Rockies in Story. And as this grueling season drags on, Colorado fans have to hope he continues to improve and help carry his teammates going forward.
Vote for Story, and the rest of the Rockies to make the All-Star Game — if you're so inclined — here.