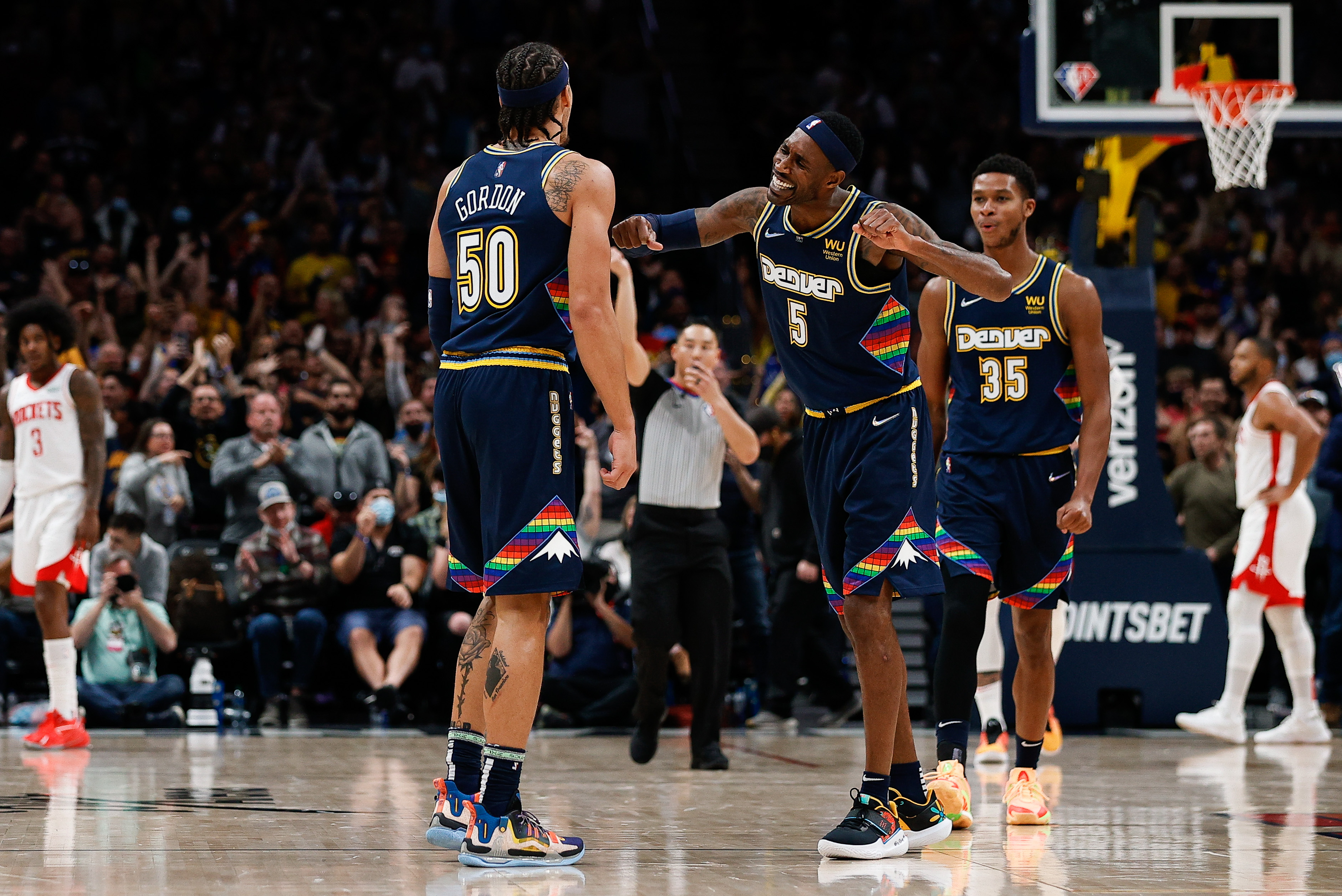 Let's just begin with the ever-growing injury report and players in health and safety protocols. The Nuggets are officially without eight players against the Houston Rockets on the first night of 2022 for a mix of injuries and being put into the league's health and safety protocols.
To make matters a tad more interesting, acting coach David Adelman was placed in health and safety protocols Saturday afternoon leaving Popeye Jones as the man on the bench calling the shots.
Who is out and when could they return?
Bones Hyland, Jeff Green, Monte Morris, and Zeke Nnaji have all entered into the health and safety protocols and are out for the foreseeable future. All entered into the protocols on Dec. 30 which puts the earliest time for their return to the court at Jan. 4 with the revised health and safety protocols implemented by the league, but there is really no telling when any of them will be fully ready to return to action if they happened to test positive.
Beyond the players in protocols, the Nuggets have another four players out with injury. Jamal Murray continues to be out as expected as he recovers from tearing his ACL last season. Michael Porter Jr. is out indefinitely after having lumbar spine surgery earlier this season. P.J. Dozier tore his ACL this year and will miss the remainder of the season as well as a portion of next season. Lastly, Markus Howard continues to be out after spraining his left knee. He will be re-evaluated in just over a month which means he could be out even longer if his knee has not responded in the way the Nuggets had hoped.
That means there are three players who remain on the Nuggets injury report who could play against Houston on Saturday night.
Aaron Gordon has been battling through a left hamstring strain for the better part of a month which has led to him missing the last three games. He was playing through the injury for some time until it began to lead to missed games. Malone even noted that he was surprised Gordon was able to play against the Washington Wizards all the way back on Dec. 13 – over two weeks ago from the time of this writing – despite his ailment. Gordon is questionable to play on Saturday night in Houston.
Austin Rivers recently appeared on the Nuggets injury report with a right thumb injury. It has not forced him to miss any games at this time – though his injury status did factor in when the league postponed the Nuggets battle with the Golden State Warriors on Dec. 30 – but he is still labeled as questionable for Denver's battle against the Rockets in Houston on Saturday night.
Vlatko Cancar is the final member of the Nuggets 11-man injury report. He has been battling a non-COVID illness which has forced him to miss Denver's last game against Golden State and eventually led to the Nuggets second game against the Warriors being postponed.
Still, even if all 11 of the players on the Nuggets injury report are out – including Cancar, Gordon and Rivers who are all questionable – Denver will still have the eight minimum players required to play in a NBA game now that they have signed two more players to 10-day deals in addition to Davon Reed's third 10-day contract. Rajon Tucker's 10-day contract was made official on the night of New Years Eve and sources have confirmed to me that Denver will also sign Carlik Jones to a 10-day hardship exception which will be official in time for him to play against the Rockets. Mike Singer of the Denver Post was first to report the signing of Jones.
Even with those few reinforcements, the Nuggets will need others to step up as well if they hope to stay above .500 despite their 11 additions to the injury report.
Who needs to carry a larger burden with so many players out?
At worst, the Nuggets will be down to nine active players for the next few games including their newly minted 10-day contract players which dramatically limits their options. To make things worse, Denver is without head coach Michael Malone as well as two assistant coaches. Not only is David Adelman stepping into an incredibly tough spot with the roster decimated, but he is also without the help of two other assistant coaches who are in health and safety protocols.
Their guards would be limited to Facundo Campazzo, Rayjon Tucker and Carlik Jones.
The only available wing players will be Will Barton III and Davon Reed.
Down low, they will have four bigs filling out the depth chart in Nikola Jokic, JaMychal Green, Bol Bol, and Peter Cornelie.
That puts a tremendous amount of pressure on a few select players to hopefully carry the Nuggets to wins despite all the hurdles placed in front of them.
Nikola Jokic
Forgive me for stating the obvious, but the Nuggets desperately need every shred of production Jokic can muster because the moment he heads off the court for a reprieve on the bench, they completely fall apart without him.
When Jokic is on the court, the Nuggets have an offensive rating of 113.7 and a defensive rating of 103.6 which equates to a +10.1 net rating. That net rating would tie them for second-best in the league this season with the Phoenix Suns; just 0.3 points away from overtaking the league-leading Warriors.
When Jokic is off the court, Denver has the worst offense in basketball with an offensive rating of 99.6 and the third-worst defense with a defensive rating of 113.4. That means its net rating of -13.8 with Jokic off the floor would be by far the worst in basketball; it is 3.5 points worse than the Orlando Magic's league-worst net rating of -9.9.
Jokic has been nothing short of magnificent this season with averages of 25.8 points, 14 rebounds, 7.1 assists, and 1.4 steals in just 32.7 minutes per game. He is tied for seventh in points per game, second in rebounds per game, and 11th in assists per game so far this season. If Jokic is able to sustain this level of production and lead the Nuggets to a top-four seed in the Western Conference — the Nuggets are just two losses behind the fourth-seeded Memphis Grizzlies at the time of this writing — there is no reason Jokic should not be a frontrunner for a consecutive MVP award. Currently, Jokic might be the best value bet for MVP at +1300 according to Fan Duel Sportsbook.
Even with that being said, unless Jokic is playing at his typical MVP-caliber level, Denver has no chance of winning games on an even somewhat-frequent basis. Jokic will need to be masterful
Will Barton III
Jokic can impact the game in more ways than almost any other offensive player who has stepped foot on a NBA floor, but even Jokic cannot carry the entire creation burden for the Nuggets. In the starting unit, Denver will be relying heavily on Barton to create for himself and his teammates because of their lack of perimeter threats on offense in order to take some pressure and attention away from Jokic.
Unfortunately, Barton's play has slipped as of late. Over Denver's last 10 games, Barton is shooting just 38.7 percent from the field and his 3-point percentage has slipped to 34 percent. He is still dishing out assists at essentially the same rate, but his turnovers have spiked in addition to his inefficient scoring.
Barton's defense has also taken a step back from his impressive start to the season. Barton did just return from a non-COVID illness that took quite a toll on him which could be a reason for his fall in defensive impact, but Denver needs him to lock down on that end of the floor now more than ever. The decimated Nuggets roster will have trouble relying on any perimeter player on defense outside of Barton or Reed which puts a large responsibility on their shoulders.
The Nuggets need Barton's scoring efficiency to return to take pressure off Jokic as well as his impactful defense to help steady their wildly inconsistent defense. It won't be easy with the remaining roster, but Barton has shown the potential to be exactly the player they need him to be.
Facundo Campazzo
Even with how much the Nuggets will be relying on Barton, he will be unable to play 48 minutes per game. That is why every minute that Barton is not on the floor, Denver needs Campazzo to be on the court and playing well.
With Dozier, Howard, Hyland, Morris, Murray, and possibly Rivers all out with either injuries or being in the health and safety protocols, Denver is terrifyingly thin at guard and even thinner when searching for anyone who can run a coherent offense. That is where the reliance on Campazzo will begin.
When Denver has neither Barton or Jokic on the floor, the only player who is sure to be active who can run an offense is Campazzo. Thankfully, Campazzo has been good as of late. He is averaging 7.4 points and 5.4 assists per game in the month of December while committing just 0.9 turnovers in his 25.9 minutes each game. Campazzo is only shooting a freezing cold 34.8 percent from the field and a similarly frigid 31.6 percent from 3-point range, but he is adding 1.5 steals per contest in addition to his nearly six-to-one assist-to-turnover ratio.
Has Campazzo been ideal? No, but that does not mean his impact is any less meaningful. Denver needs him to continue to attack and set up his teammates. Without his production, Denver will lose games in the very few moments Jokic is not on the court. Without a good stretch of games from Campazzo, Denver's chances of winning will take a drastic hit.