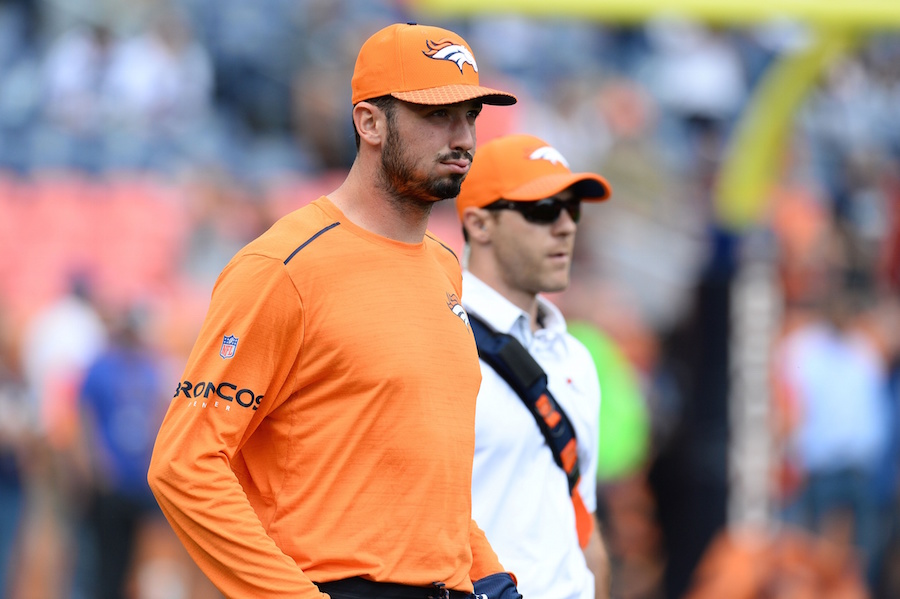 Through one and a half seasons in the National Football League, Denver Broncos quarterback Paxton Lynch is in a class by himself. Although this particular class is not one to brag about.
As the calendar flips to Week 11 of the 2017 season, Lynch is the only first-round pick from the 2016 draft class who has played less than 200 regular-season snaps.
With just 176 to his credit, per Pro Football Reference, Lynch has so far been the least productive member of the bunch.
In fact, of the top 100 picks of the 2016 NFL Draft (Rounds 1-3 and the first two picks of Round 4), Lynch has played fewer total snaps than all but eight players. Of those eight, one suffered a season-ending injury as a rookie, one was suspended for a PED violation, one is Derek Carr's backup and the other is a kicker.
Now that Lynch is back on the practice field after a preseason shoulder injury, and with his team now effectively out of playoff contention (not to mention being undecided long-term at quarterback), it's time for the third quarterback off the board in 2016 to graduate from being a professional football student to being a professional football player.
Last year's two-and-a-half-game internship isn't going to cut it when it comes time to determine whether or not the Broncos have their quarterback of the future in Lynch. Denver needs to see what he can do with the job full-time.
With all due respect to Brock Osweiler, who demonstrated over the past two games that he is clearly the superior choice over Trevor Siemian, the Broncos must find out sooner than later what they have in Lynch.
Broncos Country has already been subjected to a "quarterback competition" for two consecutive training camps. The result has been the same each time. The competition each of the past two seasons produced a winner who could not lead his team through a full 16-game season (both for health and performance reasons), let alone guide them to the playoffs. Siemian may be the best leader in the locker room, the quickest study in the film room and hold the deepest knowledge of the playbook, but none of that matters when he can't stay on the field and when the offense is routinely ineffective with him on it.
We have seen in real time what Osweiler can do, both good and bad. As Benny Bash wrote ahead of Osweiler's first start in his second stint with Denver, Osweiler is a bigger, stronger version of Siemian. Is he a better option than Siemian? Yes; his last two games and his seven starts in 2015 proved that quite clearly. Is he the best long-term option for Denver? We don't know.
We don't know because we haven't seen enough of Lynch to make a fair assessment.
While one can argue that it's unfair for Lynch to see the playing field during the regular season if he was unable to beat out his competition during training camp, the Broncos are well past the point of fair.
It wasn't fair for a defense that for two-plus seasons has carried more than their weight to have to shoulder such heavy blame for a blowout loss in Philadelphia, or for that same unit to be asked to work with a 14-3 first-quarter deficit thanks to a pair of special teams blunders against New England.
All may be fair in love and war, but this is the National Football League. Try as Roger Goodell might, it's not always a fair work environment.
High draft picks get special treatment because they come at a steep cost and teams need them to contribute. The Broncos are one of three teams that has not drafted a Pro Bowler since 2012, while Lynch has barely seen the field. Now, they're suddenly staring a top-10 pick square in the face – one that could be used to draft any one of several talented quarterbacks in next year's draft.
Head Coach Vance Joseph said on Monday that Lynch is not yet physically ready to play this year.
"I'm not sure," he answered when asked if we'll see Lynch this season.
"Health-wise, he's still recovering from the shoulder [injury]," Joseph continued. "I think it's going to be almost two weeks now [that he's been back on the field] coming up to this week of practice, and we'll see where he's at. He's still recovering from his shoulder injury. He's still throwing intermediate passes, not really deep passes yet. So, we wanna make sure he's totally healthy before he plays again. That timeframe – I'm not sure when it's gonna come or end."
This isn't to suggest the Broncos need to rush Lynch onto the field if he's not fit to play, but at some point the powers that be at Dove Valley need more than just a two or three game sample to evaluate Lynch's body of work.
Lynch may be a bust. He may never grasp the complexities of an NFL offense, or be able to read an NFL defense pre- and post-snap. He may not prove capable of fitting a ball into a tight window or scrambling for a crucial first down. Or maybe he'll show in time that he can do all of those things as good as any quarterback in the league. But he at least deserves a chance, and as soon as physically possible, to prove whether he can or he can't.
Joseph may not yet be ready to throw in the towel on the season, which starting Lynch over Osweiler might suggest to the fan base, but the time lost could be more costly in the long run than a desperate second-half run at a low playoff seed. (Ask the Nuggets about Jameer Nelson.)
The last thing Denver needs is another quarterback competition in 2018 – which next year could include Lynch, Siemian, 2017 pick Chad Kelly and what at this point could be a top-10 draft pick. Heck, even Osweiler could be in the mix for all we know.
Every game in which Osweiler or – forbid – Siemian starts over Lynch this season is one more week that the rest of the 2016 draft class will rack up meaningful snaps while the No. 26 overall pick sits idle on the sideline.
In 2016, No. 1 overall pick Jared Goff lost all seven games he started (Weeks 11-17) for the Los Angeles Rams. In 2017, Goff is 7-2 and has the Rams atop the NFC West.
In 2016, No. 2 overall pick Carson Wentz started all 16 games for Philadelphia, leading the Eagles to a 7-9 record. This year, Wentz is an MVP candidate leading the best team in football at 8-1.
There is no better teacher than experience, and right now Lynch is severely lacking in that category.
Watching someone else read is no way to learn to read.
The Broncos entered 2016 and then 2017 with high hopes that a "game manager" at quarterback and a world-class defense could replicate the success of 2015. At 3-6 in 2017, that hope has all but evaporated.
It's high time the Broncos find out what they have in Lynch. They must give their top investment from the 2016 draft the on-field opportunity he needs to show he can grow into an effective NFL quarterback. At the same time, they must give themselves the materials they need (i.e., meaningful regular-season game film) to evaluate whether or not he can be the guy long-term. If Lynch isn't going to be the solution long-term, they can focus that draft high pick next year on finding it. That answer will only come with Lynch on the field.
Everything else is wasted class time.