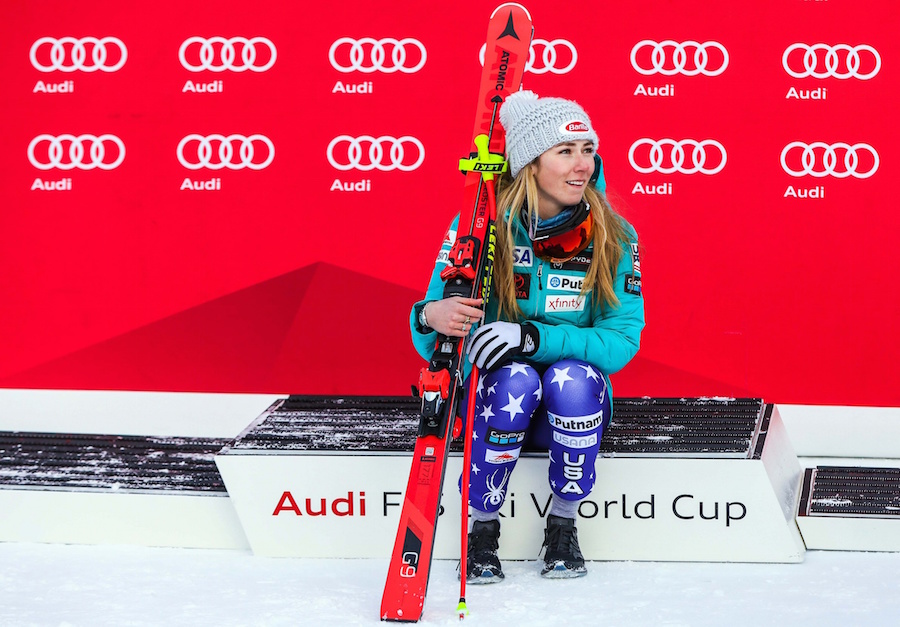 The ink is barely dry on the annual Mile High Sports Magazine "Awards" issue, in which 2017 Monster Energy NASCAR Cup Series Champion Martin Truex Jr. earned our Sportsperson of the Year. Yet already someone is staking a convincing claim to this year's award.
Mikaela Shiffrin, the 22-year-old Vail native, is off to a perfect start through four FIS World Cup events since the calendar flipped to 2018 and is gaining speed as the Winter Olympics in PyeongChang, South Korea are now just one month away.
Heading into the 2018 Winter Games, there's Shiffrin — pause for effect — and everyone else.
Shiffrin currently holds a 721-point margin over second place, Switzerland's Wendy Holdener, in the ladies overall FIS World Cup standings. For reference, Holdener's lead over Solvakia's Petra Vlhova in third place is just six points.
Last year Shiffrin won the overall, her first, with a total of 1,643 points. She already has 1,281 this year with more than two months remaining in this year's competition.
She's not just running away with the overall competition. She's wining big in individual races, too. Here's a look at Shiffrin's finishes so far in 2018…
1st Place – Parallel (Head-to-Head) Slalom – Oslo, Norway – Jan. 1, 2018
1st Place – Slalom – Zagreb, Croatia – Jan. 3 2018 (1.59 seconds margin of victory)
1st Place – Giant Slalom – Kranjska Gora, Slovenia – Jan. 6, 2018 (0.31 seconds MOV)
1st Place – Giant Slalom – Kranjska Gora – Jan. 7, 2018 – Slalom (1.64 seconds MOV)
Those are obscene margins of victory in a sport where tenths of seconds, not full seconds, are often the difference in winning and losing.
Shiffrin's December was nearly as impressive as her January. She opened the month finishing third in the downhill at Lake Lousie in just her third-ever World Cup start in that event. The very next day she picked up a first-place finish in the downhill. Shiffrin added a fifth and 20th place finish in two Super G races (St. Moritz and Val d`Isere), her weakest discipline, before reestablishing her dominance in the slalom events over the final four races of the year. She won the slalom and parallel slalom in Courchevel, France and the slalom in Lienz, Austria; she was on the podium at Lienz with a third-place giant slalom.
With nine event victories so far in the 2017-18 season, Shiffrin has already surpassed the total number of victories Truex compiled (eight) over a 10-month NASCAR season that saw him crowned champion and earn our top honor. Shiffrin can reach double-digit wins in 2018 on Jan. 9 with a slalom victory in Flachau, Austria.
She could realistically add another four victories in her primary events (slalom, giant slalom, parallel slalom) and another in alpine combined before the calendar flips to February. There are six downhill and Super G events in January, as well, to pad her overall points lead.
This level of success is nothing new for Shiffrin, who was the youngest American to win a national alpine crown at age 16 — the same age she won her first World Cup race. She made more "youngest" history at the age of 18 in Sochi, Russia, becoming the youngest Olympic slalom champion ever.
Shiffrin enters Tuesday's race at Flachau with 40 FIS World Cup victories on her résumé. To put that in perspective, Lindsey Vonn — America's most-decorated alpine ski racer — at the same age had just seven. Vonn, now 33, earned her first World Cup overall at age 23 to kick off a run of three consecutive world titles. Her fourth and final came in 2012. Vonn earned the prestigious Skieur d'Or, given to the top skier in the world (male or female), in 2009.
Shiffrin is already halfway past Vonn's record 78 World Cup wins, and she earned the Skieur d'Or award after taking home her first World Cup overall in 2017. With 29 World Cup slalom wins, she has Austria's Marlies Schild in her sights for the most all-time at 35.
Perhaps most impressive about Shiffrin isn't what she has already accomplished, but what she's still trying to accomplish.
"I didn't dream about being a slalom skier," Shiffrin told MHSM's John Henderson in October. "I dreamed about being the best skier in the world."
She's been able to make that claim over the past 10 months and counting, but even that is not enough for Shiffrin.
"Because that dream I had was to win in every single event, even though I've won the overall globe, it doesn't feel like it's staying true to my dream until I win in Super G and downhill," she continued.
Barring the unthinkable, Shiffrin will be the favorite in all of the slalom events in PyeongChang and could make noise in the downhill. (She's currently No. 1 in the World Cup rankings for that discipline, as well.) The 2018 Winter Games will serve as this year's World Championships and a chance for Shiffrin to win her second consecutive overall title. It's also the stage where the U.S. Olympic Skiing torch is officially passed from Vonn to Shiffrin.
Don't be surprised if during this year's Games you hear comparisons made beyond Vonn. Like Michael Phelps evolved from a butterfly specialist to being the greatest all-around swimmer in history, Shiffrin has the same potential on the slopes. The way her skills are developing in downhill and Super G, Shiffrin could be a threat to win every alpine discipline at the 2022 Games in Beijing and beyond.
While it's virtually impossible she would ever reach Phelps' record of 28 total medals (swimming presents so many more opportunities because of disciplines, lengths and relays), it's not unrealistic to think that Shiffrin will match or surpass the medal counts of Colorado natives Missy Franklin (five) and Amy Van Dyken (six). For as great as Franklin and Van Dyken, both swimmers, have been as ambassors for the Centennial State Olympic athletes, Shiffrin has the potential to be even bigger and for even longer. Should she hold on as long as Vonn, Shiffrin would ski in two more Olympic cycles after PyeongChang.
Franklin is the only athlete to twice win our "Sportsperson of the Year" award (2011 and 2012). Less than two weeks into January 2018, Shiffrin looks like she is already halfway to that accomplishment, as well. On her current trajectory, Shiffrin may have our top honor all but locked up on Valentine's Day with a gold medal in the slalom that could also seal her overall title.
Don't wait to get on the Mikaela Shiffrin bandwagon. Though she stands alone on the slopes, there's plenty of room for those rooting her on in PyeongChang.