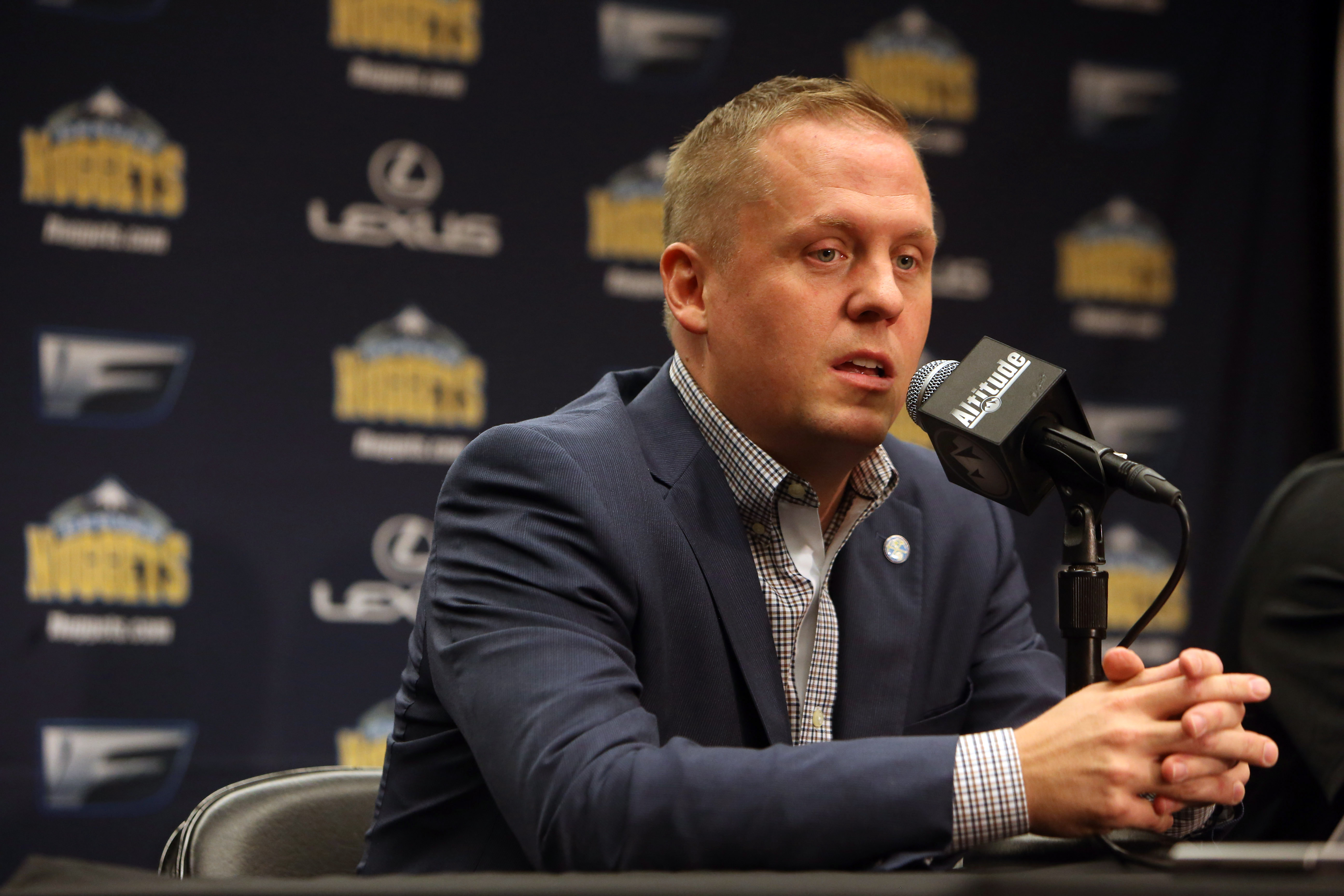 When the Washington Wizards let Ernie Grunfeld go earlier this year, the natural next step was to begin wondering if Denver Nuggets president of basketball operations Tim Connelly would be the natural fit with the Wizards.
There are many reasons why Connelly in Washington makes a lot of sense. First of all, Connelly is from Baltimore, which is just one hour away from the capital of the United States and the home of the Wizards. Connelly still has family in the Baltimore area and, according to David Aldridge of The Athletic, Connelly "would be delighted" to return to the Wizards organization to run their basketball operations department. Here is the full excerpt from Aldridge's piece.
"Everyone in the NBA has linked Washington to Connelly, who built the Nuggets into a contender in the Western Conference in five short years, who's from Baltimore and, per numerous sources, would be delighted to come back to the DMV and run the Wizards, the team with which he began his NBA career as an assistant video coordinator in 1999," Aldridge wrote in his piece for The Athletic. "But he's not going to interview for the job, and he's not going to come cheap. Both of these are reasonable positions on his part, by the way."
Yes, there are multiple obstacles in the way of both the Wizards and Connelly as things currently stand. The Nuggets are currently in the drivers seat of the second round of the playoffs and hold a 3-2 series lead over the Portland Trail Blazers. For Washington, they will have to spend quite a bit of money on Connelly to convince him to leave such a strong and stable organization like the Nuggets and, as Aldridge reported, do so without interviewing him.
So, with all of that being said, there are now three questions that need to be answered.
Why would Tim Connelly leave Denver for Washington?
Yes, on the surface, it seems incredibly counterproductive for Connelly leave a Nuggets team that he and his staff rebuilt in just five years and turned them into a 54-win team to leave for a Wizards franchise that is currently in shambles.
Denver has a sure-fire top-10 player in Nikola Jokic and a plethora of young talent — Jamal Murray, Gary Harris, Monte Morris, Malik Beasley, Michael Porter Jr., Jarred Vanderbilt, and Juancho Hernangomez — who were all drafted by Connelly over the past four years. Additionally, Connelly managed to trade Arron Afflalo to Portland for the draft pick that became Beasley while also acquiring Will Barton, another Baltimore native. Then, Connelly found Torrey Craig playing professional basketball in Australia and invited him to Summer League and the rest of Craig's story is history. Connelly has his fingerprints on all of the growth the Nuggets have shown over the past few years.
Still, Connelly is from the east coast, Baltimore specifically, which is just about an hour away from Washington D.C. He also has most of his family in that part of the country and originally got his start in the NBA as an assistant video coordinator for the Wizards 20 years ago in 1999. The appeal of the Wizards for Connelly in particular is heightened compared to other candidates.
In addition to geographic and personal reasons why Connelly would think about heading to the Wizards, there is also a high likelihood of a significant pay raise as well.
In Aldridge's piece, he reported that the Wizards would need to do two things if they want an opportunity to hire Connelly away from the Nuggets. First, Connelly is not going to interview for the job so Washington would need to trust him and put an offer in front of him despite not sitting down for a formal interview. Secondly, Washington must at least double his current salary.
"Connelly just got a two-year extension from Denver owner Stan Kroenke that will pay him, industry sources say, somewhere just north of $2 million per year through 2021," Aldridge wrote. "It will surely take a doubling of that per annum, if not more, to get his attention, and to allow him to go to the Kroenke Family in good faith and say 'come on. This is generational money for my family that I'll likely not make again. It's my (close to) hometown team. You have to let me go.'"
If Connelly has an opportunity to return to the team who gave him his first shot in the NBA,  does not have to interview for the position, his salary gets doubled, and he can be closer to his family on the east coast, how could he say no to that?
Why would Denver allow Tim Connelly to interview with the Wizards?
This is the most interesting question of this situation.
Of course the Nuggets want to keep Connelly in the fold, but that does not mean Denver gets to treat him as purely an asset and keep him from taking a job that he may want more than his current role as the Nuggets president of basketball operations.
So, if the Wizards ask permission to hire Connelly, Denver has to allow Connelly to choose for himself. He is a human being who has the right to decide where he works and should not be kept from pursuing opportunities that appeal to him.
If the Nuggets took that right from Connelly, why would anyone want to come work for Josh Kroenke or the Nuggets if you know the franchise will restrict you from growing or moving on? If you know that you are going to be treated as an asset, and not as a human, how could anyone ever trust the Nuggets organization?
Connelly has already given the Nuggets so much. Up until his most recent extension, he was one of the lowest paid general managers in the league, but he was still the architect of one of the most successful rebuilds in NBA history. He found Nikola Jokic in the second round, who is now a bonafide top-10 player in the world, while also drafting Harris, Murray, Beasley, and so many others. Without Connelly steering the ship, the Nuggets would not have developed such a strong culture and would not have anywhere near the young talent or success that they are currently enjoying.
Yes, it would be awful for Denver to lose Connelly, but the Nuggets have prioritized taking care of the people in their organization. Denver wants players, coaches, and executives to feel like they will be taken care of if they choose to come to work for the Nuggets.
If that was not just lip service, Denver will almost certainly allow Connelly to go to Washington if he chooses to do so and that would be the right decision by the Nuggets.
What would losing Tim Connelly mean for the Nuggets?
The Nuggets have such a beautiful symbiotic relationship in their front office. Arturas Karnisovas, Denver's general manager, is the hyper-organized and extremely logical voice in the room. Calvin Booth, Denver's assistant general manager, is the do-it-all hard worker who is Denver's secret weapon. Lastly, and most importantly, Connelly is the artist who has been described as the "beautiful mind" of the Nuggets decision makers according to one Nuggets source.
That trio has been able to slowly and methodically carry the Nuggets from rock bottom to one win away from the Western Conference Finals in just four years. They balance one another out perfectly and, if one of those elements was to be removed, the equation would change drastically.
While there is no way of knowing exactly how Denver would react to losing Connelly or what the repurcussions would look like, one spot that they would undoubtedly miss him was as a scout. Connelly has essentially rebuilt Denver's franchise entirely through the draft. Without Connelly leading that charge, Denver would take a step back in terms of their effectiveness drafting players.
So where would Denver turn if Connelly was to leave for Washington? The easy answer would be to just promote Karnisovas to president of basketball operations. Karnisovas has been in the running for multiple general manager or president of basketball operations vacancies, but has chosen to stay in Denver. He is wildly respected, usually the smartest person in the room, has an incredible amount of international basketball connections, and has been ready to take control of a NBA franchise for years.
If for some reason Karnisovas also gets poached by another team, the next person in line that is currently in Denver would be Booth, who is widely regarded as one of the most promising up-and-coming executives in the league.
No matter what, losing Connelly would be a massive blow to the Nuggets. He has been at the helm of the organization and has done a superb job building the team and the culture that now exists in Denver. Without him running the team, there is no assurance that Denver will stay on their current trajectory.