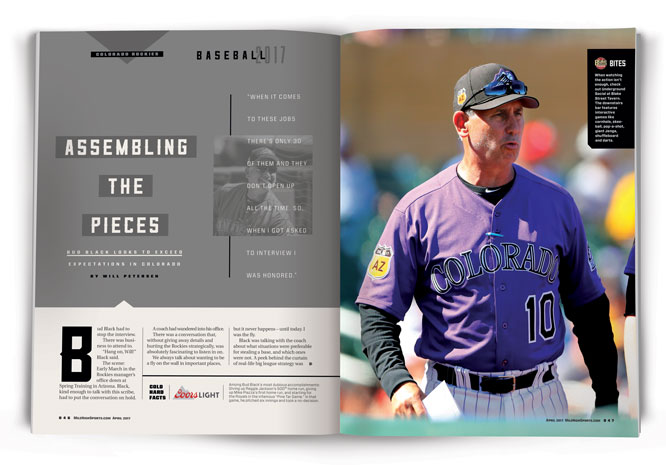 This story originally appeared in Mile High Sports Magazine. Read the full digital edition.
Bud Black had to stop the interview.
There was business to attend to.
"Hang on, Will!" Black said.
The scene: Early March in the Rockies manager's office down at Spring Training in Arizona. Black, kind enough to talk with this scribe, had to put the conversation on hold.
A coach had wandered into his office.
There was a conversation that, without giving away details and hurting the Rockies strategically, was absolutely fascinating to listen in on.
We always talk about wanting to be a fly on the wall in important places, but it never happens – until today. I was the fly.
Black was talking with the coach about what situations were preferable for stealing a base, and which ones were not. A peek behind the curtain of real-life big league strategy was priceless. Black returned to the conversation a couple minutes later – causally – as if it wasn't odd to have chats like that often.
"The first couple weeks have been outstanding. I think that the players had a very good offseason physically and mentally. I think there were a lot of players that spent time down here in Scottsdale at our facility. And those guys who didn't were back home and I think these guys had a great offseason program and it's showing in their work, how they're going through drills, you know, their energy and stamina," Black says after the minor interruption.
Look, it's no secret the last four years under Walt Weiss were uninspiring.
The high school skipper turned MLB manager never brought much energy or passion. He refused to stick up for his players after bad calls (a hallmark of being an MLB manager) and rarely, if ever, got ejected.
The four seasons Weiss managed, 2013 to 2016, will go down as some of the worst in Rockies history. Weiss' bunch finished 283-365 in his tenure, never posting more than 75 wins in a season.
Black is tasked with fixing that. And doing it quickly. Expectations are high for this bunch to win this season – and Black knows that. At some point he was going to take another managerial job, after a long tenure in San Diego, no matter who called.
"Well, when it comes to these jobs there's only 30 of them and they don't open up all the time. So, when I got asked to interview I was honored. Any manager will tell you that these jobs are never taken for granted. These are special jobs with a great deal of responsibility organizationally. All of us in this chair realize that these are precious jobs and when you get asked to do them you've got to take it real seriously. The Rockies, I've observed from the other side for many years. I know who they are as a team and where we think we can get to," Black says.
That other side Black mentions is indeed from his time with the Padres: An NL West "rival" of the Rockies and a place he spent a long time. Black was never given much talent to work with, but he was a respected manager during his time in San Diego. Black went 649-713 overall before being fired in 2015. His best teams were in 2007 and 2010, when his clubs won 89 and 90 games, respectively. Black spent last year as a special assistant to the GM with the Los Angeles Angels of Anaheim before the Rockies decided to give him a call.
So, what did Black gain from his time with the Padres in terms of knowledge about the Rockies and Coors Field? It's a tough place to manage – but you can't get too obsessed with that.
"It's a little different managing three or four games in Denver than a potential seven to 10 game homestand in Denver. You can sort of see the light at the end of the tunnel as a visiting team. You do have to manage the game in Denver a little differently from a pitching standpoint. It's not drastic, but it is a little different for a visiting manager. I do think that the time that I did spend in San Diego, [now] coming to Colorado, will give me a bit of a leg up early," Black says.
Early will be important, as both locally and nationally the Rockies are receiving more hype than they have in pretty much a decade. Las Vegas set the odds for Colorado to win the World Series at 75-1 and got hit with so much action those odds are now 40-1. The book manager of Bovada, a popular offshore site, is on the record as saying the Rockies winning the World Series will cost his site the most money.
Asking baseball managers about gambling is a dicey proposition, but a very careful Black is happy to embrace these big expectations from bettors on the Rockies.
"What I like is that our players are talking about the right things. They're talking about where we are in relation to other teams in this league. You know, where we are in relation to the Dodgers, the Giants, the Mets, the Cubs and the Nationals – some of the teams we have to track down. We know that we can play with these guys. We have some things we have to improve on, especially on the pitching side, but I like where we are as a crew," Black says.
Black, admittedly, comes to Colorado at a very good time to be the skipper of the Rockies. For the first time in a long time the Rockies had an aggressive offseason. Who knows what made owner Dick Monfort finally take the training wheels off GM Jeff Bridich, but who cares? Colorado won the offseason and they won it big.
Signing Ian Desmond was huge. Bringing in Mike Dunn and Greg Holland helped shore up the bullpen. Re-signing Nolan Arenado for a couple more years showed Colorado is committed to its star. Black picked a pretty good time to land a gig with the Rockies.
"It was great to see. Not only did Jeff and Dick engage with free agents, but also to see free agents engage with us. There are times when general managers and owners get engaged with free agents and they sign elsewhere. I was happy about the reciprocation from the other side. You know, they wanted to be Rockies as much as we wanted them and that's a good dynamic to have," Black says.
While the signing of Desmond and the relievers are grabbing the headlines – as society we like shiny new toys – locking down Arenado through at least 2018 may have been Bridich's most-important move.
"I'm just happy to be over this, to be honest with you," Arenado, who will make $11.75 million in 2017 and $17.75 million in 2018, told the Denver Post in January. "Money is one of my least-favorite topics, and I don't like talking about it, so it's nice to get it over with. I'm just happy that it worked out for both sides."
That's money well earned by Arenado, who had a brilliant 2016 and finished fifth in NL MVP voting. Some thought fifth was too low for Arenado, who hit .294 with 41 home runs and 133 RBIs. Outside of a random shout out here or there, Arenado got very little buzz nationally. This guy might be the best player in baseball, but casual fans across the country hardly know who he is.
Could the Rockies, specifically the manager, do a better job of pounding the table for the young star? It's easy to make that argument.
Black is aware he must do all he can to get his players exposure. He will not be afraid to go to bat for them (excuse the bad pun) when there's a microphone in front of his face.
"I will always talk about deserving players in whatever capacity they're in. Again, I don't know what happened last year, but I know that there is a lot of conversation among baseball people about Nolan and his place in the game and what he did last year. There are times that if I feel that a player is not getting his justice, I will definitely say something to make that justice happen because I do think that's important to that particular player, our organization and our fans – that our players are recognized," Black says.
So, with Arenado gearing up for another MVP campaign, CarGo and Blackmon right alongside, a slew of other studs throughout the lineup, a reloaded bullpen and a rotation that is at least three-fifths settled (thoughts with Chad Bettis) the Rockies appear to be in a good place across the board for the first time in forever.
Black is the man in charge of piecing it all together, and he's not hiding from the sudden expectations put on the 2017 Colorado Rockies. In fact, he embraces them.
"I like when people are talking about our players in a good way or talking about our team in a good way. There's excitement – people are excited about our team. You want the positive word spoken about your team. So yeah. Do I embrace it? Yeah. Do I like it? Absolutely," Black says.
And with that, it was back to business.
Bud Black swatted that damn fly off his wall.
Next up: The rest of the major leagues.