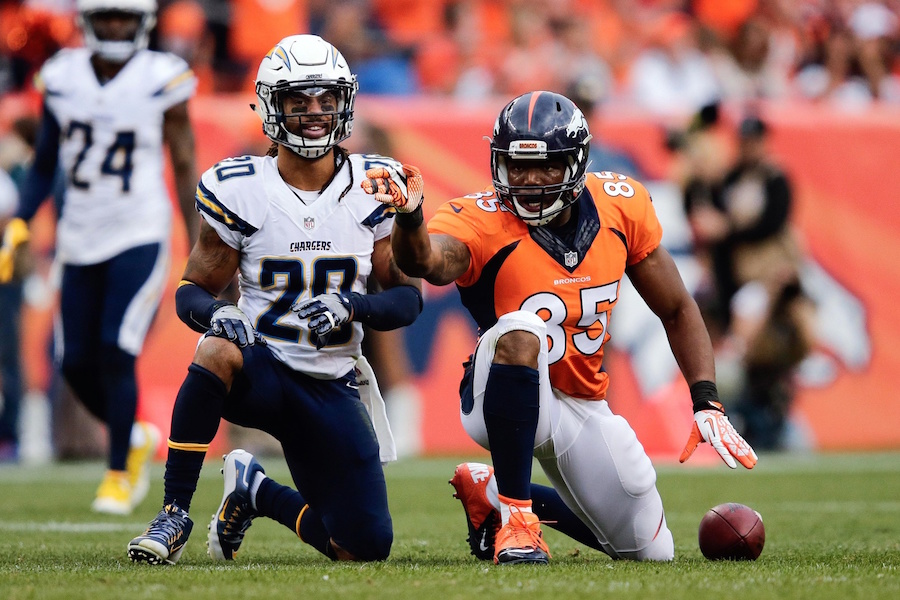 The Denver Broncos were dished about as big a game as possible for their first game of the season.
They will be the final game of the NFL's Week 1 when they kick off against the division rival Los Angeles Chargers at 8:20 p.m. on Monday night. All eyes will be on Denver.
Von Miller summed up the anticipation perfectly.
"To open up on 'Monday Night Football,' if you're not excited for that, 'Monday Night Football' in front of the whole world against a divisional rival – if you don't get excited for this, it's time for you to retire or something," Miller said on Wednesday. "You have to go. It doesn't get any better than this in the National Football League. 'Monday Night Football' and 'Sunday Night Football,' it doesn't get any better. Probably in the Super Bowl and the playoff games, that's it. The regular season, it doesn't get any better than that. I'm super excited to go out there, play with my guys and play against a great team."
If veterans get this excited about a regular season of this caliber, imagine being a rookie in the same situation. Rookie cornerback Brendan Langley has a clean slate, so he's been able to see the change in attitude as the Broncos approach their first game of the season.
"For me not necessarily because all of the games really mattered to make it to this point, but I can definitely feel this energy from the older guys, the vets," Langley said on Wednesday. "There is a different type of energy at practice. Even in the locker room, we've got these middle lockers out of here so it seems more team oriented and stuff."
Having played all four of the Broncos preseason games, Langley will be ready to go come Monday night. The former Lamar Cardinal says he just has to treat it like any other game and the rest should come naturally.
"At the end of the day it's just another game," Langley said. "Don't do anything out of the ordinary. I feel like a lot of guys that's what gets them in trouble when you see guys playing bad. It's just probably too much energy, so try not to get too hyped but still have that level head with that same winning mentality."
As if playing on Monday night in front of everyone that stays up to help quench their thirst for Week 1 football wasn't tough enough, waiting around all weekend and then all of Monday only adds to the anticipation.
"When you wake up the day of the game you just kind of want to get going," quarterback Trevor Siemian said Wednesday. "It'll be a long weekend, especially watching all of those games Sunday. We have plenty of work to do so we'll stay busy."
Head coach Vance Joseph is doing his part to keep things fresh.
"You don't want the game plan to get stale," Joseph said Wednesday. "We've taken these two days – the Monday and today being our extra Wednesday – very slowly. We're just being really detailed with our assignments and our game plan notes and tomorrow is really our first day of install for the week. Taking it slow, being more detailed."
Emotions and anticipation aside, Joseph knows his team will be ready to play regardless of when the the game is scheduled to begin.
"It does not matter," Joseph said. "When the ball is kicked, we'll play."