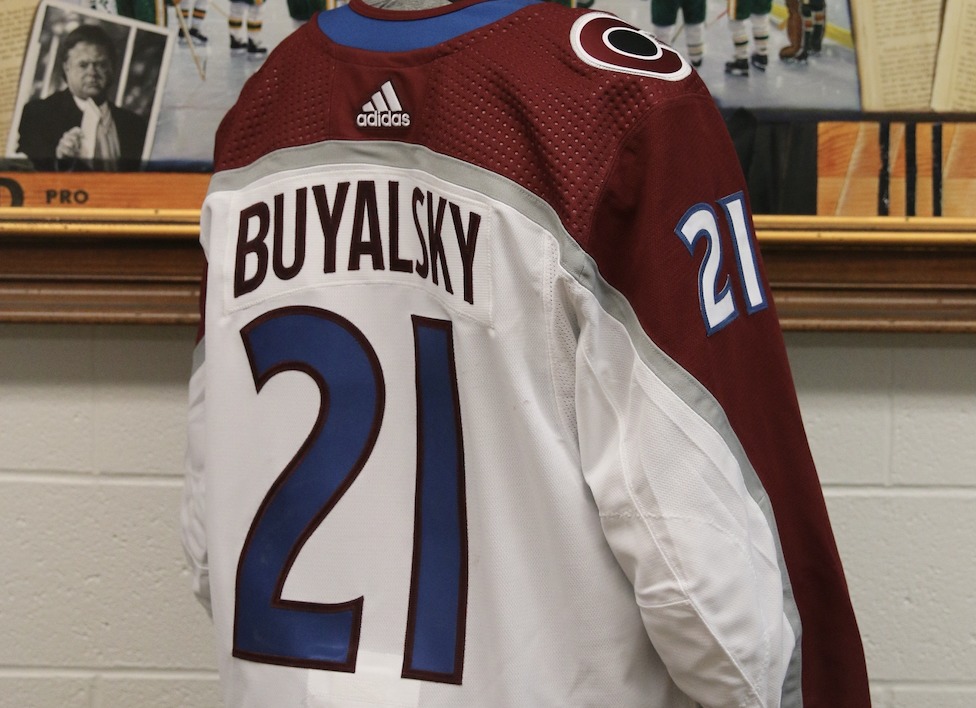 It appears the Avalanche have made minor changes to their road jersey.
Prospect Andrei Buyalsky, who the Avs drafted No. 92 overall in the NHL Draft two weeks ago, was seen modeling the new look on the campus of the University of Vermont.
After making #GutHockey history in the third round of the 2021 NHL Draft Andrei Buyalsky (@Avalanche, 92nd) & Luca Münzenberger (@EdmontonOilers, 90th) are on-campus preparing for the 2021-22 campaign. pic.twitter.com/f2th6tpFFT

— UVM Men's Hockey (@UVMmhockey) August 5, 2021
Buyalsky, who is entering his freshman season with Vermont, is seen wearing a jersey that shows the organization has continued to get away from the color black in its uniform. The number appears to be blue with a burgundy outline. The nameplate also seems to have a new burgundy outline highlighting the black.
Listen to "Avalanche Breakout" on Spreaker.
Both the name and number were entirely black before the change.
Prior to the 2020-21 season, the Avs made drastic changes to both the home and road uniforms, dropping the black pants, gloves and helmet. The team has slowly been rebranding to a look that is entirely burgundy and blue.
Many had questioned the new road uniforms at the time, stating that the blue pants and gloves did not match the jersey. These minor changes modeled by Buyalsky, seem to have corrected that issue.
The Avs have yet to formally announce the changes.
__
Aarif Deen is our Colorado Avalanche beat reporter. He covers Avs games live from Ball Arena and attends practices, media availabilities and other events pertaining to the Avs on the daily beat. He is also a co-host of Hockey Mountain High: Your go-to Avalanche podcast. Deen joined Mile High Sports upon completion of his bachelor's degree in journalism and master's in business administration from the University of Michigan – Dearborn. Before Mile High Sports, Deen worked for the Michigan Wolverines Athletics Department as the assistant sports information director.
Follow him on Twitter @runwriteAarif
Listen to "Avalanche Breakout" on Spreaker.