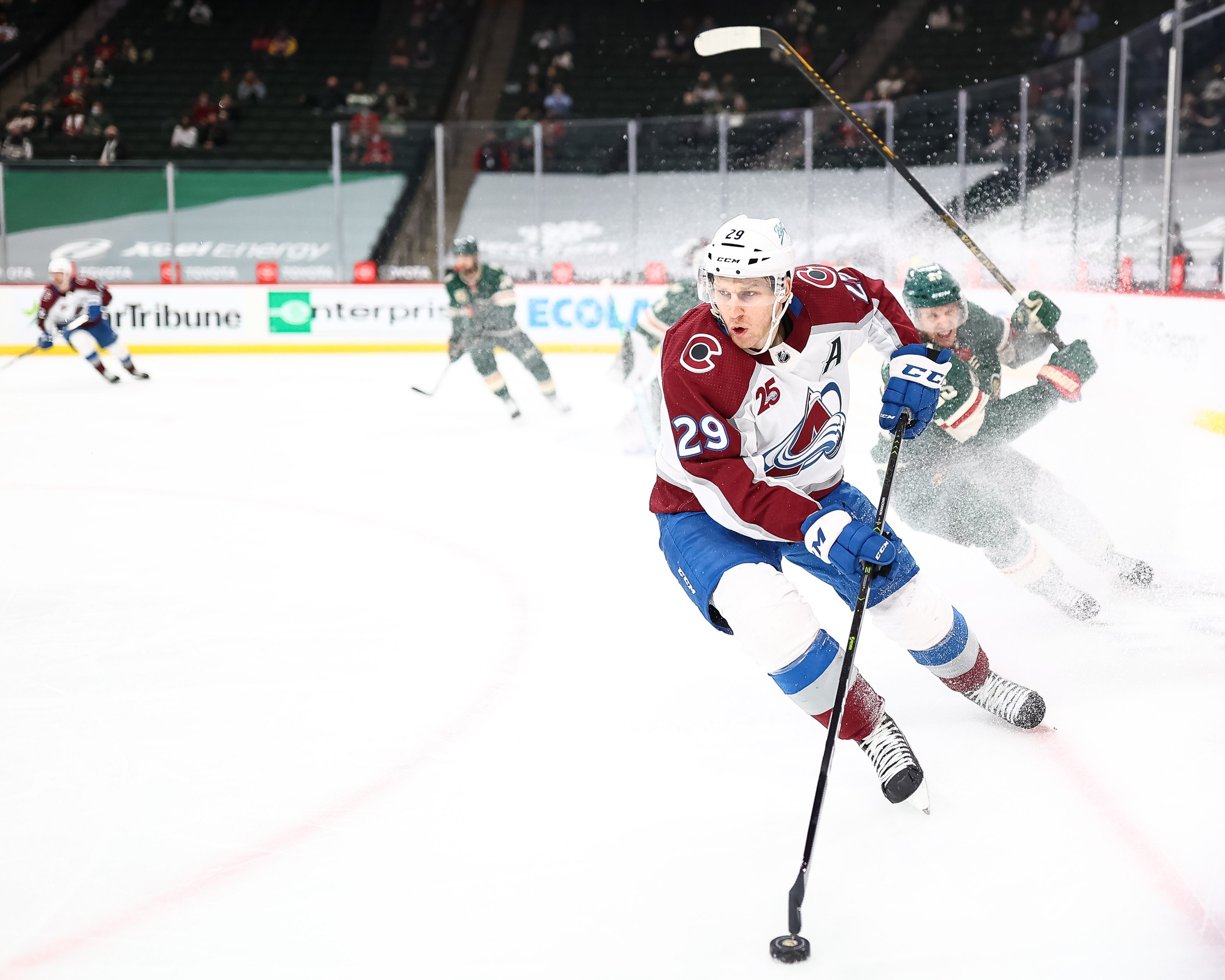 The three-legged race atop the West Division has been put to the test over the last several days. The Avalanche, playing their first road game in two weeks Monday, went into Minnesota and defeated the Wild 5-4 at Xcel Energy Center just two days after Minnesota made a statement and completed a two-game sweep of the Vegas Golden Knights.
Now 13-0-2 in their last 15 outings, the division-leading Avs are not satisfied. Because in a parity-filled league where anyone can win on any given night, Colorado knows it's the playoffs that separate the good from the great.
"Where we are in the standings is important but it doesn't make you necessarily the best team," Avs coach Jared Bednar said. "That is yet to be proven. That has to be proven in the playoffs. It's a feather in your cap if you can finish first. It's a tough division."
Colorado's four-goal second period sparked this victory, improving to 5-1-1 against Minnesota with Wednesday's game the final meeting between these clubs in the regular season.
Forwards Nathan MacKinnon, Brandon Saad, Andre Burakovsky and J.T. Compher all scored in the second.
The Avs took all three penalties in that period but outshot Minnesota 20-5. They entered the middle frame trailing 1-0 before their scoring outburst. It was a statistical anomaly in many ways.
"Our first period definitely wasn't our best. We did have a couple penalties in the second and had to kill them off. But we were skating in the second period," Compher said. "We had the forecheck going again. We were keeping them in their D-zone. That's why we were able to capitalize on those chances."
Colorado also surrendered the first goal in the third but captain Gabe Landeskog scored the eventual game-winner on the power play to make it 5-2. The Wild added two goals late but was unable to tie it up.
Avs goalie Philipp Grubauer made 25 saves and surrendered more than three goals for the first time since March 1.
ADD TEAM RECORD 13-GAME
"I don't think we ever lost our confidence," Compher said. "We were able to finish it off but I think we got to be better in the third. We got to be able to lock it down more."
The Avs' trip to Minnesota began a stretch of 14-of-19 games on the road to close out the regular season. Colorado improved to 9-4-2 on the road.
The victory also pushes the Avs into a tie with the Florida Panthers atop the NHL (56 points) but Colorado has a game in hand.
Another physical spark
Defenseman Kyle Burroughs was inserted into the Avalanche's lineup, making his NHL debut six months after he was acquired in a trade from the New York Islanders. Burroughs, 25, played 6:17 and fought Wild forward Nick Bjugstad in the third period. At just 6-foot-0 and 196 lbs, a much smaller Burroughs landed a number of haymakers in the bout on a 6-foot-6 Bjugstad.
Burroughs' fight comes two days after forward Liam O'Brien fought in his second game with Colorado after being signed and called up from the American Hockey League.
"When I saw he was squaring up with Bjugstad there I was wondering what he was thinking," Burakovsky said of the Burroughs fight. "Bjugstad is a big guy and (Burroughs) is not the tallest guy. I was kind of nervous for a second."
"I told the guys on the bench if he's Rocky Balboa's son."
Local boy returns home
Nate Clurman signed a two-year entry deal with Colorado earlier Monday. Clurman, a Boulder native, captained Notre Dame during his junior season, recording four goals and seven points in 27 games. The 22-year-old was drafted 161st overall by the Avalanche in 2016. He is just the second Colorado-born player to be drafted by the Avs (J.D. Corbin, 249th overall in 2004) and will report to the Colorado Eagles of the AHL.
Topline domination continues
During the Avalanche's 15-game stretch without a regulation loss, the top line of Mikko Rantanen, MacKinnon and Landeskog has compiled 64 points and nine game-winners. More importantly, in a season where the schedule is compacted, Colorado has managed to keep the average ice-time of the trio below 20 minutes per game in these last 15.
"That's not my goal, to keep them under that for any particular reason," Bednar said of his top lines ice time. "But we feel like we're giving those guys enough rest and recovery time."
Listen to "On Another Level" on Spreaker.