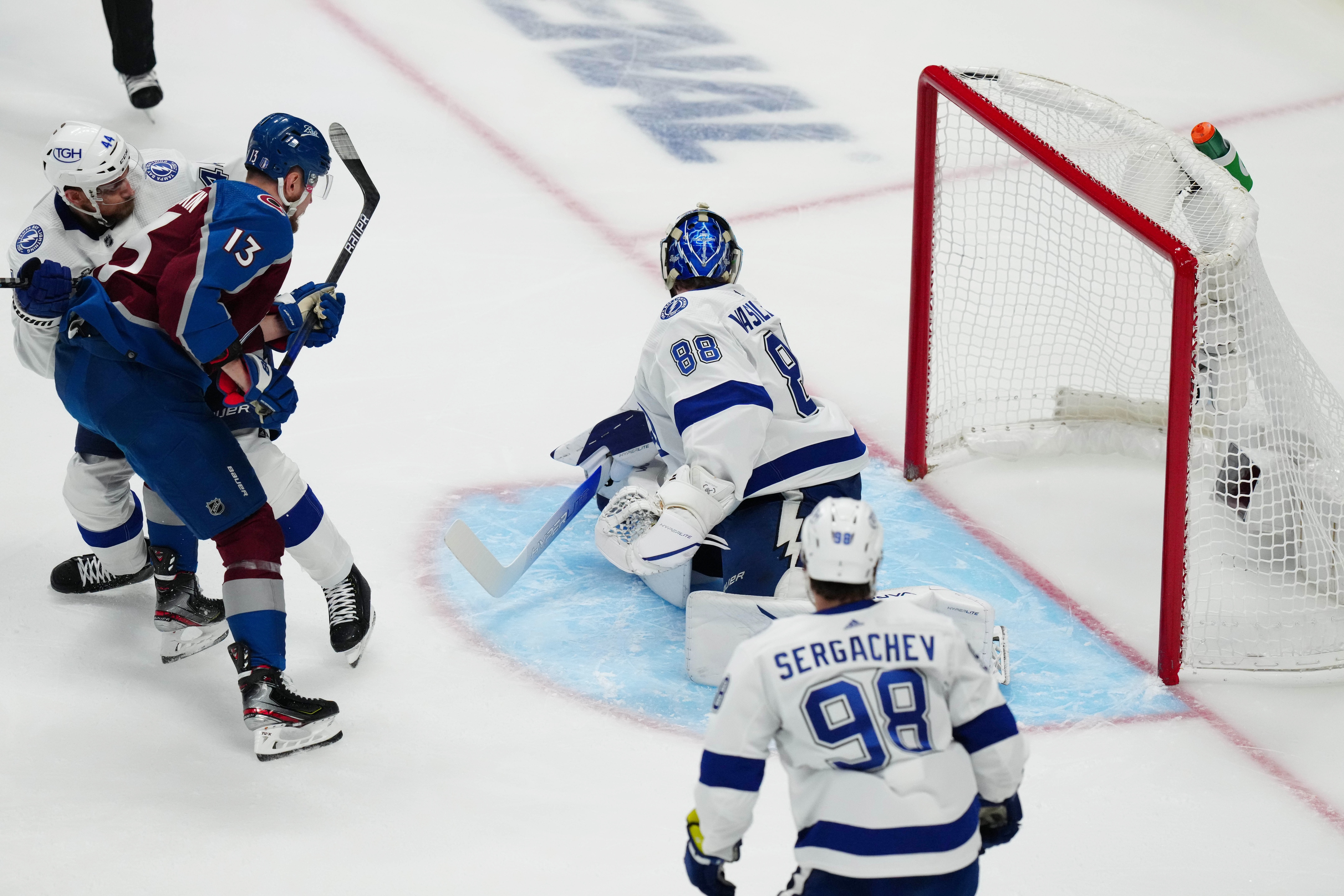 It didn't take a Nathan MacKinnon offensive explosion. Cale Makar didn't need to have one of his patented performances where he takes over a game. It wasn't even Darcy Kuemper stealing the show.
It was simply a beat down.
The Avalanche destroyed the Tampa Bay Lightning 7-0 in Game 2 on Saturday, overwhelming the two-time defending cup champions from start to finish.
Valeri Nichushkin scored two goals while Josh Manson, Andre Burakovsky and Darren Helm each added another. Cale Makar pitched in with his first two tallies of the series in the third period for good measure.
Colorado was all over the Bolts and did it without a goal from Nathan MacKinnon (assist) or Mikko Rantanen (three assists).
"Our depth is obviously a huge part of our team," said Manson, who has three goals and seven points in 16 playoff games. "Joe and Chris did a great job with that. Whether MacK is scoring or not, he's driving the play, he's wearing guys down, he's forechecking, he's above pucks.
"He's a full 200-foot player, and he's playing unbelievable."
Listen to "Outclassing the Lighting in Game 2" on Spreaker.
The Avs were on a mission from the onset. The opening shift was spent in their own zone but Nichushkin was his usual aggressive self on the forecheck, pressuring the puck deep into the Lightning zone at the conclusion of his shift. His tenaciousness led to Colorado drawing a penalty.
On the ensuing power play, Nichushkin put home his first. And just like in Game 1, the Avs used that momentum to add two more before the break.
You don't often score three goals on Andrei Vasilevskiy in one period, but they've now done it twice.
"He's such a good goalie you have to put volume on him," Avs coach Jared Bednar said. "You have to repeat things you did well and get more looks to beat Vasilevskiy. Tonight we shot really well, we created a lot of chances and our guys buried the chances that we got. Guys were feeling it tonight."
It was more of the same the rest of the way. The Lightning had three power plays but came up empty-handed. They also gave up a shorthanded goal to Makar.
The Avs' special teams, specifically the penalty kill, struggled through most of the playoffs. But it seems to have found its footing at just the right time.
"I feel like everybody's on the same page for the penalty killing," Makar said. "Good teams like them, they're going to find ways to exploit you so we always have to be ready for anything."
Darcy Kuemper held his own in goal for the Avs. He only faced 16 shots but was strong when needed to complete the shutout. Kuemper also had a number of run-ins with Lightning forwards, most notably Corey Perry, who tried to get to the goalie and perhaps knock him off his game.
Despite the back and forth, Kuemper wasn't too keen on answering any questions about it.
"He just likes to get to the net. That's how he plays. He's always played that way," Kuemper said.
The Avs have held the Lightning to just 39 shots in two games — more than 120 minutes of action. It's been a defensive clinic by the Western Conference champs against a team that hasn't seen anything like this in three years.
And they're doing it while scoring at will.
"We know as a team that we get rewarded offensively when we play our best game defensively," Makar said. "So for us, it's just coming to that kind of realization every single night."
__
Aarif Deen is our Colorado Avalanche beat reporter. He covers Avs games live from Ball Arena and attends practices, media availabilities and other events pertaining to the Avs on the daily beat. He is also a co-host of Hockey Mountain High: Your go-to Avalanche Podcast. Deen joined Mile High Sports upon completion of his bachelor's degree in journalism and master's in business administration from the University of Michigan – Dearborn. Before Mile High Sports, Deen worked for the Michigan Wolverines Athletics Department as the assistant sports information director.
Listen to "Outclassing the Lighting in Game 2" on Spreaker.