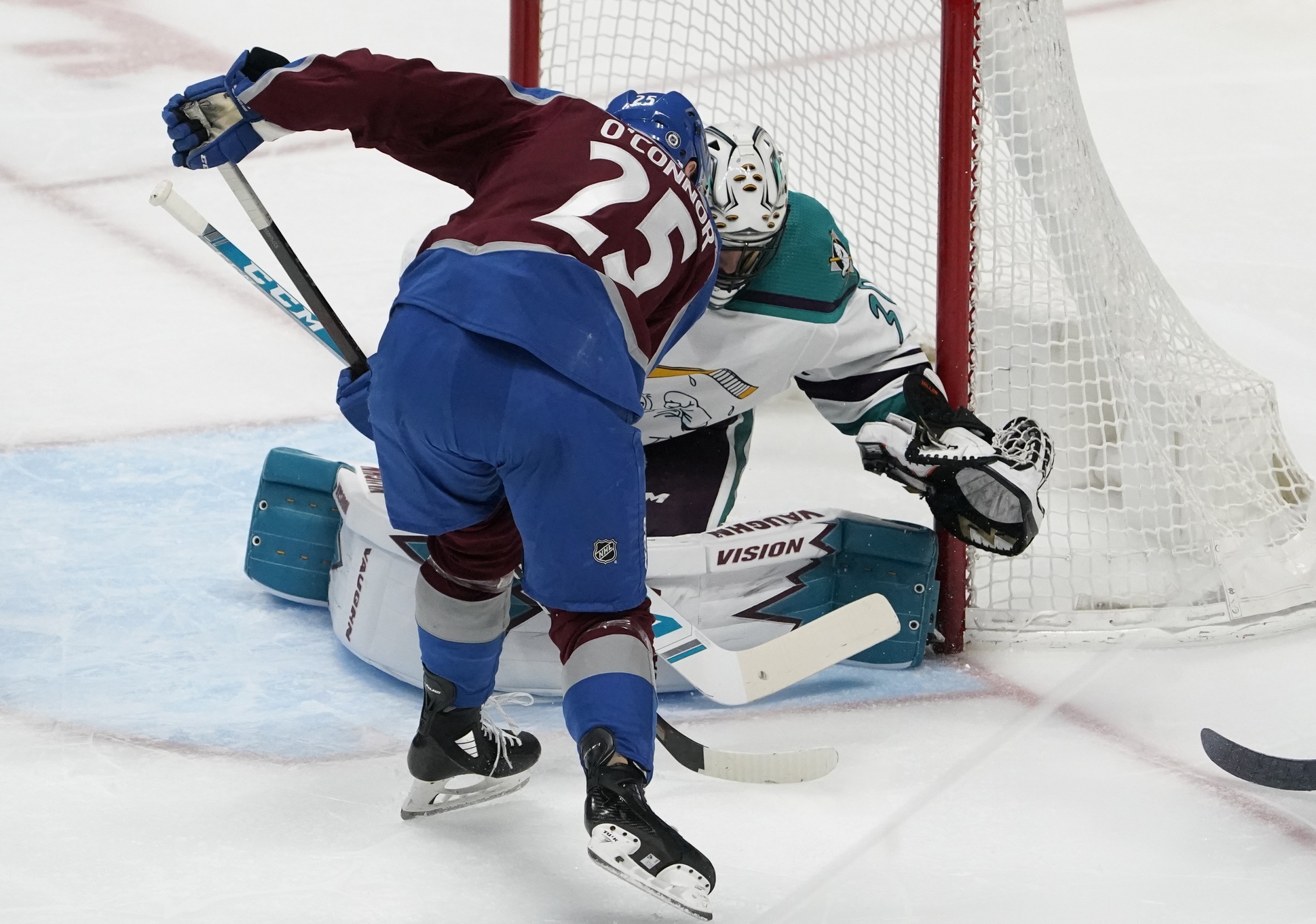 We're shockingly just seven weeks away from the Avalanche's home opener and about a month from training camp.
Colorado was notably busy for the better part of July, locking up key core pieces like Gabriel Landeskog and Cale Makar to long-term deals. General manager Joe Sakic was also tasked with finding a new starting goalie, which he did with the acquisition of Darcy Kuemper from the Arizona Coyotes. The team also needed to shore up its depth at all positions and found what they liked in forwards Mikhail Maltsev and Darren Helm and defensemen Kurtis MacDermid and Ryan Murray.
There are questions surrounding the teams' middle six depth. The losses of Joonas Donskoi, Brandon Saad and even Matt Calvert were not really replaced from outside of the organization. But what they leave behind is an opportunity for others to step in and step up.
Colorado had perhaps the deepest team it's had in well over a decade in 2021, and a lot of the guys that played lesser roles could step in if called upon. Here's a look at who could be ready for a breakout season in 2021-22:
Listen to "Avalanche Breakout" on Spreaker.
Logan O'Connor
O'Connor has perhaps the most intriguing case for having a breakout season. Since signing with the Avalanche as a free agent in 2018, the 25-year-old former DU Pioneer has elevated his game each year.
But entering his fourth season, this is the first time O'Connor has a spot in the top-12 all but locked up from the onset. O'Connor has mostly played on the fourth line in his three seasons, slotting both on the wing and at center.
O'Connor could have an opportunity this year to play higher in the lineup. It would be his first legitimate chance to showcase the offensive production that's made him successful in the American Hockey League. O'Connor has 31 goals and 67 points in 104 AHL games with the Colorado Eagles.
J.T. Compher
Have we been overthinking the second-line left-wing hole? Could Compher be the easy choice for a player to excel in that role? It's probably unlikely, but the last time Compher got a legitimate opportunity to be a top-six forward for the Avs, he was playing with the likes of Alexander Kerfoot, Carl Soderberg, or Tyson Jost.
Now, a more experience Compher would be able to play alongside centerman Nazem Kadri and Andre Burakovsky. It's likely not everyone's first choice but it'll likely be an option at some point.
Alex Newhook
This is the one everyone expects to eventually run with that second-line left-wing spot. Entering his first full NHL season, Newhook is one of the top young up-and-coming stars in the league and has an opportunity to showcase his talents on a Stanley Cup contending team.
Newhook is likely Colorado's long-term option as their second-line centerman behind superstar Nathan MacKinnon. But in the meantime, learning from an experienced veteran like Kadri and playing with a goalscorer like Burakovsky could help Newhook develop all the tools he needs to be a consistent threat.
Sampo Ranta
Barring any injuries, it's doubtful that Ranta will dress for opening night unless he completely blows away head coach Jared Bednar and his staff.
But like Newhook, Ranta is ready to make the jump to the NHL and could get an opportunity to shine. I'd consider Ranta more of a wildcard right now just given the number of bodies ahead of him — similar to O'Connor the past few years.
Martin Kaut
It's crazy to think that it's already been three years since Kaut was drafted 16th overall by the Avalanche.
Kaut got an opportunity when the Avs were mired with injuries in the 2019-20 season, even scoring his first career NHL goal. But ever since COVID struck, he's only played five NHL games.
Kaut is likely still lower on the depth chart than a lot of other options but the 21-year-old will have every chance to prove his worth in training camp and force the coaching staff's hand. This may be the year for the ripened prospect.
Valeri Nichushkin
It's safe to say that Nichushkin is the exact player he's proven to be at this point in his career. He plays a solid two-way game, kills penalties, can be used on the power play and scores around 30 points per season.
Not bad for a depth forward.
But what if Nichushkin got an opportunity to play an entire season on the second line? He thrived in 2021 on the third line with Jost but in 2020, Nichushkin often played alongside Kadri and Burakovsky and put up exceptional offensive numbers when called upon.
He's just 26 years old after all. Could he be looking for that offensive breakout that's been expected since he was drafted 10th overall in 2013?
__
Aarif Deen is our Colorado Avalanche beat reporter. He covers Avs games live from Ball Arena and attends practices, media availabilities and other events pertaining to the Avs on the daily beat. He is also a co-host of Hockey Mountain High: Your go-to Avalanche podcast. Deen joined Mile High Sports upon completion of his bachelor's degree in journalism and master's in business administration from the University of Michigan – Dearborn. Before Mile High Sports, Deen worked for the Michigan Wolverines Athletics Department as the assistant sports information director.
Follow him on Twitter @runwriteAarif
Listen to "Avalanche Breakout" on Spreaker.