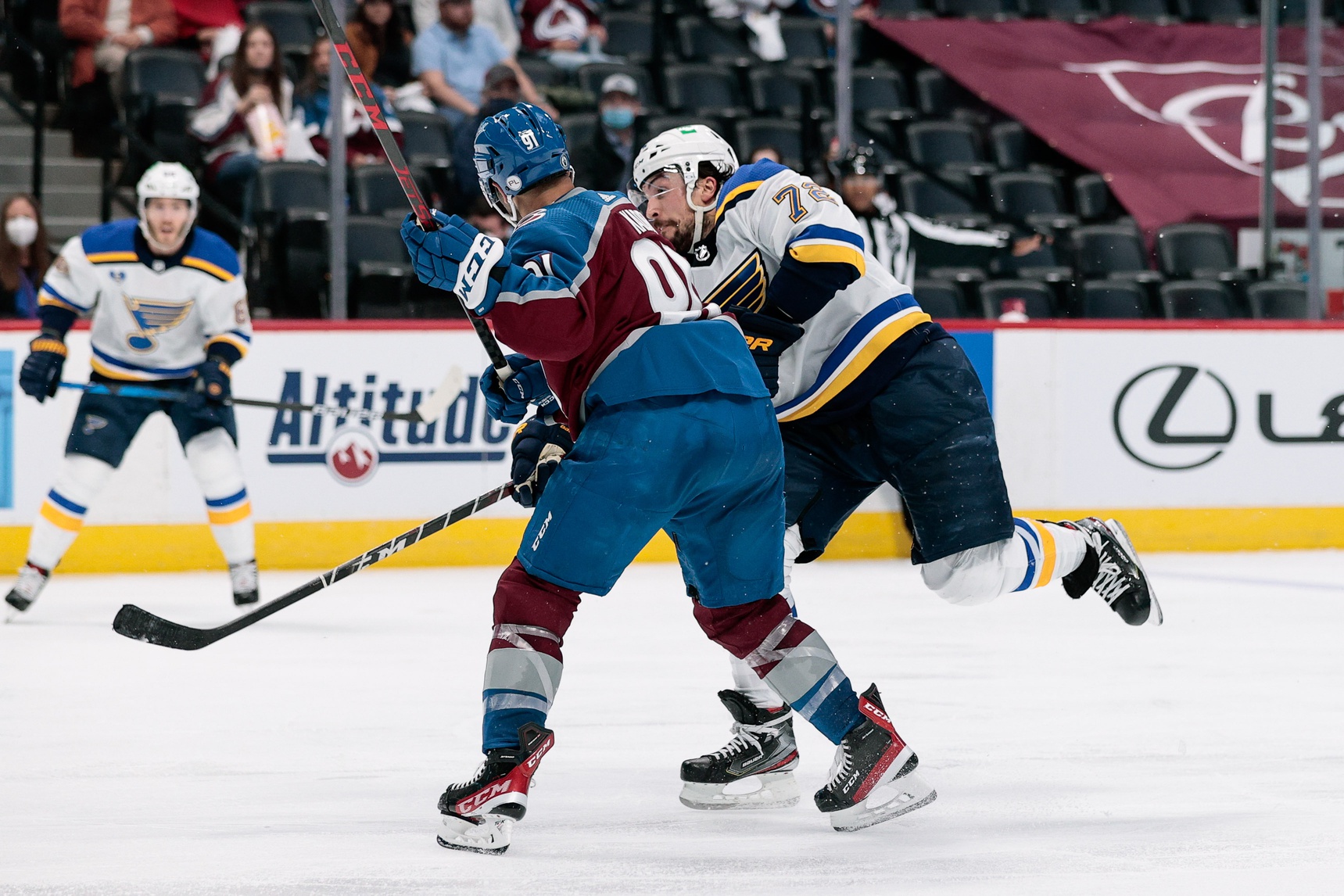 Nazem Kadri knew he would eventually be asked about the suspension in May that kept him out for eight playoff games. And the Avalanche centerman did not hold back on his feelings regarding the hit against St. Louis' Just Faulk, the suspension or the ensuing appeals process.
Following the ruling from the NHL's Department of Playoff Safety, Kadri attempted to appeal the suspension. The long, grueling process saw the initial ruling upheld by NHL Commissioner Gary Bettman before being heard by independent arbitrator Shyam Das.
That second appeal from Kadri caused the process to drag on for the first six games of his suspension only for Das to also uphold the ruling and keep Kadri out for what ended up being the last two games of Colorado's Stanley Cup run.
Despite the unsuccessful appeal, Kadri still strongly disagrees with the number of games he received.
"It's definitely strenuous for sure and just time-consuming," he said. "We didn't really have a whole lot of time to work with so we just kept pressing for a response and an answer and I think in the end, if you can't come to a conclusive answer then the decision is going to stand so that's where we're at with that."
"Obviously I strongly disagree, but what are you gonna do?"
Listen to "The One With Greg Wyshynski" on Spreaker.

Now in his third year with the Avalanche, Kadri is looking to put that all behind him and work towards having a bounce-back season. He says he doesn't need to use the suspension to motivate him to have a better year.
"I come into every season looking to be the best I can be," Kadri said. "Always looking to have a career year. I put in the work this summer I've prepared hard and that gives me all the confidence in the world to go out there and do what I know how to do."
The Avs have not lost trust in their teammate, who was suspended in the Stanley Cup playoffs for the third time in four years — the first two coming with Toronto in 2018 and 2019.
After head coach Jared Bednar spoke highly of Kadri's character and position within the locker room, fellow Avalanche forward Mikko Rantanen doubled down on the team's trust in their second-line center.
"It's not easy to even talk about it," Rantanen said. "It sucks for him that he was out for most of the playoffs but he's a veteran guy and for sure he learns from what he does. I don't really need to tell him what to do. He's going to get over it for sure."
Kadri's first two seasons with the Avs have been polar opposites. In 2019-20, after the trade from Toronto, Kadri provided grit, leadership and most importantly, was able to shore up the Avalanche's second line scoring. He had 19 goals and 36 points in 51 regular-season games.
His playoff performance in the bubble was the best hockey of his career. And it wasn't even close. Kadri exploded for nine goals and 18 points in 15 games, including five game-winning goals out of the Avs' nine wins.
But in 2021, he struggled — especially late in the season. He scored just 11 goals and had 32 points despite being the only Av to appear in all 56 games. He only had a single goal in the final 24 games. And in the playoffs, Kadri recorded one assist in two games before the suspension late in Game 2 of the opening round.
Both for his and the Avs' sake, a bounce back to his 2019-20 form is the most ideal scenario. Especially given Kadri's contract situation, as he's due to hit the open market in July of 2022 if Colorado doesn't come to terms on a contract extension with him.
The two sides have not begun any extension talks yet.
"I think I'm just going to focus on the year and see where that gets me and talk after," Kadri said.
__
Aarif Deen is our Colorado Avalanche beat reporter. He covers Avs games live from Ball Arena and attends practices, media availabilities and other events pertaining to the Avs on the daily beat. He is also a co-host of Hockey Mountain High: Your go-to Avalanche Podcast. Deen joined Mile High Sports upon completion of his bachelor's degree in journalism and master's in business administration from the University of Michigan – Dearborn. Before Mile High Sports, Deen worked for the Michigan Wolverines Athletics Department as the assistant sports information director.
Follow him on Twitter @runwriteAarif
Listen to "The One With Greg Wyshynski" on Spreaker.