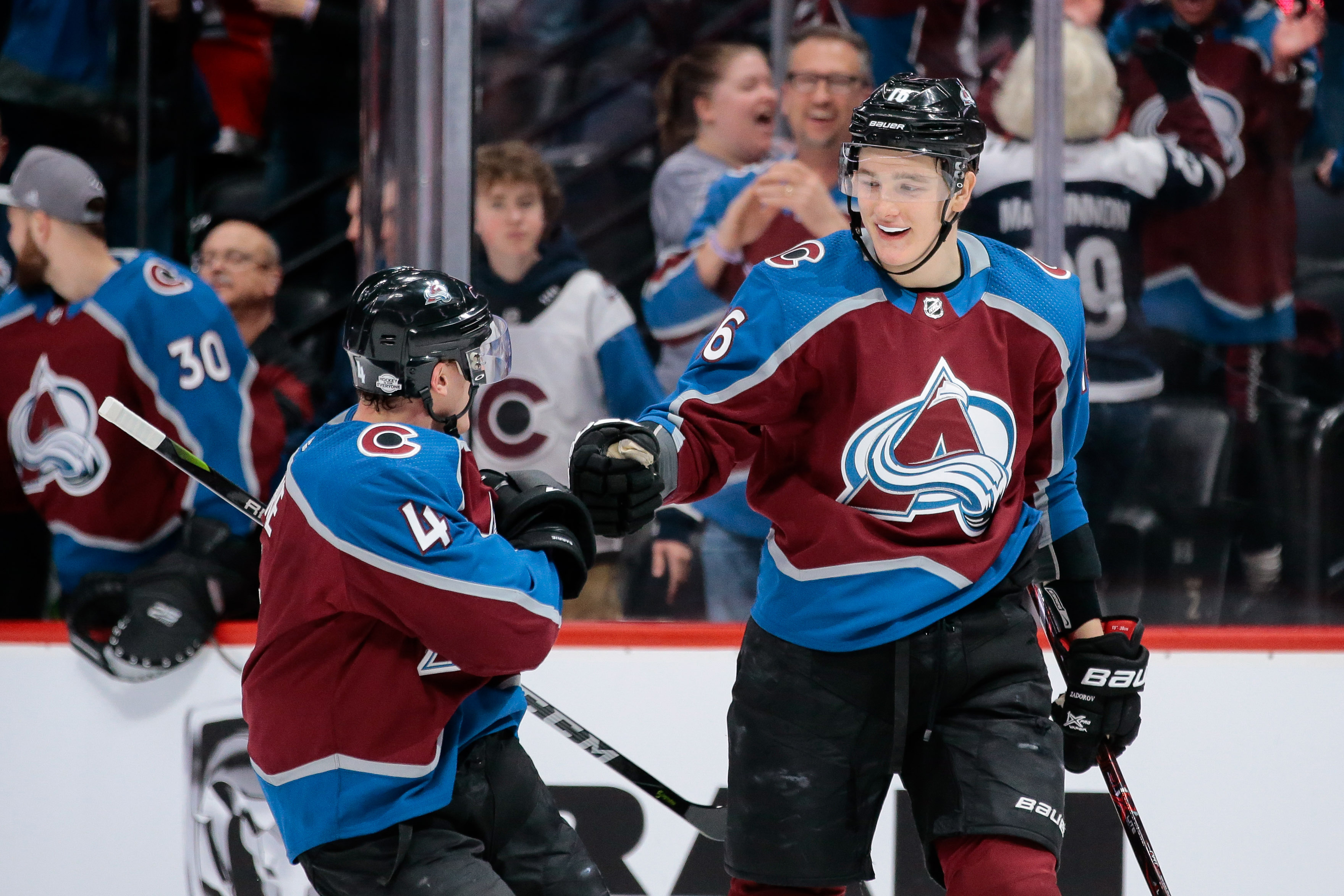 One of the teams standing in Colorado's way as it makes a push for a wild-card playoff spot is the Calgary Flames who were two points ahead of the Avalanche with two games in hand prior to their Wednesday night matchup at Pepsi Center. The Avalanche won the contest 5-2, beating Calgary for the first time in three meetings this season and jumping the Flames in the points race.
Colorado fought its way back after being behind 2-0 to take the two points for the standings and protect home ice where the Avs have only lost once in their last 13 games, average just over three and a half goals per game, and now have a 22-8-1 record.
"I think we are just better at home," Nathan MacKinnon said after the game. "Varly was really good tonight. It was just a different game from the last one against these guys. We got some more chances and we felt good out there tonight."
The Avalanche have shown their resilience lately, coming from behind in three of the last four games in which they've earned a point.
"We have a very positive group, a very hungry young team," MacKinnon said on his team's resilience. "We do a good job of sticking with the gameplan, we've gotten better at that throughout the season so we feel good."
Coach Jared Bednar reiterated that the team's hunger to win is fueling their success saying, "I think we have a deep hunger to get where we want to go. That's what it comes down to."
Colorado had three power-play opportunities in the first period but were unable to capitalize on any. Instead, they gave up a shorthanded goal scored by Calgary's Mikael Backlund on a breakaway opportunity following a Tyson Barrie offensive-zone turnover.
Calgary's second goal of the game also came off of a turnover by a defenseman, this time by Duncan Siemens deep in his own zone. Some ticky-tac passing from the Flames ensued and Calgary took a 2-0 lead.
After a Matthew Tkachuk holding penalty at 7:42 into the second period — one of three penalties from Tkachuk — the Avalanche power play scored for the second time in as many games on Nathan MacKinnon's tenth power-play goal of the season. Suddenly, what felt like a game where the Avs would let precious points slip away, turned into a game where Colorado found some life and had some hope to turn the game around.
Soon after — 52 seconds after to be exact — the Avalanche tied the game up at two apiece on a Nikita Zadorov wrist shot. Calgary challenged whether the play was offsides or not and would receive a bench minor for the incorrect challenge, however, Calgary was able to kill the penalty.
Momentum had clearly shifted to Colorado's favor as they were able to capitalize on a four-on-four play that ended with Tyson Barrie burying the puck backdoor on a Mikko Rantanen pass and the Avalanche took the lead 3-2. Rantanen's incredible patience was on display as he waited to find Barrie in perfect position when he could have shot instead — good for his 59th point of the year and Barrie's 39th.
"I think you could feel the momentum building," Barrie said on his goal. "Nate got the big power-play goal and we just kept it rolling from there. You can feel momentum, it's just not a tangible thing, but you can definitely feel it when it swings. It was nice to get the momentum and just build off of that."
The second period scoring continued when the Avs' second line chipped in with a goal of their own and Matt Nieto scored his eleventh goal of the year on assists from each of his linemates, Blake Comeau and Carl Soderberg.
Duncan Siemens finished the night's scoring with an empty-net goal and the first of his NHL career.
Special teams would play a major role in the game where there was a total of 19 penalties and twelve combined power-play chances for the two teams. Aside from Nathan MacKinnon's power-play goal and Mikael Backlund's shorthanded goal, not much scoring came from the opportunities, however.
The victory now puts the Avalanche at 73 points with nineteen games to go. Next up, the Minnesota Wild on Friday evening, the first game of a stretch where Colorado plays six Central Division teams in their next eight games.