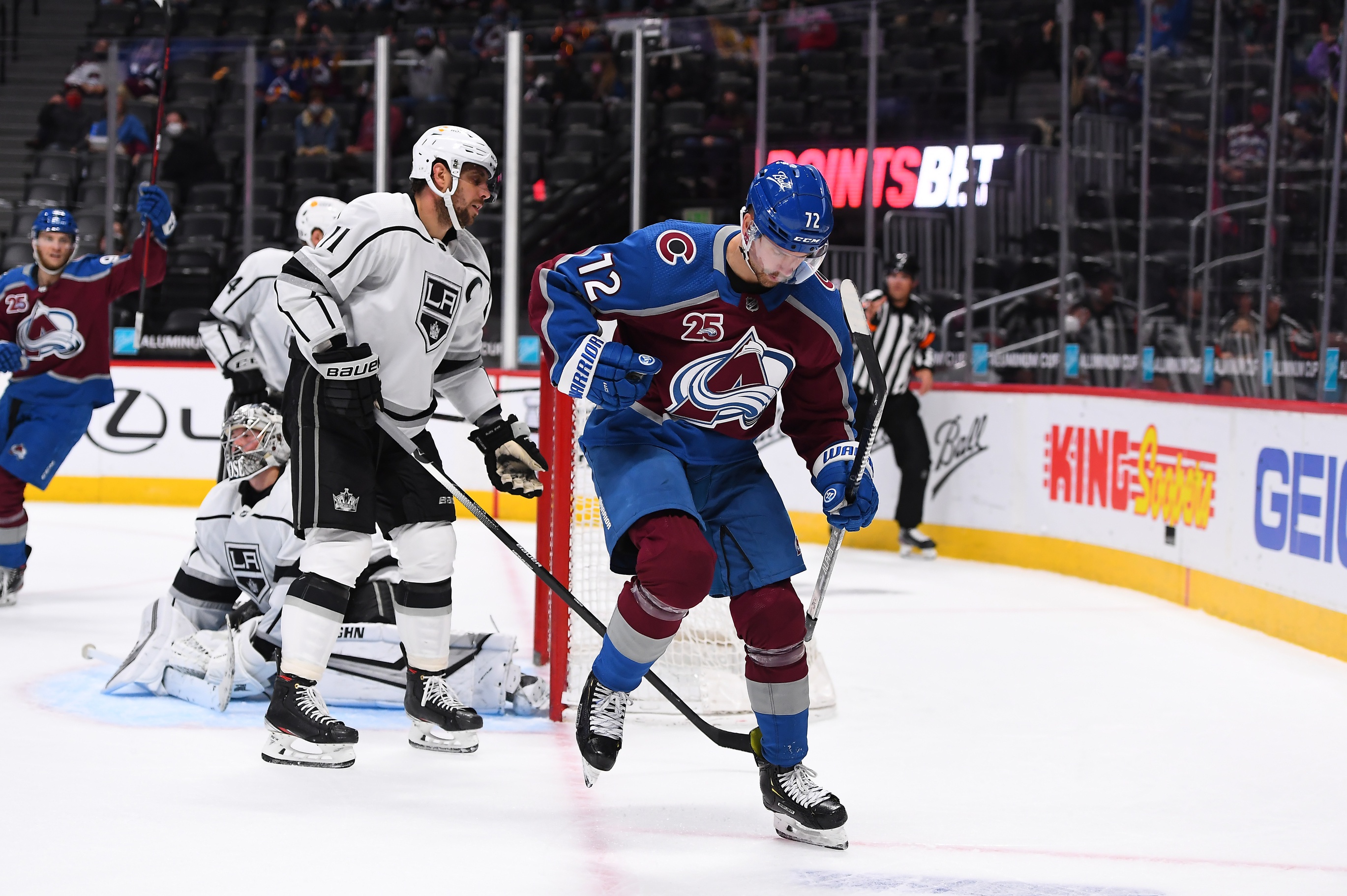 For the first time in 20 years, the Presidents' Trophy belongs to the Avalanche.
After a hiccup two weeks ago — where they lost three consecutive games, twice against St. Louis and once at Vegas — the Avs clawed back into the West Division and NHL race by winning their final five games and eight of their last nine to clinch their first Presidents' Trophy since the Stanley Cup-winning team in 2001.
Colorado (39-13-4) concluded its season Thursday with a 5-1 rout over the Los Angeles Kings at Ball Arena to tie the Vegas Golden Knights with an NHL-high 82 points. The Avs have the regulation wins tiebreaker, winning 35 times in 60 minutes compared to the Knights' 30.
The Presidents' Trophy secures home-ice advantage throughout the playoffs.
"We achieved the first goal we had this year. Get the home-ice advantage for the whole playoffs," Avs superstar winger Mikko Rantanen said. "We checked the one box and everybody knows what's the next box. Now we just have to start working on that. I believe in this group."
With the No. 1 seed in the West Division locked up, the Avalanche will host the No. 4 St. Louis Blues for Game 1 of the first round at 8 p.m. on Monday. Colorado was 5-3 against St. Louis in eight meetings this season, including an 8-0 victory on Jan. 15.
"We know they're a good team, we have a good rivalry against them," said forward Tyson Jost, who scored two goals and the game-winner Thursday. "We've had some great battles in the past. Just looking back to that game where it was us and them to get in that last spot in the playoffs. It's been a battle these last three or four years."
Playing as the No. 1 center for an injured Nathan MacKinnon, Jost's two goals opened the scoring for the Avalanche. Center Pierre-Edouard Bellemare and wingers Joonas Donskoi and Andre Burakovsky also scored in the second period, where the Avs entered down 1-0 but scored five times to put the game away.
Like teammate J.T. Compher, who scored a hat trick in Wednesday's 6-0 victory over L.A., Jost is also heating up heading into the playoffs.
"It can't hurt, that's for sure," Avs coach Jared Bednar said of Jost's recent offensive output. "There's a handful of guys that have been playing really well for us and have been snakebit. To get guys like Burky, Jost, Compher, Donskoi back scoring, I think it's all really important."
Rantanen had two assists to increase his points to 66 — one more than MacKinnon — to lead the Avalanche in scoring. Rantanen is the first player not named MacKinnon to lead Colorado in scoring since former Av Matt Duchene in 2015-16. He also led Colorado with 30 goals.
The achievement is nice but it wasn't on Rantanen's mind.
"Everybody knows that's not the reason why I go to the games. I know my job is to help the team offensively," Rantanen said "My linemates helped me a lot but I don't think there's that much competition in our team. Everybody's pulling the same rope in the same direction so I don't really look at that too much."
Jonas Johansson got the nod in goal for the Avs and made 21 saves for the victory. Johansson was acquired from Buffalo on March 20 and is 5-1-1 in seven starts.
The Blues started their campaign slower than expected but rebounded in a big way. Led by captain and former Avalanche center Ryan O'Reilly, St. Louis is 13-2-3 in its last 18 games. It finished just 27-20-9 and spent a majority of the season on the outside of the playoff picture before battling back to clinch the No. 4 seed.
The Blues closed out their season with a 7-3 come-from-behind victory over the No. 3 Minnesota Wild on Thursday. Minnesota travels to No. 2 Vegas for Game 1 on Sunday.
Colorado defeated St. Louis five out of the first six meetings but the Blues came back with two straight in their building to close out the season series two weeks ago.
First-round schedule:
Game 1: Monday, May 17 at 8 p.m. (Ball Arena)
Game 2: Wednesday, May 19 @ 8:30 p.m. (Ball Arena)
Game 3: Friday, May 21 at 7:30 p.m. (Enterprise Center)
Game 4: Sunday, May 23 TBD (Enterprise Center)
*Game 5: Tuesday, May 25 TBD (Ball Arena)
*Game 6: Thursday, May 27 TBD (Enterprise Center)
*Game 7: Saturday, May 29 TBD (Ball Arena
* If necessary